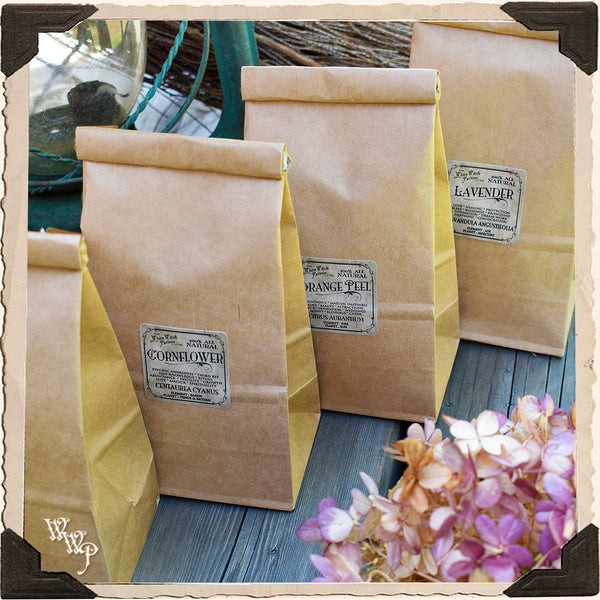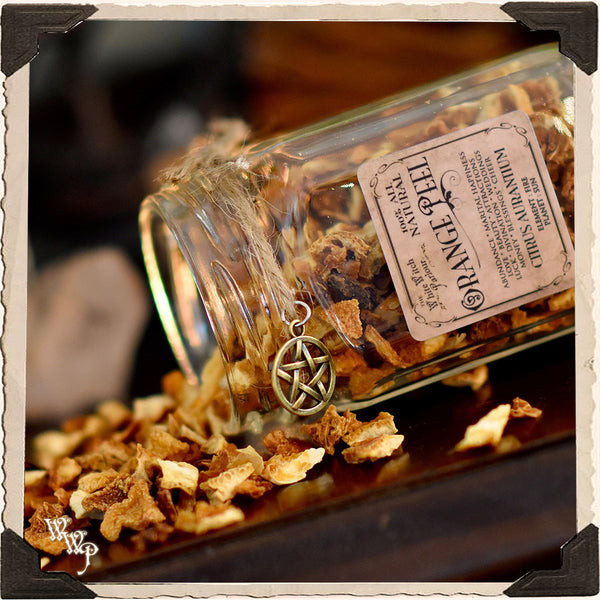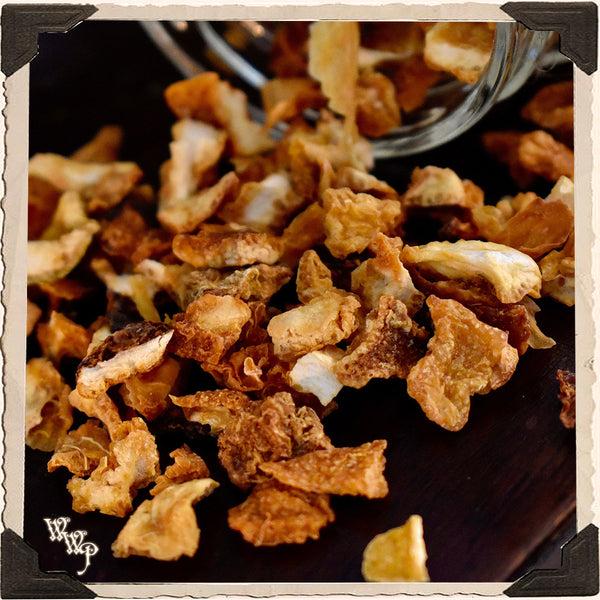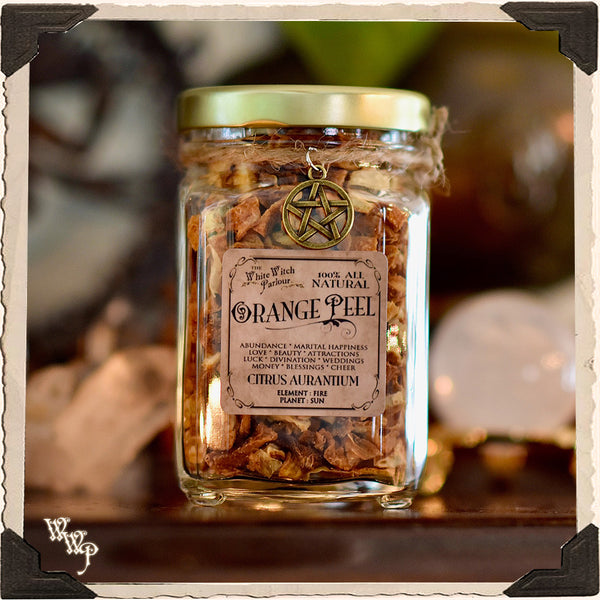 ORANGE PEEL APOTHECARY. Dried Herbs. For Abundance, Cheer, Renewal & Attractions
Orange Peel has a zesty citrus scent, which brings in a freshness and renewal type energy to your space. It works by cleaning and clearing the aura into a higher vibrational level, and attributing to the bright energy left on your heart. Working with the magic of Orange Peel lifts the spirit & radiates positivity, making any manifestation practices or spell casting stronger & more efficient, welcoming vitality to the soul. Citrus scents are powerful generators to cleanse energies & recharge the spirit for Late Summer Rituals & Meditations.
Botanical Name: Citrus Aurantium

Element Correspondences: Fire

Planetary Correspondences: Sun
Magickal Uses:
Energy, Cleansing, Happiness, Sun Magick, Full Moon Magick, Raise Vibration, Renewal, Raising Vibration, Manifestation, Uplifting, Relieve Depression, Soothing Anxiety, Safety or Protection, Life
Zodiac: 
Aries, Leo, Sagittarius.
Chakras:  
2nd - Sacral Chakra, 3rd - Solar Plexus Chakra
Magickal Tip: Add a handful of dried Orange Peel & a piece of Citrine stone to a bottle of Olive Oil. This can serve as an uplifting anointing or skin oil to bring an abundant & bright energy.

Holistic Uses:  Overall boosts the immune system to help naturally fight of sickness, disease & viruses.

Each glass apothecary herbal jar contains approx. 2.25oz. of All Natural Orange Peel, topped with a gold screw on lid, informative label & rustic pentacle accents. The pentacle represents the elements ( Earth, Air, Fire, Water & Spirit ) encompassed in a ring of unity, serving as a symbol of protection & connection. There is enough herbs in one jar to last for many uses. Store in cool dry place when not in use. Each square Herbal Jar measures approx. 4" high x 2.5" wide.
A second option: Biodegradable bulk refill Tin -Tie bag is available which contains approx. 4.5 oz all natural Dried Orange Peel, enough to refill x2 White Witch Parlour Herbal Jars, or use/store it as is.

There are several uses for dried botanical herbs, such as adding to or making magickal sachets or Witch bottles, creating tinctures or perfume oils, creating herbal capsules, tea mixtures, powder incense, bath and body scrubs, soaps & lotions, & so much more!
Magickal Blessings,
~ Jenna

* All Sales Final.  
Herbs & information provided is not meant to treat or diagnose any disease or ailment. Please seek medical attention if needed & always do research before consuming herbs or resins. Many contain natural high medicinal properties, which may be toxic to pets, small children & Women who are nursing or pregnant.
More Apothecary Jars, Burners & Accessories available in my shop!