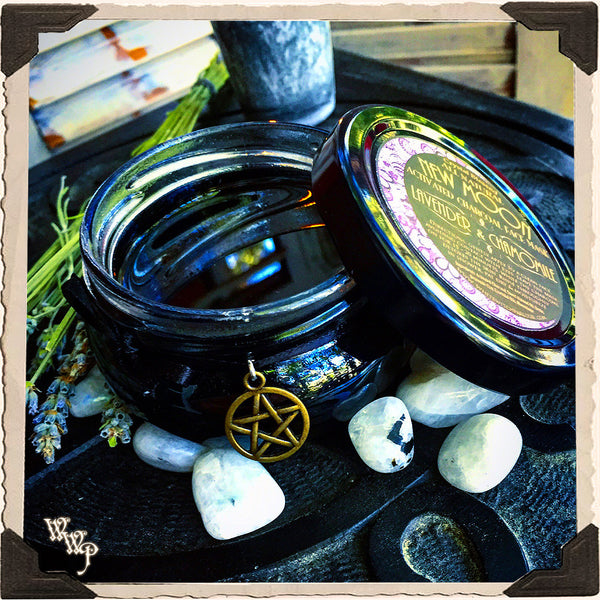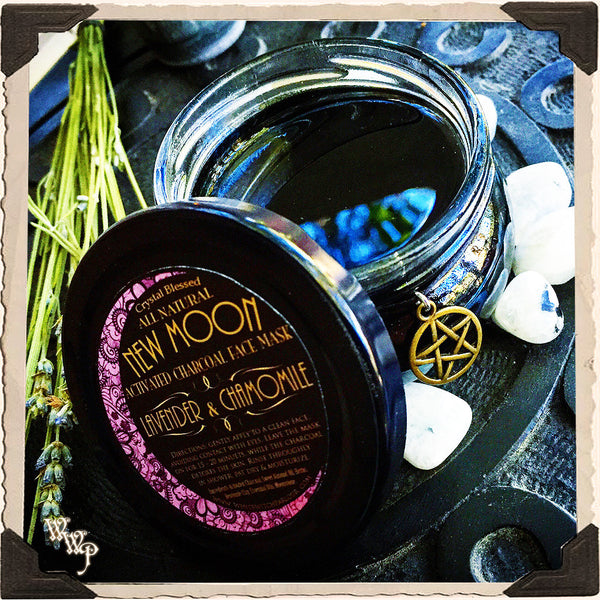 DISCONTINUED: NEW MOON CHARCOAL FACE MASK. Lavender & Chamomile. All Natural 3oz. Blessed With Moonstone.
ONCE THESE ARE GONE WE WILL NOT CARRY THEM AGAIN!
Detox your skin & awaken your inner beauty! When you feel good & confident you emit the true beauty that lies within your soul. Flowing with the cycles of the moon, we become compelled to mimic what is happening in the sky. When the moon is New or 'Dark,' we can focus on the depths of our soul, healing deep within & listening to our deepest desires. This energy can stimulate a whole new surge of manifestation power within. If you use this time to set new intentions, you'll be surprised at what can manifest in the month to come. This is why I created this all natural face mask, because if you can detox to outside, you can detox the inside as well. It's time to start fresh, by taking some time for you, to relax & push away all other distractions, finding a harmonious balance to mind, body & spirit. 
A glorious piece of Rainbow moonstone is set within each jar, radiating positive vibes of love, light & peace. Moonstone is the female version of Labradorite and It carries high feminine gentle energies, drawing the healing powers of our moon and placing courage & strength in your heart. Chamomile & Lavender are tied to calming & tranquil energies. Helping you to release drama & anger, Lavender is also connected to the Moon & Goddesses dealing with Love & beauty, inspiring Self Love... the most powerful magick. Sharing the element of Water with Lavender is Chamomile teaching us how to 'go with the flow.' Chamomile represents the Sun Gods, with it's yellow coloring & was once said to be used to improve your attractiveness to the opposite sex. Together Lavender & Chamomile are sure to bring balance into your life.
In a small cauldron shaped glass jar & black screw top lid, this all natural charcoal face mask blend, comes decorated with a brass pentacle charm of a black ribbon, representing with 4 elements + Spirit, encased in an infinite circle. A tumbled stone of Rainbow Moonstone is placed in each 3oz. jar.
Brightest Blessings,
~ Jenna
DIRECTIONS: Before use, stir completely with a wooden spoon, oil settlement is natural. ( Charcoal can draw toxins from metals. ) Gently rinse face & pat dry. Avoiding contact with eyes, apply an even amount around the surface of the face, pulling any loose hair back. Let the charcoal mask set for approximately 20min, detoxifying & rejuvenating tired skin. When ready to cleanse, wash in sink or shower like normal with a washcloth. Once fully clean & dry, moisturize the face as usual.  

* INGREDIENTS Contain: Activated Charcoal, Bentonite Clay, Lavender, Chamomile, Essential Oils, Herbs & Sweet Almond Oil, Blessed with Rainbow Moonstone.
*All sales are final. * 
Not Meant for consumption.
Keep out of heat and direct sunlight.