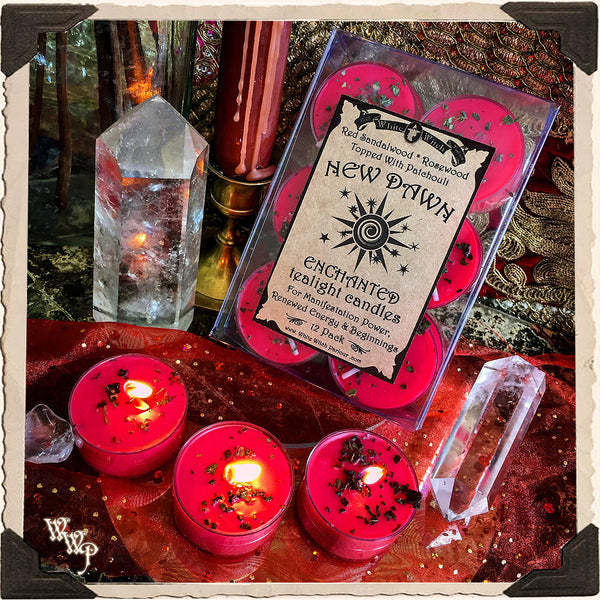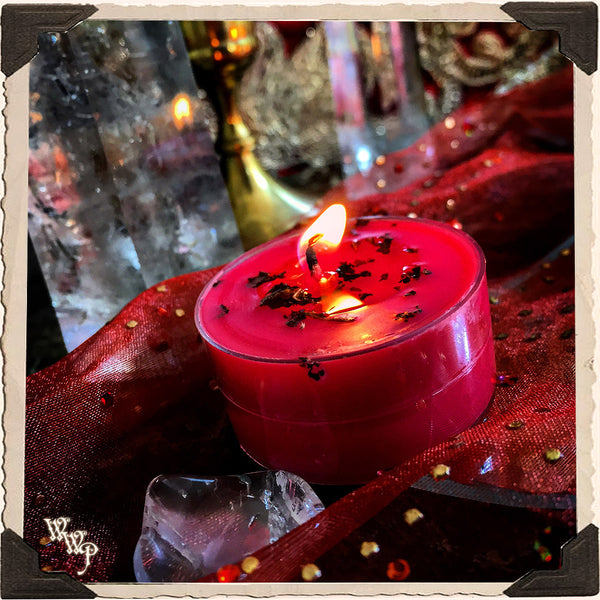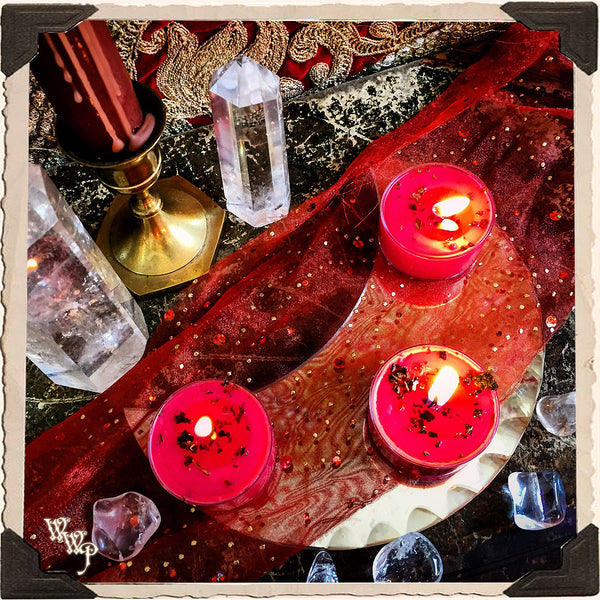 NEW DAWN TEALIGHT CANDLES. 12 Pack. For Manifestation Power, Renewed Energy & Beginnings.
An exquisite blend of Red Sandalwood & Rosewood, graced by Patchouli herb, helps you to embark on a new day with magick in your heart. Created with New Beginnings in mind, this blend was made to inspire change, fresh starts & a positive attitude. It is not always easy to embrace change, but when you approach it with a positive outlook, you are bound to have everything fall into place & into perspective. Like the Sun on the horizon, casting a pinkish- red glow in the sky, we realize that yesterday is now gone & today is the present. A wonderful present in which we can now unwrap & choose to fully enjoy. With the start of a New Dawn, we can set forth to manifest anything we want.
Red Sandalwood is tied to the element of Water, inspiring one to go with the flow. It increases spiritual growth, while cleansing the mind of negativity, bringing in an energy of protection, healing & power to manifestation. Rosewood is known for creating a healthy balance between the spiritual & physical. With this new balance between your body, mind & spirit, new beginnings can begin to blossom, regenerating spiritual growth, overall well- being, heart felt compassion, healing & inner beauty.
Energetically, Patchouli increases energy & attention in the sensory levels and the outer fields, causing the spiritual self to drop into the physical body. Patchouli also slows down the sense of time perception, allowing one to better work in the realm of magick. This enchanting sweet & earthy scent is a popular ingredient used in spell-casting to draw in money, offer protection, defend against negative energies or evil intent. It holds true in the spiritual power of releasing, whether it be certain vibrations, addictions or banishing harmful people from one's life. Patchouli is tied to the Earth element as well, bringing great grounding frequencies & enhancing focus, which is why it makes for such a great manifesting tool.
A haunting blend of hand-poured 1/2 oz. Tealight candles with an approx. burn time of 4 hours each. With 12 candles per pack, you are sure to get lots of magickal use out of these special candles. This alluring blend of essential oils, high grade fragrance oils & enchanted herbs, find way into a hand poured batch of Soy wax, leaving each candle to ignite new magick & beautiful scent. 
 May you shift to a New Dawn with magickal wonder,
~ Jenna
*All sales are final.
Store in cool dry place, keep from heat or direct sunlight. Never leave a lit candle unattended or near flammable items such as curtains. Always think of safety when using open flame *
*Free of Harsh Chemicals & Animal Testing.
Check out more candles & accessories in my shop!