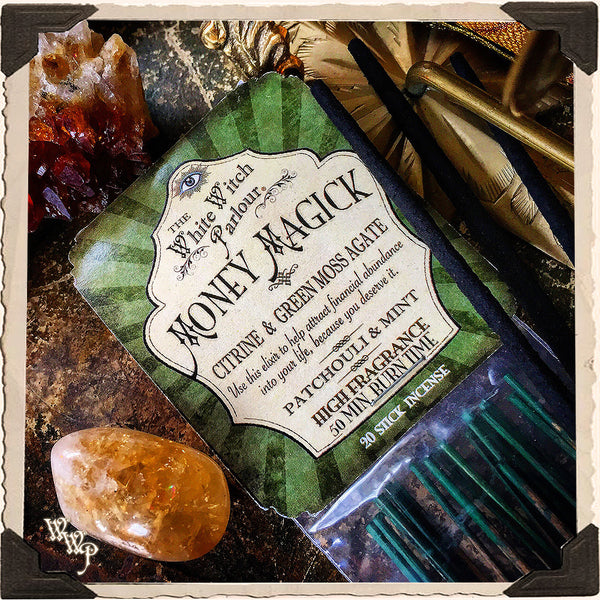 MONEY MAGICK Elixir INCENSE. 20 Stick Pack. Scent of Patchouli & Mint. Blessed by Citrine & Green Moss Agate Crystals.
Start creating a positive relationship with money, it helps you get the things you need in life, but it is not the only thing that makes this possible. Do not let money, or printed paper, control your life. Instead, balance your emotions towards it, understand it, believe that that you deserve it & give thanks for the funds that you currently possess. Rid your mind of the belief that money is in a lack of abundance. To believe this is true, is to attract this issue, because it is fear based. You, like anyone else, deserves wealth on all levels. Success starts with the heart and when you are happy you attract happy outcomes & yes, money can be one of those universal attractions. Money is simply a tool for us in this three dimensional realm, if you have positive thoughts towards money, you become a money magnet. If you have a dislike towards it or people who possess great wealth, your fear & anger will only further push it away. So, starting right now- allow yourself to receive financial success!  
 
Citrine and Green Moss Agate crystals work together in a crisp & earthy blend of Patchouli & Mint, raising positive money vibrations, creating a river of wealth to flow your way. Do not obsess over this blend, use it daily with a heart of gratitude & you will notice a big difference in your financial growth. Never use it in fear or distress, never use it with greed or a 'money hungry,' mind, instead just take a moment to use this blend, give thanks & let the magick flow into the universe. Citrine & Patchouli have long been used in magick to enhance manifestation powers. They draw in earthly energies and ground the emotions of the user, allowing the intent to be clear & amplified. Often used in Money spells, with a mix of Green Moos Agate stones & Mint, not only for their green color, but their properties of abundance, this blend aids in healing old habits or doubts. It promotes a new positive belief system in money, that makes it beneficial to the user. Trust that the universe will always make sure you have more than enough. 
My prayer for use:
" Money abundance flow to me, a river of wealth multiplies by three. I deserve riches & more, may never-ending funds come through my door. "
These wonderful handmade alchemy incense sticks burn for approximately 50- 60 minutes each and are made up of pressed charcoal sticks, crystal energies, fragrance oils & essential oils. There are 20 magickal sticks in each pack, that yield beautiful and lingering aroma wherever they are burned. These powerful incense can aid wonderful cheer, dispelling any negative energy & allowing for a more connected approach to your practices. They are blessed with chip stones of Citrine & Green Moss Agate crystals.
May financial abundance always find you,
~ Jenna
All Sales Final*
Not Meant for consumption.
Keep out of heat and direct sunlight.

Incense accessories available in my shop!