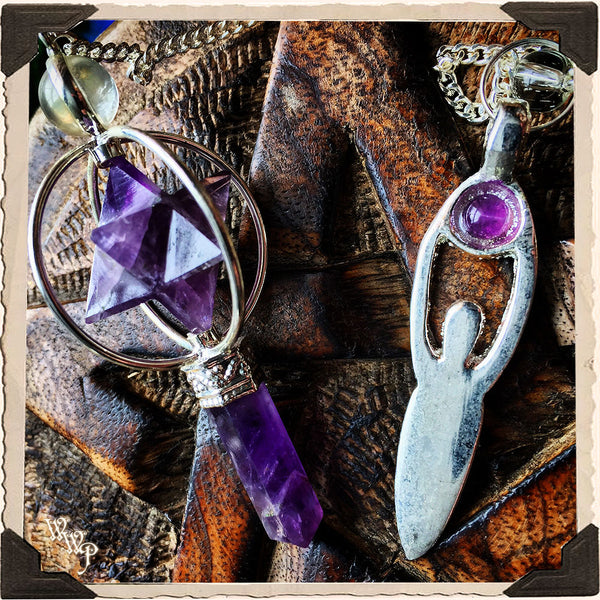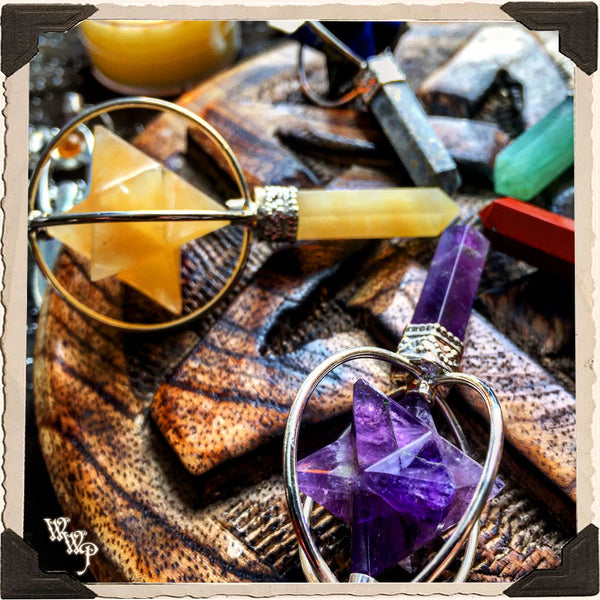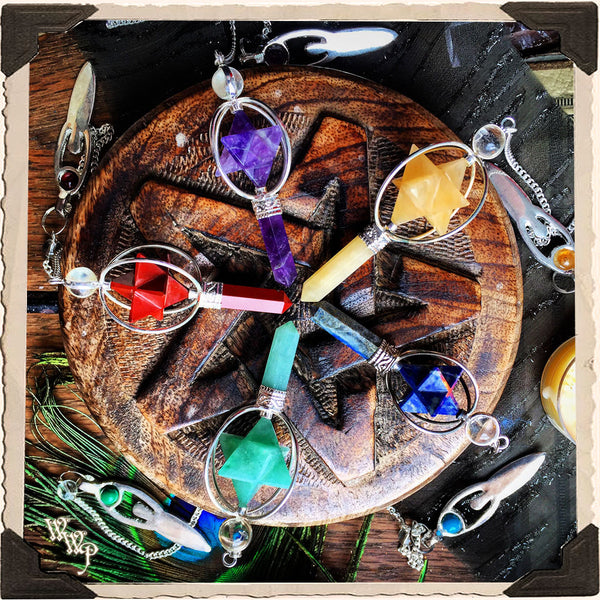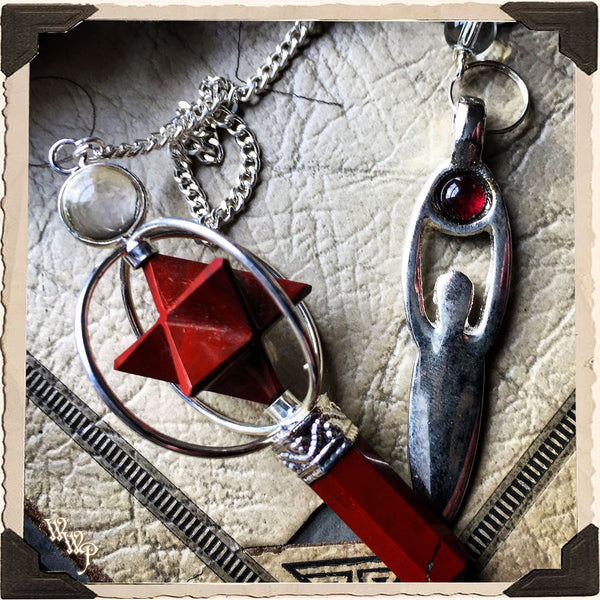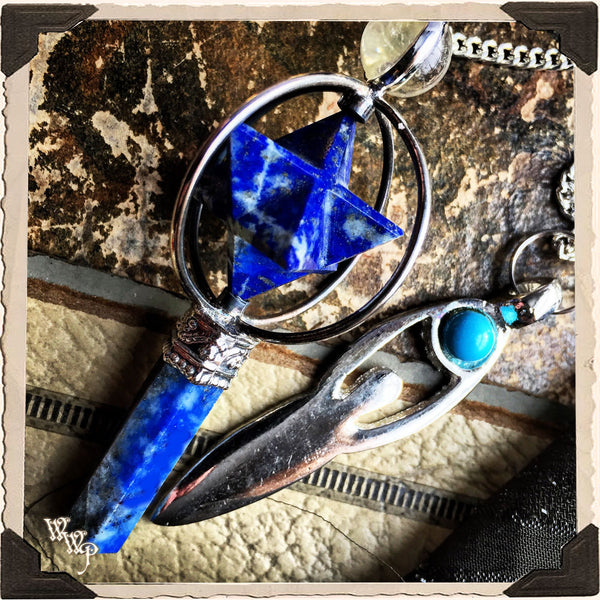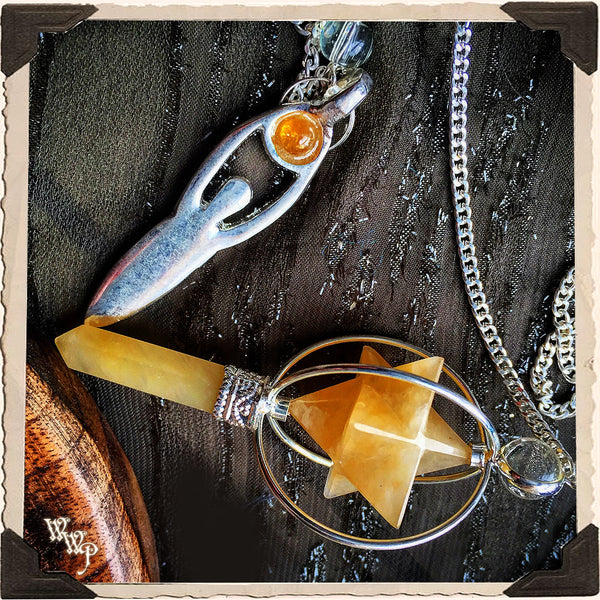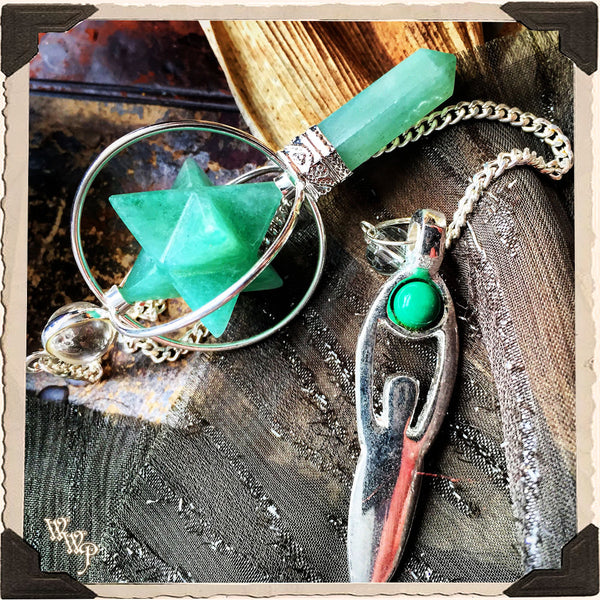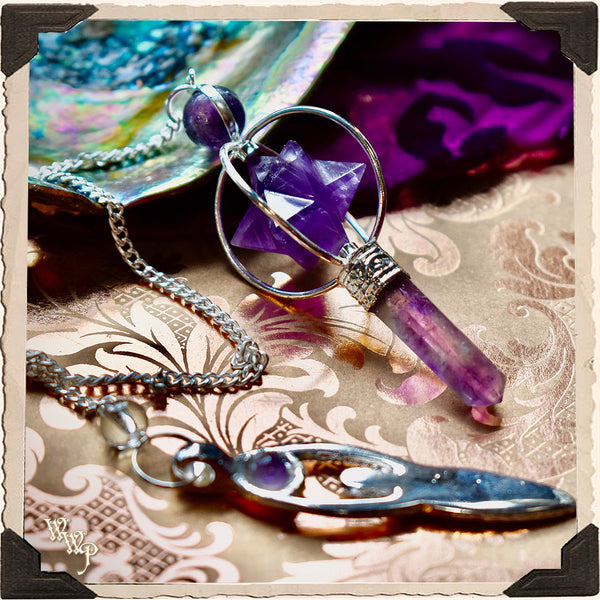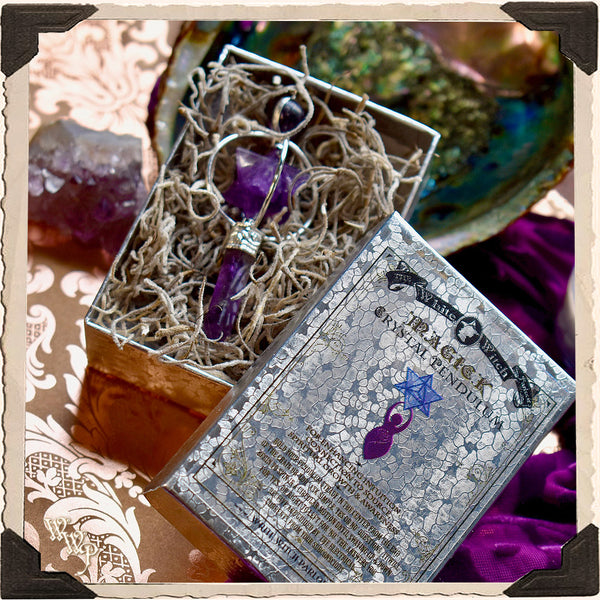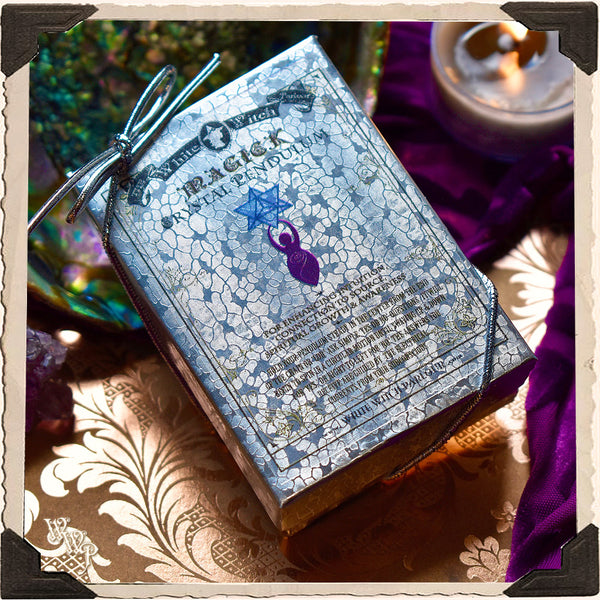 MERKABA CRYSTAL GODDESS PENDULUM with Silver Chain. For Divination & Scrying
In a magickal combo, the Goddess & the Merkaba come together to bring a special energy to this crystal pendulum. Ask your questions to spirit and create a high vibrational energy to receive the answer, with each swing of the pendulum. The sacred Star of David symbol or Merkaba, dates back to the 17th century, when it was also called the "Shield of David," it symbolizes the connection of both the internal & external dimensions. It displays the connection between three entities of a higher consciousness or Divine state. Helping us to reconnect with our Soul, a reflection of the Divine, and better find our purpose here on earth. In a three dimensional state, this symbol becomes known as a Merkaba, a Divine light vehicle, used by Ascended Masters to connect to the higher realms. Partnered with the symbol of The Goddess, which stands for feminine energy, fertility, spiritual or psychic growth & mystery, this enchanting pendulum is sure to help to understand the answers through the subconscious & spiritual realms. 
Amethyst  is a meditative and calming stone which works in the emotional, spiritual, and physical planes to provide calm, balance, patience, and peace. In the psychic and spiritual realms, amethyst is an excellent all-purpose stone that can increase spirituality and enhance intuition and psychic powers of all kinds. It does this by making a clear connection between the earth plane and other planes and worlds. Amethyst is also excellent for meditation and lucid dreaming. It is used to open one's channels to telepathy, past life regression, clairaudience, clairvoyance, and communication with angels. Amethyst also protects against psychic attacks, especially during spiritual work.
Green Aventurine is a stone of new opportunity & unlocking new doors to enriched possibilities, Green Aventurine works to heal the Heart Chakra, giving a boost of new energy to the body, mind & spirit. It awakens one through the grounding energies of Earth & teaches balance through life lessons. It shows the user their inner truth, inspiring new creative ideas & how to reach prosperity in career goals by living more from the heart. Due to all these abundant qualities, many would say this is a crystal of luck, allowing blessings to easily find way to you. Green Aventurine is also said to absorb electromagnetic smog & pollution, to relieve low energy & bad vibes from the user, helping them to focus on more of the heart's desire. It increases intellectual development & assists in clarity among mundane tasks. It encourages a new love for life & appreciation for all the blessings that continuously flow in. 
Lapis Lazuli works to enhance your spiritual awakening & divine connection to Source. It promotes self confidence, inner truth & manifestation, as it works with the Throat Chakra to bring about one's true artistic or business talents. It creates a positive belief system in magick & personal power, encouraging clarity to one's life purpose. Self honesty becomes a foundation for all decisions and whatever path one may be drawn to walk. Lapis Lazuli stabilizes one's emotions & creates a bond to the element of water, helping one to 'gop with the flow,' staying level headed & strong throughout all changes in life.
Red Aventurine is a stone that enhances creativity, blocks negativity and allows the user to see all possibilities. It opens up the imagination and brings clarity. With an energy of positivity and inner strength the red coloring incorporates grounding, stability & passion. It encourages us to manifest through our actions and leads us to our higher path in the process, while keeping us level headed and balanced. It teaches us to laugh at our mistakes and offers the notion of self-love and a 'can do' attitude towards life's challenges & turbulent paths. Red Aventurine, being connected to the Root Chakra, stimulates excitement, determination & focus to all you seek in this life.  
Golden Calcite, also known as Honey, Amber or Citrine is a beautiful stone that amplifies & cleanses the energy in any atmosphere. It inspires new motivation, growth & development, as it raises consciousness to higher spiritual states, it works to raise one's vibrations, thus reducing fears & promoting opportunities that attract abundance & success. Golden Calcite gently amplifies psychic abilities through the Third-Eye and Crown Chakras. With it's golden - yellow coloring, it also works with the Solar Plexus Chakra, helping to heal the ego & any lack of self-worth, releasing fears of unworthiness & better connecting one to the Universe & all of its perfection, by channeling Divine & Angelic energies through the body, leading to relaxation & a great willingness to accept abundance in all forms. This relaxing energy that comes from a balanced Solar Plexus, helps one to handle change or challenges with ease & confidence. It can boost the motivation needed for long term projects or goals with a healthy confidence & strong frequency of vitality, strength & persistence.  
This beautiful natural Stone Pendulum with spinning stone Merkaba measures approx. 3" on a 7" chain withe 2" jeweled Goddess charm on the end. This magickal Divination tool comes in a silver gift box with information card ready to gift to yourself or a loved one.

* Please note that size, shape & coloring of each stone may vary, as this is a natural gift from Mother Earth. Each pendulum chooses it's new home :)
Pendulum Mats available in my shop!

Brightest Of Blessings,
~ Jenna

*All Sales Final