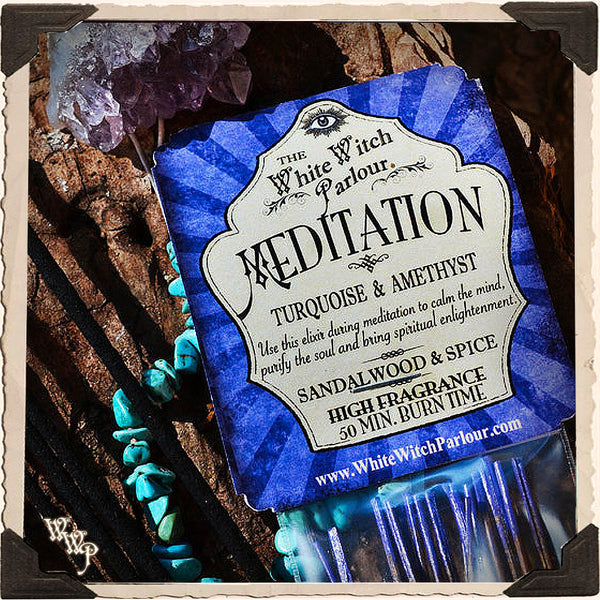 MEDITATION Elixir INCENSE. 20 Stick Pack. For Wisdom, Peace & Spiritual Enlightenment.
An elixir created for the specific purpose of meditation. A blend to help calm the mind, purify the soul and bring spiritual enlightenment. It can be used to sanctify or purify an area for spiritual matters of any kind, whether you are working a full ritual & spell or a simple morning meditation, this blend will help set the vibration for spiritual growth & evolution. With it's earthy sweet & warm scent of Sandalwood & spice, 'Meditation' welcomes a comforting energy, allowing you to slip into a meditative state easier & release any ego that may be holding you back.
The energies of Turquoise have long been associated with spiritual healing, it dispels negative energy & works to balance and align all the chakras; stabilizing mood swings and instilling an inner calmness that brings self-realization to light. Amethyst, a stone of cleansing, both physically and psychologically, works to heal & activate the third eye, heightening intuition & spiritual guidance. It can promote internal harmony and can bring stability to the individual. In magick Amethyst is often worn during contemplation or placed on simple meditation altar & is frequently worn during psychic work or practices, as it brings wisdom & allows the information received through the psychic mind to be appropriately utilized. By the use of this magickal elixir you are sure to find yourself drifting deep into your subconscious mind.
My prayer for use:
" I become one with all that I am, for in a meditative state I am able to exam. My soul & ego combined into one & I realize that I am truly higher than none."
These wonderful handmade alchemy incense sticks burn for approximately 50- 60 minutes each and are made up of pressed charcoal sticks, crystal energies, fragrance oils & essential oils. There are 20 magickal sticks in each pack, that yield beautiful and lingering aroma wherever they are burned. These powerful incense can aid wonderful cheer, dispelling any negative energy & allowing for a more connected approach to your practices. They are blessed with chip stones of Amethyst & Turquoise crystals.
Here's to meditation bliss,
~Jenna
Accessories & more incense available in my shop!
**All sales are final. **