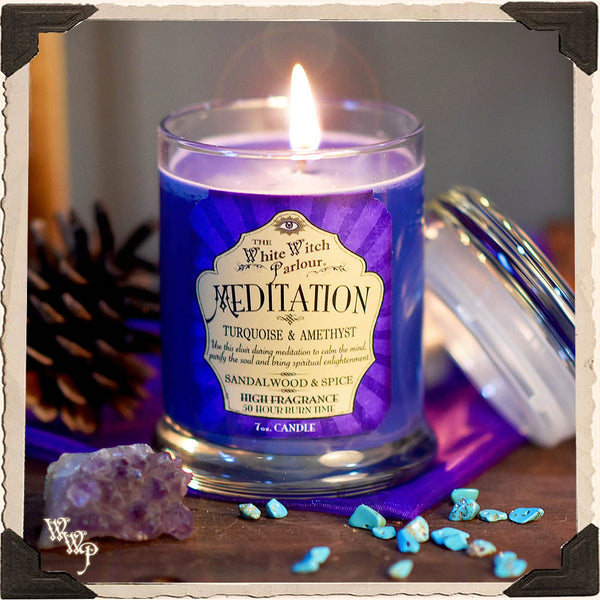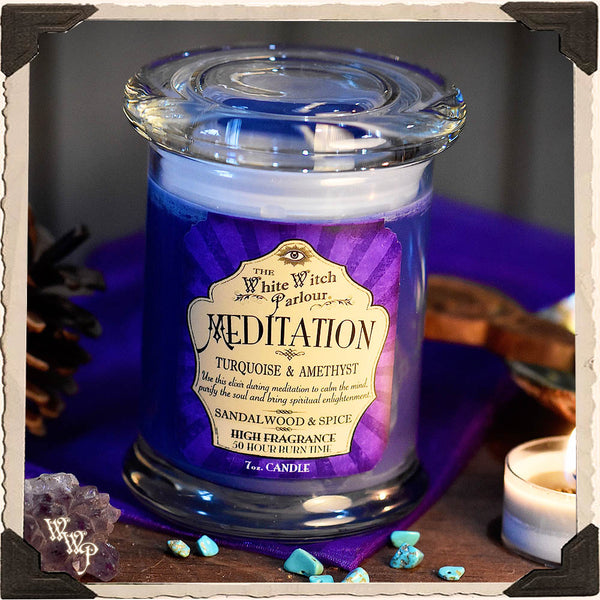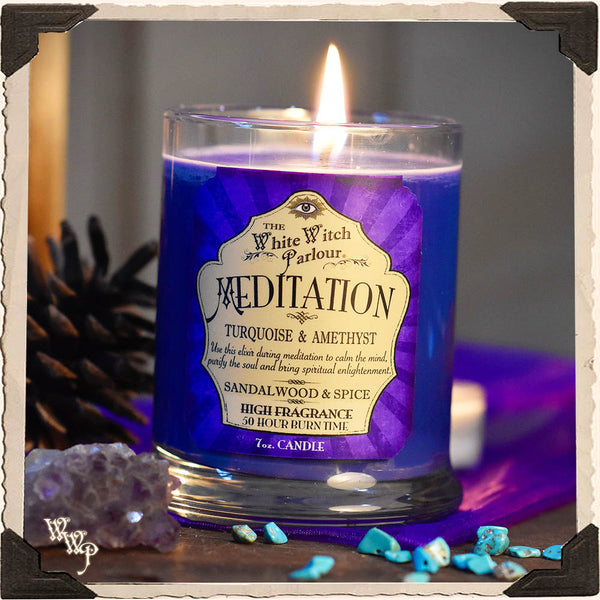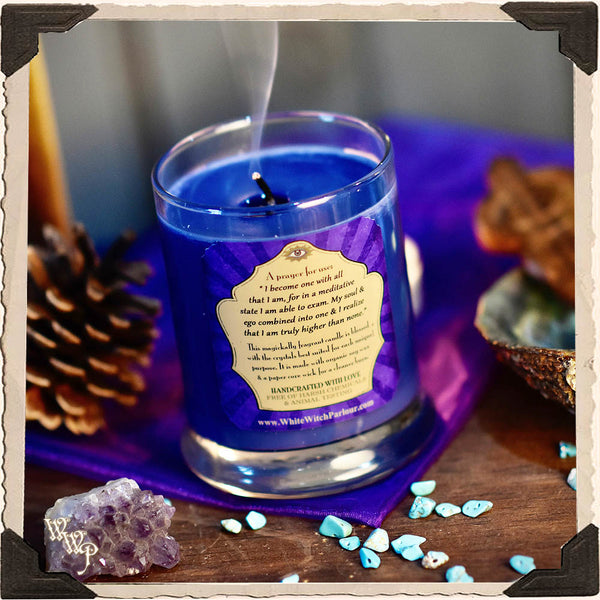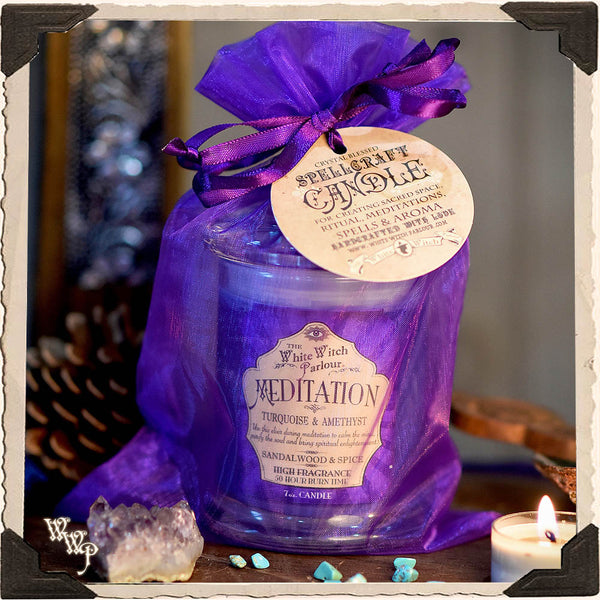 MEDITATION Elixir Apothecary CANDLE 7oz. For Wisdom, Peace & Spiritual Enlightenment.
An elixir created for the specific purpose of meditation. A blend to help calm the mind, purify the soul and bring spiritual enlightenment. It can be used to sanctify or purify an area for spiritual matters of any kind, whether you are working a full ritual & spell or a simple morning meditation, this blend will help set the vibration for spiritual growth & evolution. With it's earthy sweet & warm scent of Sandalwood & spice, 'Meditation' welcomes a comforting energy, allowing you to slip into a meditative state easier & release any ego that may be holding you back.
The energies of Turquoise have long been associated with spiritual healing, it dispels negative energy & works to balance and align all the chakras; stabilizing mood swings and instilling an inner calmness that brings self-realization to light. Amethyst, a stone of cleansing, both physically and psychologically, works to heal & activate the third eye, heightening intuition & spiritual guidance. It can promote internal harmony and can bring stability to the individual. In magick Amethyst is often worn during contemplation or placed on simple meditation altar & is frequently worn during psychic work or practices, as it brings wisdom & allows the information received through the psychic mind to be appropriately utilized. A blend to help find yourself drifting deep into your subconscious mind.
My prayer for use:
" I become one with all that I am, for in a meditative state I am able to exam. My soul & ego combined into one & I realize that I am truly higher than none."
A magickal hand-poured 7oz. candle can be used for spells or just the aromatherapy that it offers. This decorative jar candle is made up of organic soy wax, non-toxic paper-core wick, fragrance / essential oil blend & is charged with the associated crystal chip gemstones mixed into the wax. The magickal aura around each candle is powerful on its own, creating a shift in energy of any room it is left in. This beautiful candle offers a high scent throw & many smiles :) It holds an average burn time of 50+ hours. It comes in a reusable glass apothecary jar with lid, packaged in a beautiful color matching organza bag & hangtag ready to gift to a friend or yourself. 

Here's to Meditative Bliss,
~ Jenna


All Sales Final*
Store in cool dry place, keep from heat or direct sunlight. Never leave a lit candle unattended or near flammable items such as curtains. Always think of safety when using open flame *

Vegan Friendly! Free of Harsh Chemicals & Animal Testing.

Check out more candles & accessories in my shop!