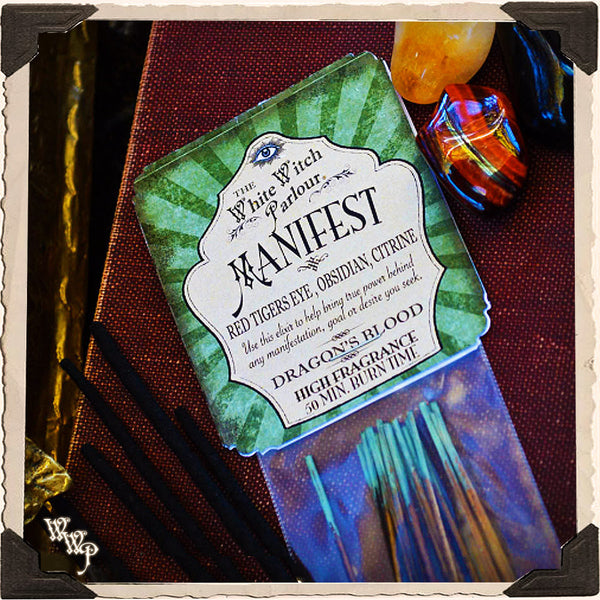 MANIFEST Elixir INCENSE. 20 Stick Pack. Scent of Dragon's Blood. Blessed by Red Tiger's Eye, Citrine & Obsidian Crystals.
A beautiful sweet and earthy spice blend of Dragon's Blood, infused with the intense manifesting powers of Red Tiger's Eye, Citrine and Black Obsidian gemstones to help bring true power behind any manifestation, goal or desire you seek. In the history of magick, Dragon's Blood has often been used in spell casting to enhance or promote the manifestation of love, protection, exorcism, sexual potency, courage, magickal power, energy, strength, purification, changes, determination and cleansing. Widely used for it's strong manifestation powers, Dragon's Blood is also known for it's strong healing properties, which come from the red resin sap that bleeds from the Dracaena Tree.
However you find yourself using this blend, you will allow yourself to break down the barriers that hold you back from your true manifesting potential, aided by the borrowed energies of the infused crystals, you will resonate and attract positivity, luck, abundance, protection, focus, balance, courage and a healthy self-esteem. What you seek is definitely seeking you, as the law of attracting works, however you must make a clear pathway for it to find you easier and faster. Be still and trust that what you desire is headed your way, as long as you are truly open to receive. 
My prayer for use:
" I now manifest all my ambitions, I pray God & Goddess fulfill my wishes.
May loving abundance find way to my missions, releasing all that may be malicious. "
These wonderful handmade alchemy incense sticks burn for approximately 50- 60 minutes each and are made up of pressed charcoal sticks, crystal energies, fragrance oils & essential oils. There are 20 magickal sticks in each pack, that yield beautiful and lingering aroma wherever they are burned. These powerful incense can aid wonderful cheer, dispelling any negative energy & allowing for a more connected approach to your practices. They are blessed with chip stones of Red Tiger's Eye, Citrine & Obsidian Crystals. 
May all that you manifest find way to you,
~ Jenna
All Sales Final*
Not Meant for consumption. 

Vegan Friendly! Free of Harsh Chemicals & Animal Testing.

Check out more incense & accessories in my shop!