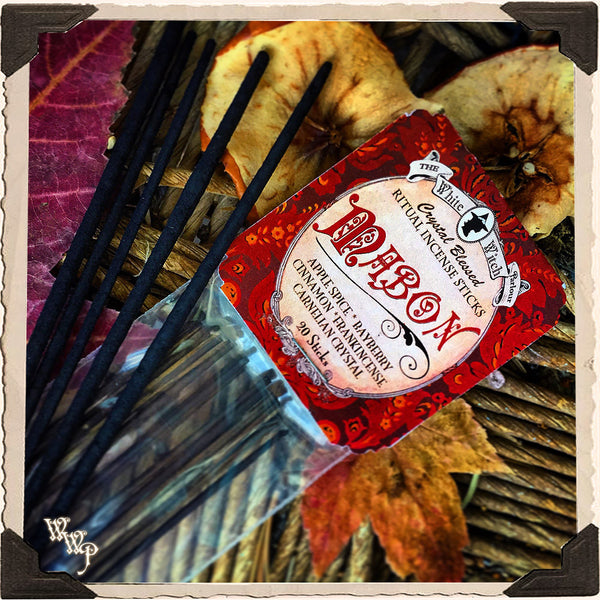 MABON INCENSE. 20 Stick Pack. Autumn Equinox. Scent of Apple Spice, Cinnamon, Bayberry & Frankincense. Blessed by Carnelian Crystal.
Mabon is the 2nd of the 3 Harvest Festivals & is celebrated during the Autumn Equinox. Also known as 'The Witch's Thanksgiving,' it is a time to feast upon the last of the Harvest season, as we prepare for the cold of Winter. It is a time to give thanks for the fruits of earth & ground our energy as we recharge our 'spiritual batteries' & grow closer to the darkness & thinning veil that separates our world & the spirit world. The Autumn Equinox occurs around March 21st for the Southern Hemisphere & September 21st- 23rd for the Northern Hemisphere. Now that the warmth is behind us, the cold lies ahead & we must take a moment to have gratitude for the abundance of crops that have provided us with food through the summer, which will now do the same throughout the Winter. Throw a feast to celebrate the success, prosperity, love & warmth that has found way to your hearth & home.

This special blend carries a lingering scent of crisp Autumn leaves, hot Apple Cider & a warm Frankincense aura, to embrace your energy & ground it, leaving you renewed & energized. Carnelian Crystal blesses this exhilarating Fall scent, to align & heal your Root & Sacral Chakra, Re-balance your spiritual & physical energy levels, help bring stamina & determination, while attracting prosperity & general good luck. Apples have long been associated with divination & protection, combined with Frankincense to offer spiritual growth & cleansing. Bayberry & Cinnamon allow for abundance, manifestation power, healing & harmony within. Making for a unique blend to amplify your magickal intent during this beautiful changing of the season.
These wonderful handmade alchemy incense sticks burn for approximately 50 - 60 minutes each and are made up of pressed charcoal sticks, crystal energies, fragrance oils & essential oils. There are 20 magickal sticks in each pack, that yield beautiful and lingering aroma wherever they are burned.

May You Find Warmth & Renewed Energy This Autumn Season! *
~ Jenna

************************************************
All Sales Final
Not Meant for consumption.
Keep out of heat and direct sunlight.
Incense accessories available in my shop!