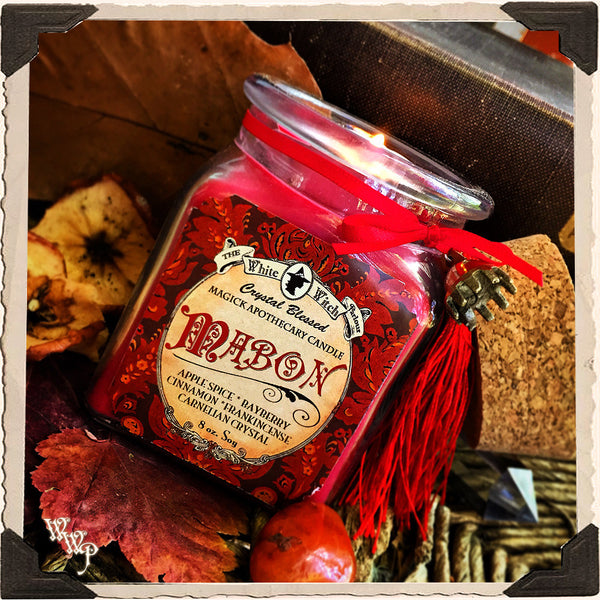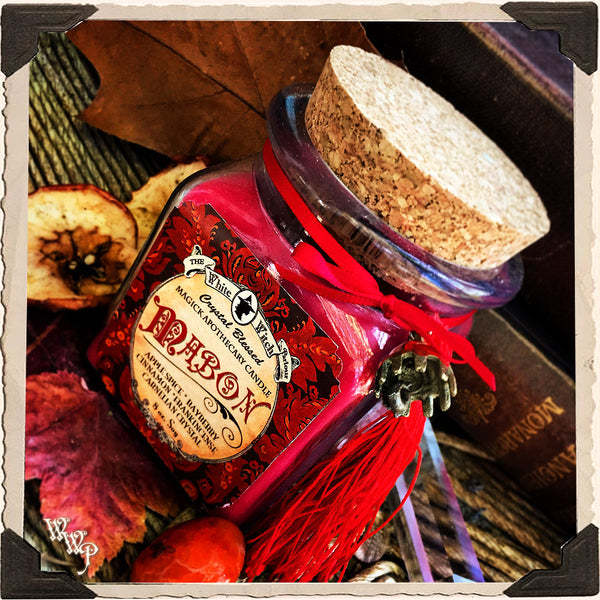 MABON APOTHECARY CANDLE 8oz. Autumn Equinox. For Thanksgiving, Harvest & Prosperity.
Mabon is the 2nd of the 3 Harvest Festivals & is celebrated during the Autumn Equinox. Also known as 'The Witch's Thanksgiving,' it is a time to feast upon the last of the Harvest season, as we prepare for the cold of Winter. It is a time to give thanks for the fruits of earth & ground our energy as we recharge our 'spiritual batteries' & grow closer to the darkness & thinning veil that separates our world & the spirit world. The Autumn Equinox occurs around March 21st for the Southern Hemisphere & September 21st- 23rd for the Northern Hemisphere. Now that the warmth is behind us, the cold lies ahead & we must take a moment to have gratitude for the abundance of crops that have provided us with food through the summer, which will now do the same throughout the Winter. Throw a feast to celebrate the success, prosperity, love & warmth that has found way to your hearth & home.

This special blend carries a lingering scent of crisp Autumn leaves, hot Apple Cider & a warm Frankincense aura, to embrace your energy & ground it, leaving you renewed & energized. Carnelian Crystal blesses this exhilarating Fall scent, to align & heal your Root & Sacral Chakra, Re-balance your spiritual & physical energy levels, help bring stamina & determination, while attracting prosperity & general good luck. Apples have long been associated with divination & protection, combined with Frankincense to offer spiritual growth & cleansing. Bayberry & Cinnamon allow for abundance, manifestation power, healing & harmony within. Making for a unique blend to amplify your magickal intent during this beautiful changing of the season.
Candle Apothecary at its finest. In a beautiful 8oz. glass corked jar, with up to a 60+ hour burn from a paper-core wick; this hand-poured Organic Soy Candle is perfect for any altar, big or small. This powerful candle can aid in welcoming warmth & cheer, dispelling any negative energy & allowing for a beautiful glow from the heart. I have also sprinkled the powder of hand ground associated crystals into the wax of each candle to keep the spiritual vibrations high & in good trust, as well as protected by the ringing of the bell charm tied to each matching tassel. Whether you decide to use this candle all month long or specifically for seasonal meditation, it can enhance the magick for whatever ritual or ceremony you may choose to embark on.
May You Find Warmth & Renewed Energy This Autumn Season! *
~ Jenna

A beautiful, hand-crafted blend of both all natural essential oils & high grade fragrance oils, blessed with the energies of the associated crystals in an all natural organic soy wax. Free of Harsh Chemicals & Animal Testing. Store in cool dry place, keep from heat or direct sunlight. Never leave a lit candle unattended or near flammable items such as curtains. Always think of safety when using open flame * RECYCLE! when you are finished using this candle, you can remove the label and remaining wax under warm water and reuse the jar for other crafty magickal projects or storing herbs. :)
*All sales are final.
Candles & accessories available in my shop!