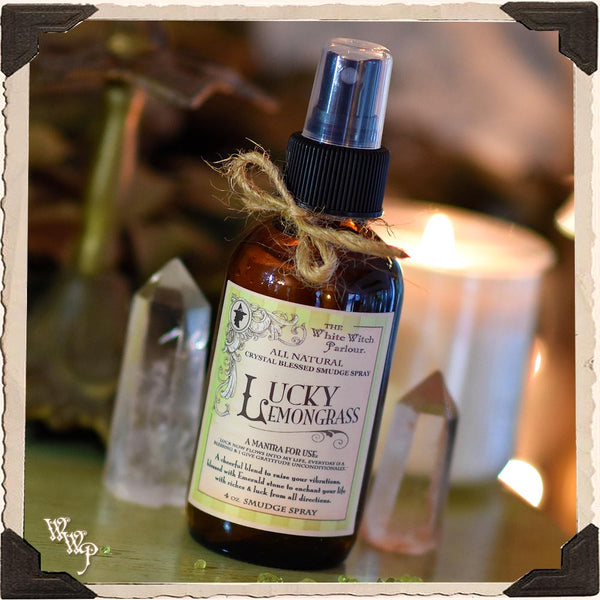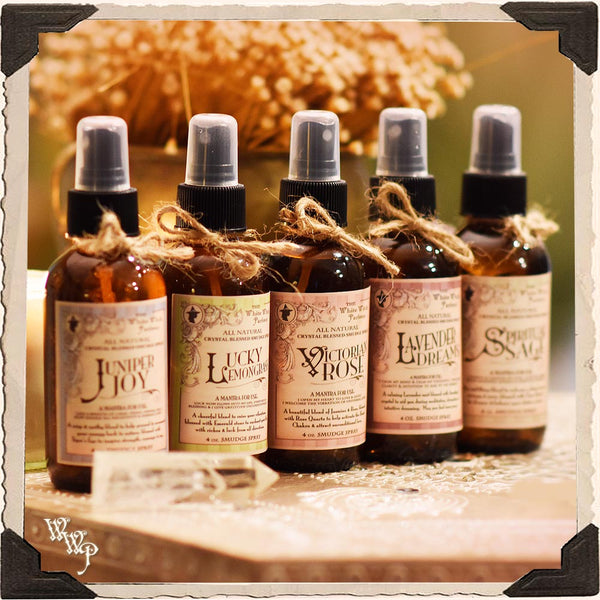 LUCKY LEMONGRASS 4oz. All Natural Ritual Smudge Spray. For Luck & Fortune.
Carrying the element of air, Lemongrass is popular in all styles of magick workings, as it helps one to better move with the colors of the wind. The primary use of Lemongrass is spiritual cleansing, as it dissolves all negative energies & cleanses the aura, it lifts the spirit, as well as one's energy vibrations, making manifestations & magick much more powerful. Lemongrass creates new roads or paths on one's spiritual journey & embraces an overall path to enlightenment. Lemongrass can increase the metaphysical potency of other herbs or resins, so it is recommended to experiment, by mixing other metaphysical elements, such as roses for love, etc. Due to it's high vibrations, Lemongrass works to cast away evil or dark energies, offering great general protection. It boosts confidence and allows more room for one to believe in themselves, which can result in a higher paying positions at work, better jobs, creating more loving relationships & manifesting great adventures or travels. Lemongrass is a powerful tool in magick that can really boost one to the "next level." :)
Charges with Clear Quartz & Emerald stone is a stone or wealth & prosperity. It brings success & signifies luxury. Emerald works with the heart chakra, allowing one to better understand what their heart wants in life. It teaches patience & rids one of anxiety or self-doubt.
Lucky Lemongrass is a beautiful 4 oz. Glass Amber Apothecary Bottle filled with an All Natural essential oils blend, diluted with natural Witch Hazel & distilled aqua, making it ready to spritz on the body, ritual linens, or sacred space areas as an anointing tool for your magickal workings. Artisan Lemongrass Smudging Spray, blessed by Clear Quartz Chip Stone, which I have left in each bottle. I created this Spiritual Cleansing potion to help fill your heart with the light of the divine. This spray can be used as an aura spray, linen spray, or room/ sacred space mist, to cleanse the energy and fill it with a high vibrational spiritual energy, putting you closer to the source with every spray. Great for meditation!
I personally use this spray daily, it raises my spirits and awakens my soul to give me a daily reminder of my divine purpose.
In Love & light,
~ Jenna
** All sales are final. **
Not meant for consumption.