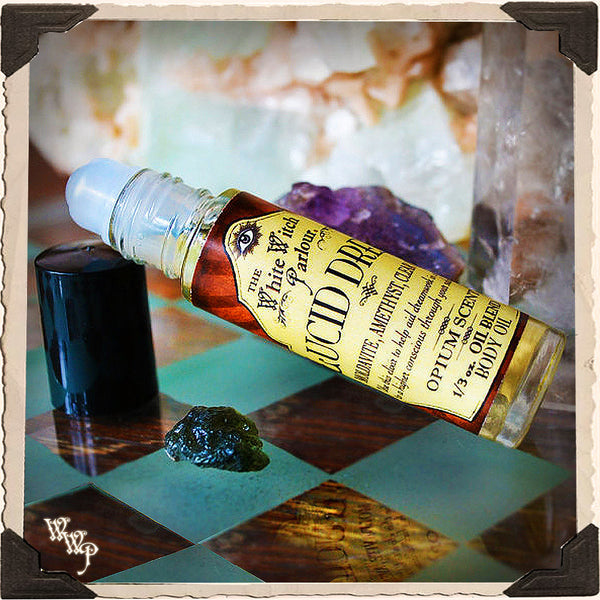 LUCID DREAM Elixir 1/3oz. BODY OIL Rollon. For Dreamwork & Subconscious Awakening.
This elixir was created to help aid dream work in connecting to a higher conscious, through your subconscious. The Earthy, Citrus scent  of this 'Lucid Dream' blend will amaze you. In Magick, Opium has long been used as a dream associative. Opium scented incense was traditionally burned for any spell involving dreaming or sleep in any way, including spells meant to induce lucid dreaming, prophetic dreams or create a trance like energy for deep meditations. It has been tied to 'Slumber' deities, such as Morpheus; Recognizing the state where we become easy to manipulate, unless we are aware, in which, we then have full control to manipulate our own reality to meet our own desire. Moldavite is the stone from outer space, drawing cosmic energies & synching us to extra terrestrial messages. It teaches us to move beyond what we currently think we "know," & allows us to expand our minds to something beyond. Amethyst enhances deep thinking, from the subconscious mind, often used to induce meditation or dreams, Amethyst works off the Third Eye Chakra, charging the Pineal Gland & psychic awareness. Lastly, Clear Quartz generates a high vibrational state, purifying negative energies & allowing for clarity. Become aware in your dreams & alter your consciousness, to shift to a higher plane of amazement.
My prayer for use:
" I see my dreams with clear vision, so in depth, with perfect precision. Insight & questions that I often wonder, my dreams provide message throughout my slumber. "
Each Body oil comes in a glass 1/3oz. bottle with easy roll-on applicator containing chip stones of Clear Quartz & Amethyst gemstones, with the essence of Moldavite. 
A beautiful, hand-crafted Potion blend of both all natural essential oils & high grade fragrance oils, blessed with the energies of the associated crystals in an all natural Sweet Almond Oil Carrier. Free of Harsh Chemicals & Animal Testing. Created for use on Skin, Aroma Lamps, Bath Oil or an Anointing Ritual Oil. Not meant for consumption. Keep away from small children & pets.

Blessings on your inter-dimensional travels,
~ Jenna  

*All sales are final.
Check out more oils in my shop!