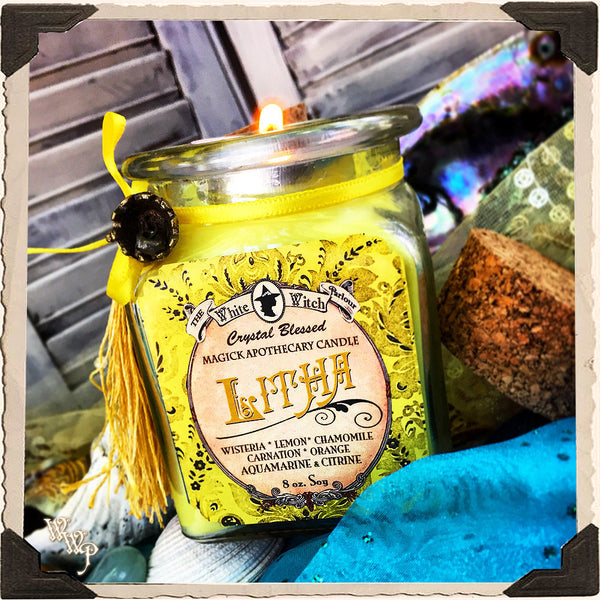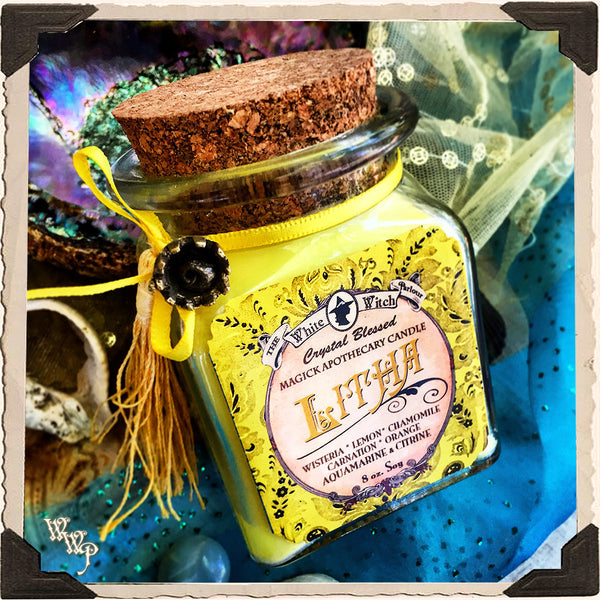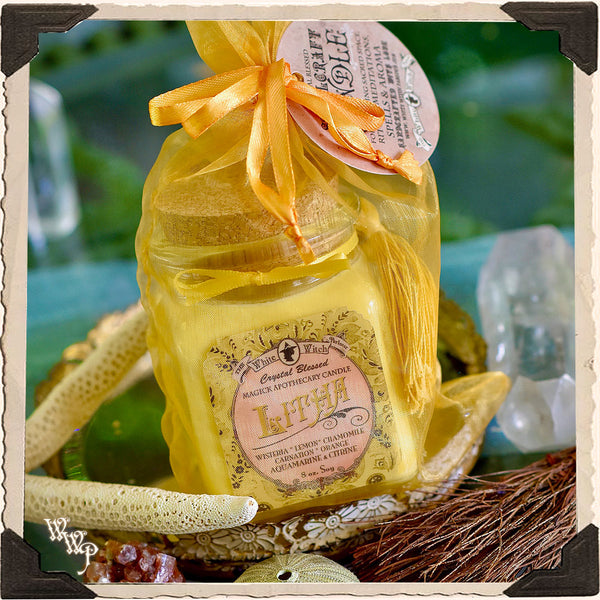 LITHA APOTHECARY CANDLE 8oz. Summer Solstice. For Light Celebration & Sun Worship.
The Summer Solstice marks the beginning of Summer on a day usually between June 19th - 25th in the Northern Hemisphere. Also known as Litha or Midsummer, the longest day of the year allows us to fully celebrate the gift of Light. Now that Summer is among us, we must enjoy all the illumination, life & growth, that the Sun provides for us. In witnessing the longest day of the year, we also experience the shortest night of the year & with this we can embrace the light that outweighs the darkness. Pagan cultures often view this as a time to celebrate the full pregnancy of the Goddess & the virility of the Sun God, as He has now reached his peak strength. As the Sun appears to stand still in the sky, we can look to find the balance between Sky & Earth, Fire & Water. By holding a bonfire ritual near a body of water, we invoke an energy that dwells within us, bringing passion & fury, calmness & motion, God & Goddess. Although some can view this time as a battle between light & dark, one can use this time to find the balance within themselves. We can enjoy this new season to get back out in nature, enjoy our communities, friends, family & hobbies, as Summer truly brings a magick all on it's own.

Light, cool & majestic like a warm summer breeze by the ocean, this mermaid friendly blend can instantly lift your spirits & calm your emotions. Reminiscent of the ocean waves under a warm Sun, the complex blend of Wisteria, Lemon, Chamomile, Carnation & Orange work together to enlighten your heart & fill your mind with excitement. Half of this blend bring a warm glow to the spirit, energizing the soul & pushing one to get out and see the world, while the other half can teach one's energy to go with the flow, move with grace & remain calm; A perfect balance. Blessed by the soothing energies of Aquamarine, which promote deep, hidden spiritual powers in a meditative vibration & Citrine crystal, which brings prosperity, happiness, courage & creativity. Combined all together, this ocean gypsy blend can empower something new within you during a beautiful season of Light.
Candle Apothecary at its finest. In a beautiful 8oz. glass corked jar, with up to a 60+ hour burn from a paper-core wick; this hand-poured Organic Soy Candle is perfect for any altar, big or small. This powerful candle can aid in welcoming warmth & cheer, dispelling any negative energy & allowing for a beautiful glow from the heart. I have also sprinkled the powder of hand ground associated crystals into the wax of each candle to keep the spiritual vibrations high & in good trust, as well as protected by the ringing of the bell charm tied to each matching tassel. Whether you decide to use this candle all month long or specifically for seasonal meditation, it can enhance the magick for whatever ritual or ceremony you may choose to embark on. This Litha Candle is perfect for any altar, big or small & arrives in a yellow gold organza bag with hangtag ready to gift.
A beautiful, hand-crafted blend of both all natural essential oils & high grade fragrance oils, blessed with the energies of the associated crystals in an all natural organic soy wax. Free of Harsh Chemicals & Animal Testing. Store in cool dry place, keep from heat or direct sunlight. Never leave a lit candle unattended or near flammable items such as curtains. Always think of safety when using open flame * RECYCLE! when you are finished using this candle, you can remove the label and remaining wax under warm water and reuse the jar for other crafty magickal projects or storing herbs. :)

Litha Blessings ~
~ Jenna
All Sales Final
More oils & candles available in my shop!