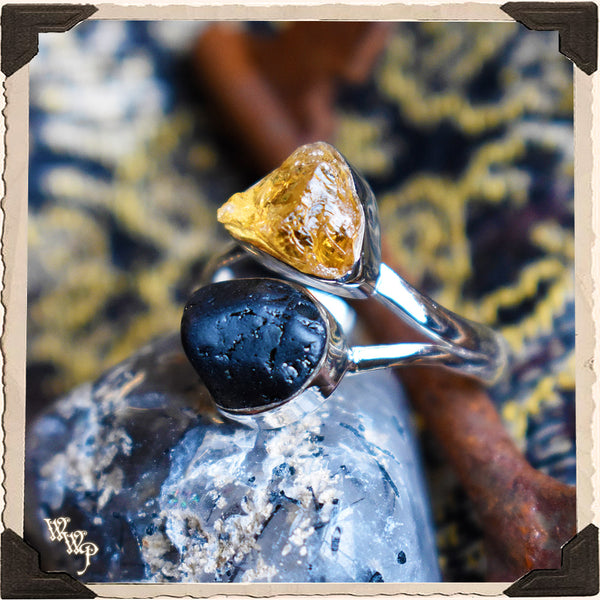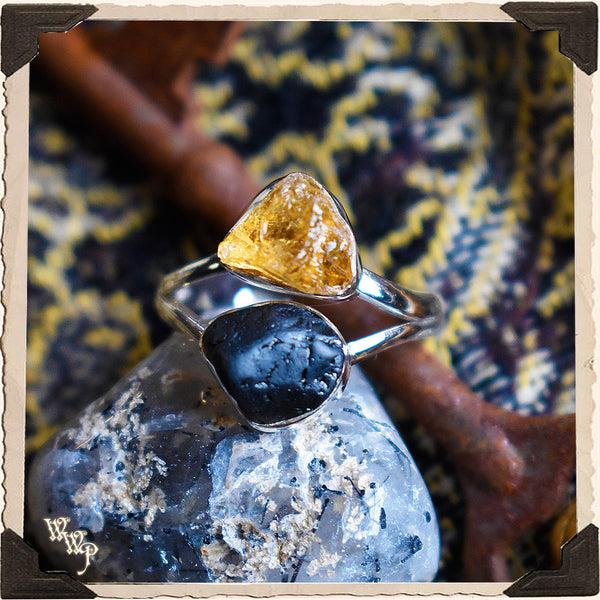 LIMITED EDITION: CITRINE & BLACK TOURMALINE RING. For Prosperity, Protection & Manifestation.
Wear this enchanted ring for conjuring positive energy, which begins to attract new opportunities & blessings of prosperity into one's reality. A powerful combination of stones for any Empath, this necklace also works to rid one's own energy of toxicity, negative thoughts & bad habits. Black Tourmaline & Citrine work together to raise one's vibrations fully blocking lower energies, thus offering strong protection to the aura, helping one to emit only higher frequencies, which over time, will begin to attract positive abundance in all forms.
If you are looking to heighten your manifestation power, this is a powerful tool! 
Citrine is an encouraging stone of wealth, success & true prosperity. It can help to bring joy & energy to the user, thus attracting abundance & peace into one's life. It will increase motivation & happiness as it filters out sorrow & anger, bringing balance to all physical & emotional levels. Powerful as a manifestation & healing stone, Citrine can help ease fear & open you up to acceptance in all things, from gratitude & love to material objects. It will help you to allow good things to come your way, including an increase of financial opportunities & adventure. A very beneficial stone, Citrine can also activate higher levels of consciousness helping your manifestation power.  
Black Tourmaline works to clear and re-energize the chakras and aura, pushing away harmful energy & enhancing spiritual wisdom. Long used for Scrying, this stone has ancient ties to Shamans, Witch's & Healers. It enhances the vibration in ritual work, guiding the user towards the best direction. While it banishes all negative energy, it can help one to work in their highest good, amplifying manifestation power. 
Each piece comes in a beautiful White Witch Parlour gift box, on a bed of Spanish Moss with an information card on the Stone, ready to gift to yourself or a loved one.

ABOUT THIS PIECE:  This ring is made of .925 Sterling Silver, with 2 semi precious stones of both citrine & tourmaline set into a simple stacked design. The ring measures .75" in length.
LIMITED EDITION PIECES: You will receive the piece/set similar to the one in the photo, or the exact one pictured. Once these pieces are gone we may not carry them every again. Handcrafted with .925 Sterling Silver.
Blessings of Love & Light,   
~ Jenna 

All Sales Final *