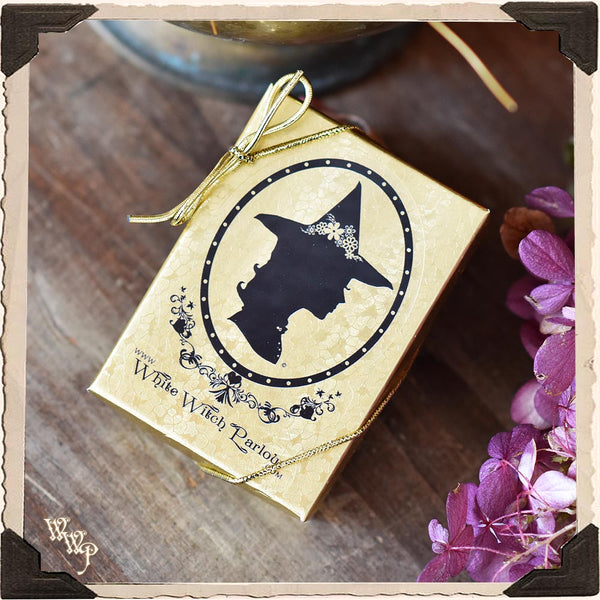 LIMITED EDITION : TRIPLE CITRINE RING. For Abundance & Good Luck. Sterling Silver. SKU: C3R
Citrine is an encouraging stone of wealth, success & true prosperity. It can help to bring joy & energy to the user, thus attracting abundance & peace into one's life. It will increase motivation & happiness as it filters out sorrow & anger, bringing balance to all physical & emotional levels. Powerful as a manifestation & healing stone, Citrine can help ease fear & open you up to acceptance in all things, from gratitude & love to material objects. It will help you to allow good things to come your way, including an increase of financial opportunities & adventure. A very beneficial stone, Citrine can also activate higher levels of consciousness helping your manifestation power.

Each piece comes in a beautiful White Witch Parlour gift box, ready to gift to yourself or a loved one.

ABOUT THIS PIECE: This Ring is made of .925 Sterling Silver, with 3 semi precious stone set into the elegant design. The ring measures 1.5" in length. Multiple Ring U.S. sizes available.

LIMITED EDITION PIECES: You will receive the piece/set similar to the one in the photo, or the exact one pictured. Once these pieces are gone we may not carry them every again. Handcrafted with .925 Sterling Silver.
Blessings of Love & Light,   
~ Jenna 

All Sales Final *
* PLEASE NOTE: STONE COLORING WAS BACKLIT FOR PHOTO TO SHOW STONE DETAILS & MAY APPEAR DARKER IN PERSON.