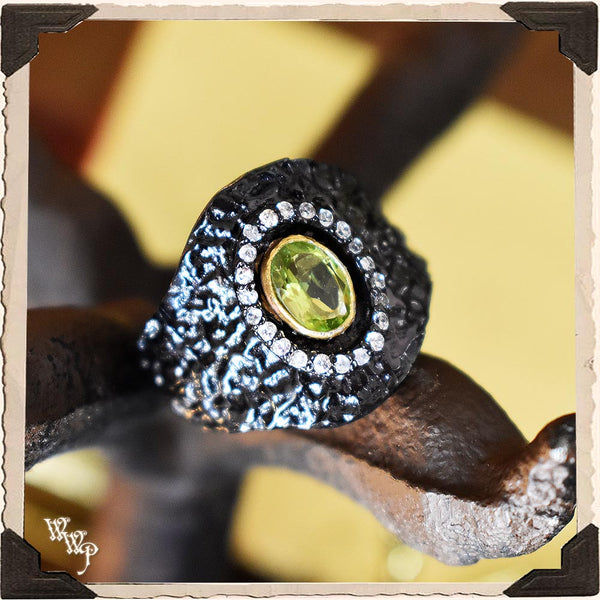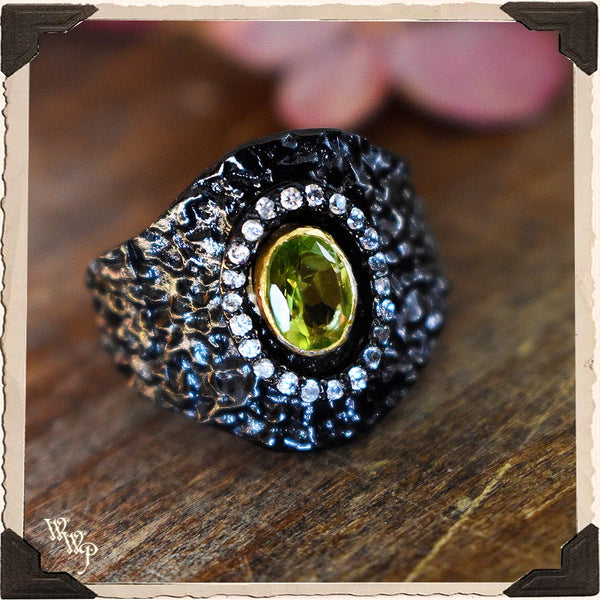 LIMITED EDITION : TEXTURED PERIDOT RHODIUM TOPAZ RING. Self Love & Healing Ring. SKU: BPR
Peridot crystal acts as a natural generator to financial wealth & abundance, it is often used in Goddess worship & Feng Shui practices, as it enhances the unity, love & balance within all things living.  Peridot is an overall abundance crystal, helping to raise one's vibrations & bring forth positivity. It works with the heart chakra, as this is the best place for all healing to begin. It bring self love, care & respect to a top priority, which is necessary for one's growth spiritually & energetically.

RHODIUM is One of the most valued precious metals. Rhodium prices are far greater than gold prices, as It is a very rare, silvery-white, hard, corrosion-resistant transition metal. It is a noble metal and a member of the platinum group. Once used as an amulet to ward off evil spirits & block negative outside energies, Rhodium ( Rh ) can spiritually help you stay calm & neutralize overthinking.

Each piece comes in a beautiful White Witch Parlour gift box, ready to gift to yourself or a loved one.

ABOUT THIS PIECE: This Ring is made of Rhodium, with 1 semi precious stone set into the middle, surrounded by tiny Topaz settings in this simple, yet elegant design. The ring measures approx. 1" in length. Multiple Ring U.S. sizes available.

LIMITED EDITION PIECES: You will receive the piece/set similar to the one in the photo, or the exact one pictured. Once these pieces are gone we may not carry them every again. Handcrafted with .925 Sterling Silver.
Blessings of Love & Light,   
~ Jenna 

All Sales Final *
* PLEASE NOTE: STONE COLORING WAS BACKLIT FOR PHOTO TO SHOW STONE DETAILS & MAY APPEAR DARKER IN PERSON.