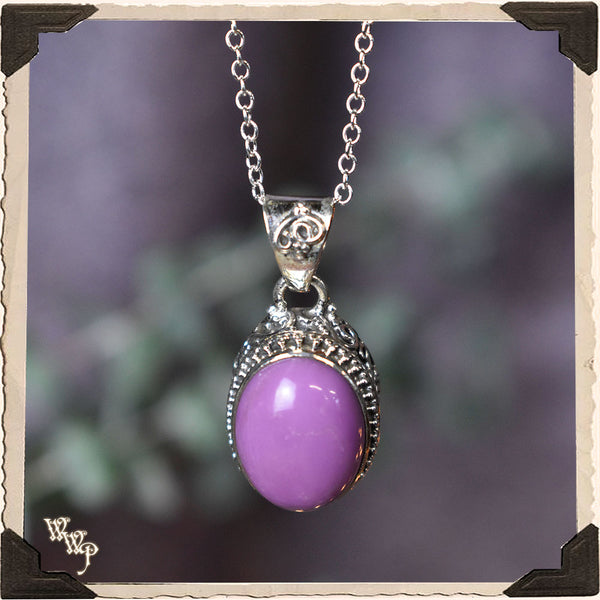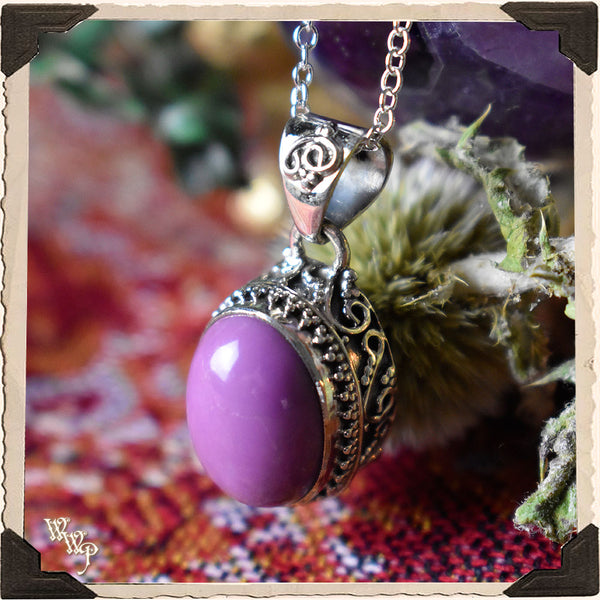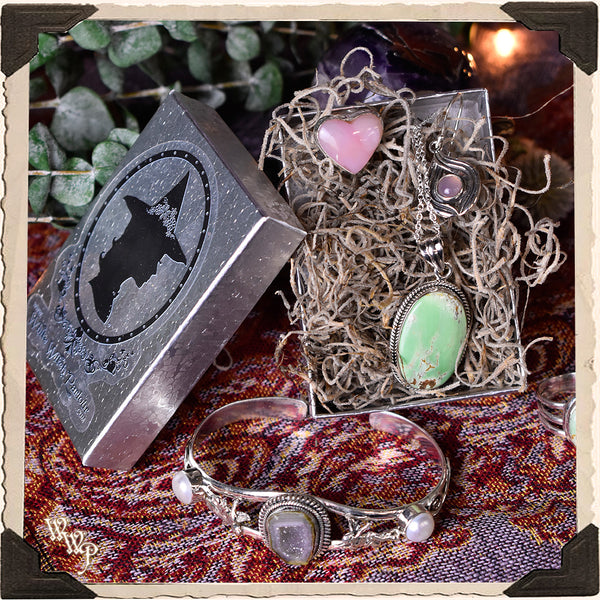 LIMITED EDITION : PURPLE PHOSPHOSIDERITE NECKALCE For Harmony, Spiritual Awareness & Self Love.
Purple Phosphosiderite, mainly comprised of phosphate and iron, Purple Phosphosiderite was discovered in 1890 & varies in color from a pretty pink to a purple orchid color, both which help to share energy to the heart & thrid eye chakras. It is both a peaceful & grounding stone, helping to balance the energy of love & spiritual awareness in precious harmony.  It is a powerful stone for accessing & strengthening connections with one's spirit guides & knowledge for one's spiritual path. It is tremendously helpful in meditation & works to gently heal all chakras. It ties the physical existence into the spiritual one beautifully.

Each piece comes in a beautiful White Witch Parlour gift box, on a bed of Spanish Moss with, ready to gift to yourself or a loved one.
ABOUT THIS PIECE: This necklace is made of .925 Sterling Silver, with 1 semi precious stone of Purple Phosphosiderite  set into the simple & elegant Designed pendant. The pendant measures 1 1/8" in size  & hangs on a 20" Sterling silver plated lobster claw chain.


LIMITED EDITION PIECES: You will receive the piece/set similar to the one in the photo, or the exact one pictured. Once these pieces are gone we may not carry them every again. Handcrafted with .925 Sterling Silver.
Blessings of Love & Light,   
~ Jenna 

All Sales Final *
* PLEASE NOTE: STONE COLORING WAS BACKLIT FOR PHOTO TO SHOW STONE DETAILS & WILL APPEAR DARKER IN PERSON.