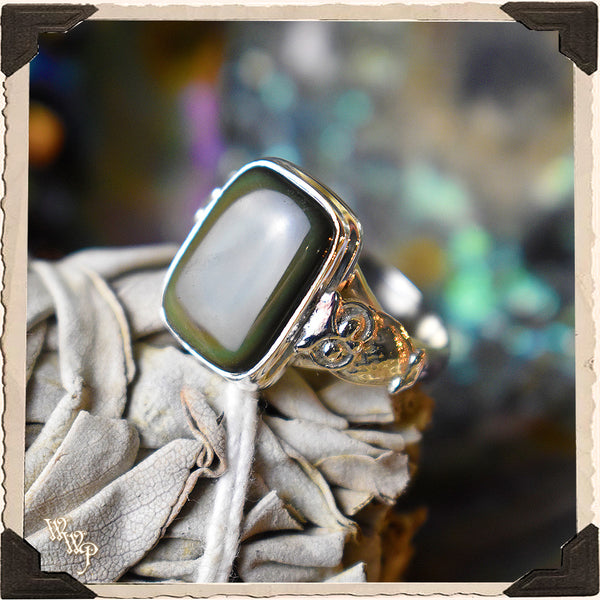 LIMITED EDITION : RAINBOW OBSIDIAN OWL RING. For Power, Protection & Enjoyment.
Rainbow Obsidian is said to pour light into your life, as the stone tends to appear jet black at first glance, but when put under the right light, shines inner radiant rainbow colors. A reminder that there is always more going on than what appears at the surface.  Rainbow Obsidian helps you recognize your true powers & spiritual nature. where do you naturally thrive? What excites your soul? It is a stone that continuously holds you to a commitment of digging deeper, & when you think you discovered "it," Rainbow Obsidian will encourage you to go further, making it a powerful stone for inspirational changes & transformations, in both your physical & spiritual life. With all these qualities, you are sure to find the joy in your life!

Each piece comes in a beautiful White Witch Parlour gift box, on a bed of Spanish Moss with an information card on the Stone, ready to gift to yourself or a loved one.
ABOUT THIS PIECE: This ring is made of .925 Sterling Silver, with 1 semi precious stone of RAINBOW OBSIDIAN set into a SQUARE STONE & OWL RING design. This ring measures .60" in length . U.S. Ring size 7.

LIMITED EDITION PIECES: You will receive the piece/set similar to the one in the photo, or the exact one pictured. Once these pieces are gone we may not carry them every again. Handcrafted with .925 Sterling Silver.
 Blessings of Love & Light,   
~ Jenna 


All Sales Final *
* PLEASE NOTE: STONE COLORING WAS BACKLIT FOR PHOTO TO SHOW STONE DETAILS & WILL APPEAR DARKER IN PERSON.