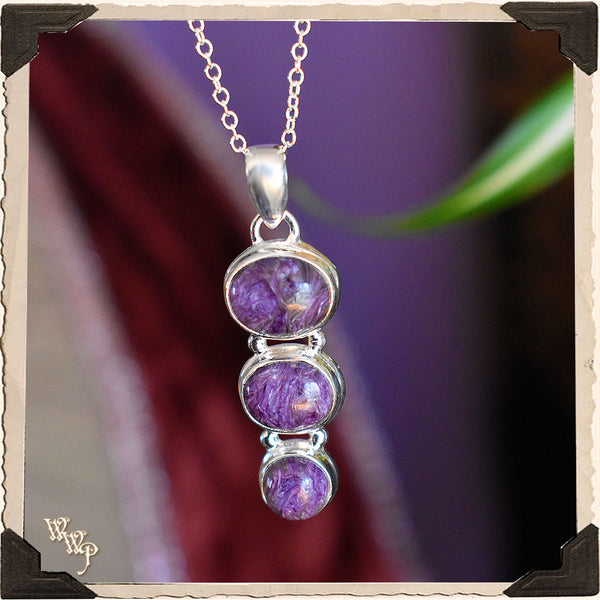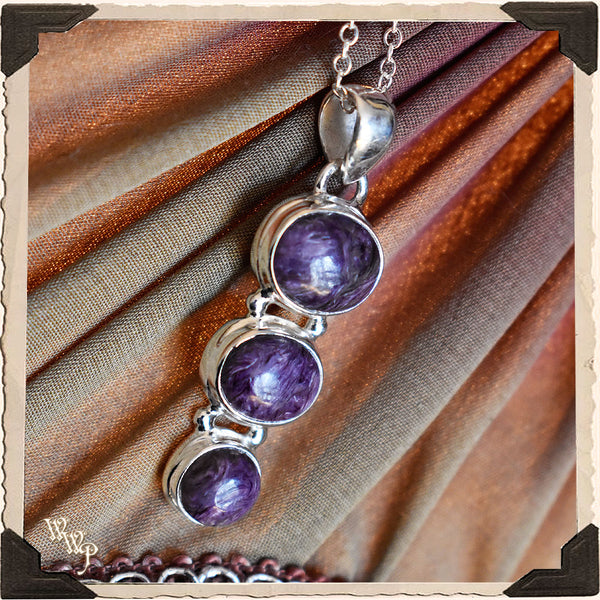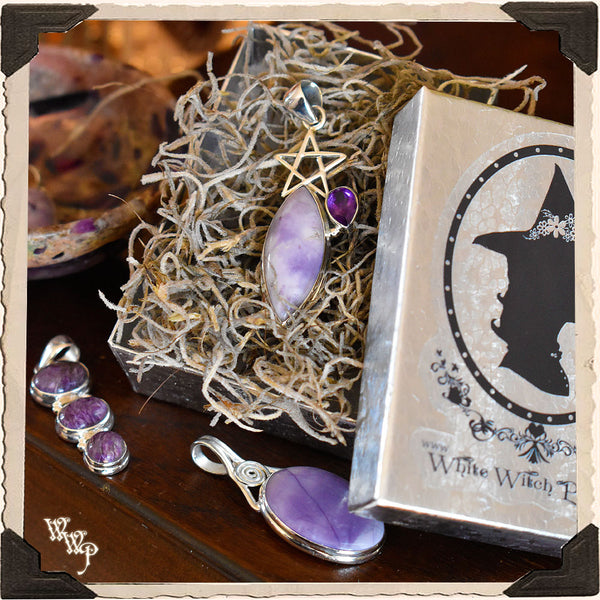 LIMITED EDITION : PURPLE CHAROITE TRIPLE STONE NECKLACE For Psychic Attacks, Emptahs & Magic.
It is named after by the Russian word chary, meaning "magic," & a great way to describe the energy of this eye catching stone.  Helping against psychic attacks & lower vibrational energy, Purple Charoite works to enhance psychic energy & healing. It allows the user to better "see" the truth of things & the magic that surrounds them. It is a highly spiritually protective stone & better unites your energy to Spirit, during meditations, divination & 'downloads.' It will inspire you to be of service to others, without expelling all of your energy & glow in the process, making it a miraculous stone for energy workers & compassionate Empaths.

Each piece comes in a beautiful White Witch Parlour gift box, on a bed of Spanish Moss with, ready to gift to yourself or a loved one.
ABOUT THIS PIECE: This necklace is made of .925 Sterling Silver, with 3 semi precious stone of Purple Charoite Stones  set into the simple triple stone drop Designed pendant. The pendant measures 1 6/8" in size  & hangs on a 20" Sterling silver plated lobster claw chain.


LIMITED EDITION PIECES: You will receive the piece/set similar to the one in the photo, or the exact one pictured. Once these pieces are gone we may not carry them every again. Handcrafted with .925 Sterling Silver.
Blessings of Love & Light,   
~ Jenna 

All Sales Final *
* PLEASE NOTE: STONE COLORING WAS BACKLIT FOR PHOTO TO SHOW STONE DETAILS & WILL APPEAR DARKER IN PERSON.