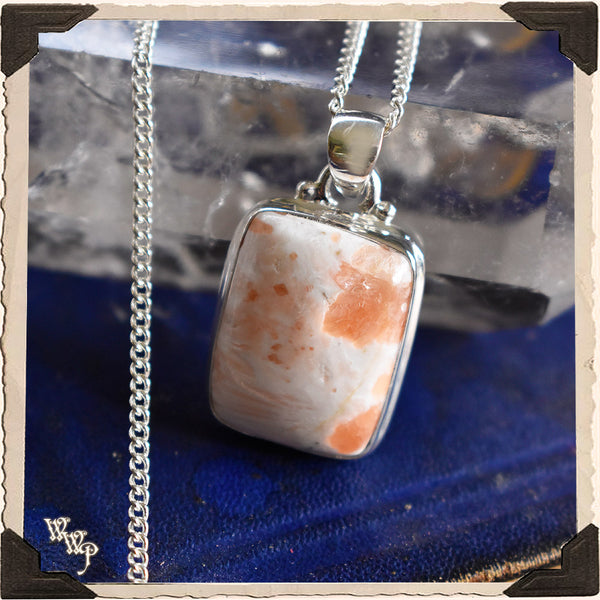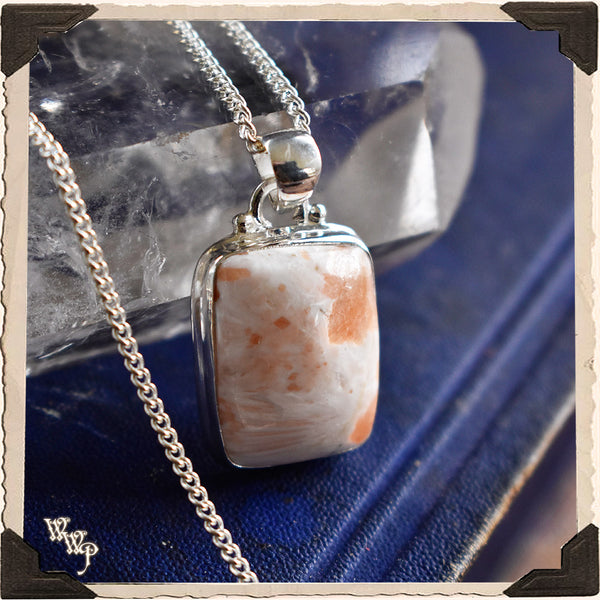 LIMITED EDITION: ORANGE SCOLECITE PENDANT NECKLACE For Inner Peace & Spiritual Transformation.
Scolecite is a stone for spiritual transformation & bringing enlightenment into your life. Activating the Heart through the Crown Chakra for pure light & love energy. Scolecite helps to activate stronger connections to high vibrational energies. It also builds a better intuitive connection to the energy of Ascended Masters, Pleadians, Guides of Light & Angels, to channel downloads of high psychic awareness & healing messages. The deep inner peace it triggers helps us with our own connection to Spirit. It inspires faith, hope, & encouragement to do 'the work' for transformation.

Each piece comes in a beautiful White Witch Parlour gift box, on a bed of Spanish Moss, ready to gift to yourself or a loved one.
ABOUT THIS PIECE: This necklace is made of .925 Sterling Silver, with 1 semi precious stones of Orange Scolecite set into the rectangular square design. The pendant measures 1 1/8" in length  & hangs on a 20" Sterling silver plated lobster claw chain.

LIMITED EDITION PIECES: You will receive the piece/set similar to the one in the photo, or the exact one pictured. Once these pieces are gone we may not carry them every again. Handcrafted with .925 Sterling Silver.
 Blessings of Love & Light,   
~ Jenna 
 
All Sales Final *
* PLEASE NOTE: STONE COLORING WAS BRIGHTLY LIT FOR PHOTO TO SHOW STONE DETAILS & MAY APPEAR SLIGHTLY DARKER IN PERSON.