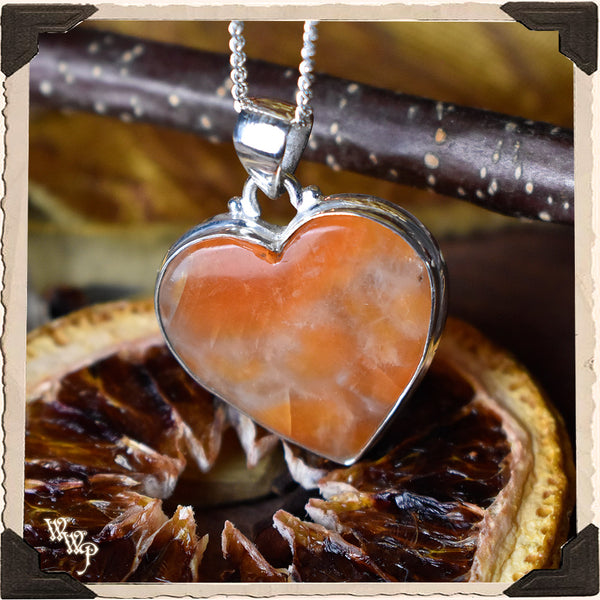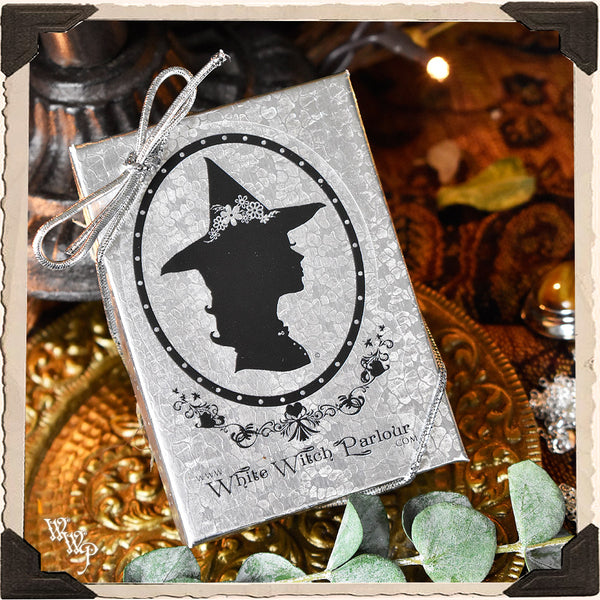 LIMITED EDITION : ORANGE CALCITE HEART NECKLACE. For Overcoming Emotional Fears & Cleansing.
Orange calcite is a stone that is particularly helpful mentally. It is said to relieve dark issues that are hard to talk about & intense emotional fears, mental breakdowns, depression, accidents, rape, divorce, suicidal thoughts & more. It is particularly helpful with phobias & works to restore mental and emotional equilibrium, giving a gentle boost to psychic abilities and intuition. Calcite in general is a powerful energy amplifier and cleanser. The purifying energy of Calcite cleans out stored negative energy from a room, the body, etc. making it a great stone to clear out old energy patterns and increase personal motivation.

Each piece comes in a beautiful White Witch Parlour gift box, on a bed of Spanish Moss with a complimentary 22" silver plated necklace chain, with lobster claw clasp, ready to gift to yourself or a loved one.

ABOUT THIS PIECE: This necklace is made of .925 Sterling Silver, with 1 semi precious stone of Orange Calcite set into the simple heart design. The pendant measures approx. 1 1/8" in size. 

LIMITED EDITION PIECES: You will receive the piece/set similar to the one in the photo, or the exact one pictured. Once these pieces are gone we may not carry them every again. Handcrafted with .925 Sterling Silver.
 Blessings of Love & Light,   
~ Jenna 
 
All Sales Final *
* PLEASE NOTE: STONE COLORING WAS BACKLIT FOR PHOTO TO SHOW STONE DETAILS & WILL APPEAR DARKER IN PERSON.