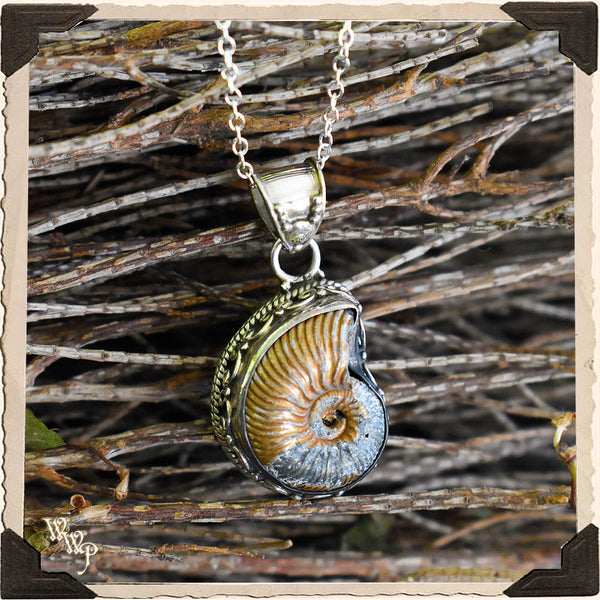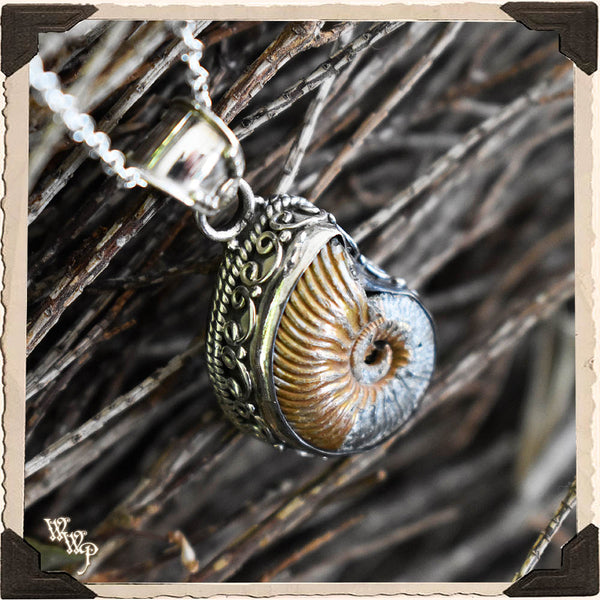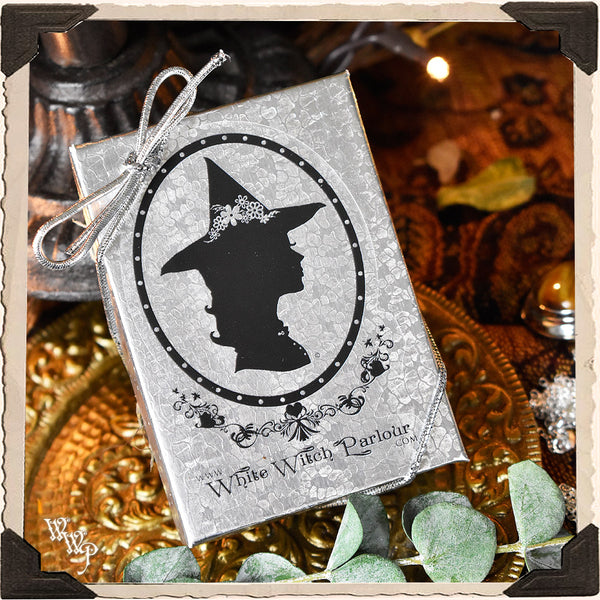 LIMITED EDITION : OPAL AMMONITE FOSSIL NECKLACE. For Grounding, Life Patterns & Synchronicity. Sterling Silver
The Fibonacci is a sequence of sacred geometry that occurs naturally in nature. It is witnessed everywhere from animals, to plants & within the creation of our own bodies. It's perfection is miraculous & a great reminder that we are indeed all connected as ONE. That is the precious energy this fossil stone of Opal Ammonite offers as well as grounding & ancient healing. Over time it has absorbed tons of cosmic energies, which can help awaken the kundalini flow throughout one's body & activate the core life force energy (aka Chi.) It will encourage you to keep on your life path, allowing for the natural pattern of things to fall into alignment.

Each piece comes in a beautiful White Witch Parlour gift box, on a bed of Spanish Moss with an information card on the Stone, ready to gift to yourself or a loved one.

ABOUT THIS PIECE: This necklace is made of .925 Sterling Silver, with 1 FOSSIL stone of Opal Ammonite set into the Victorian-esque  design. The necklace measures 1 3/8" in length & hangs on a 20" Sterling silver plated lobster claw chain.

LIMITED EDITION PIECES: You will receive the piece/set similar to the one in the photo, or the exact one pictured. Once these pieces are gone we may not carry them every again. Handcrafted with .925 Sterling Silver.
 Blessings of Love & Light,   
~ Jenna  
 
All Sales Final *
* PLEASE NOTE: STONE COLORING WAS BACKLIT FOR PHOTO TO SHOW STONE DETAILS & WILL APPEAR DARKER IN PERSON.