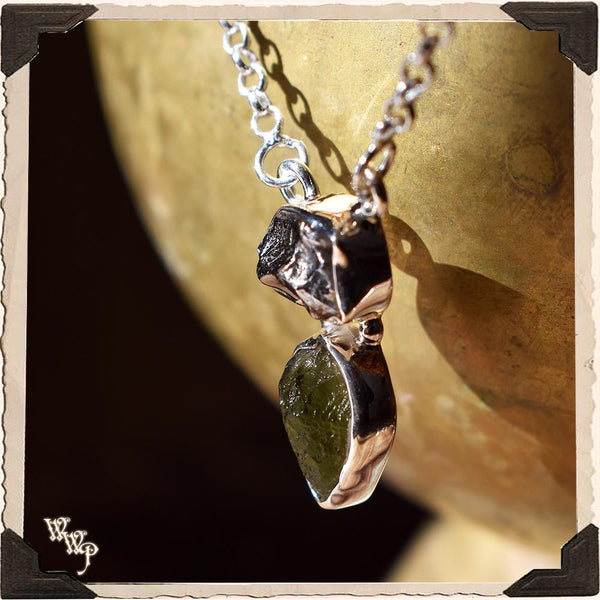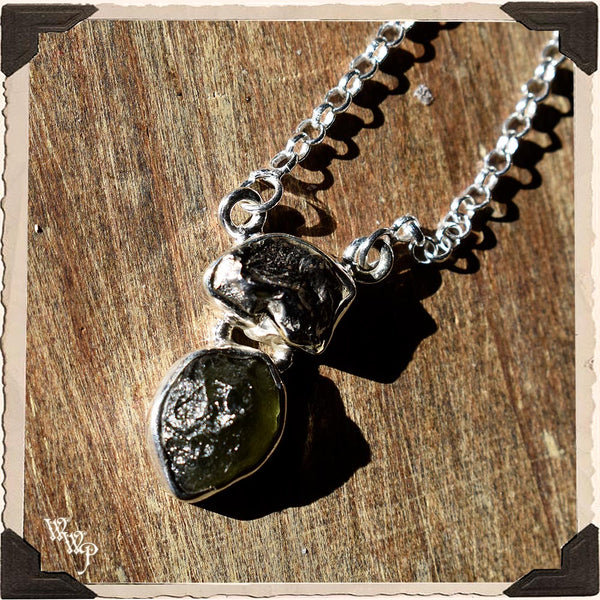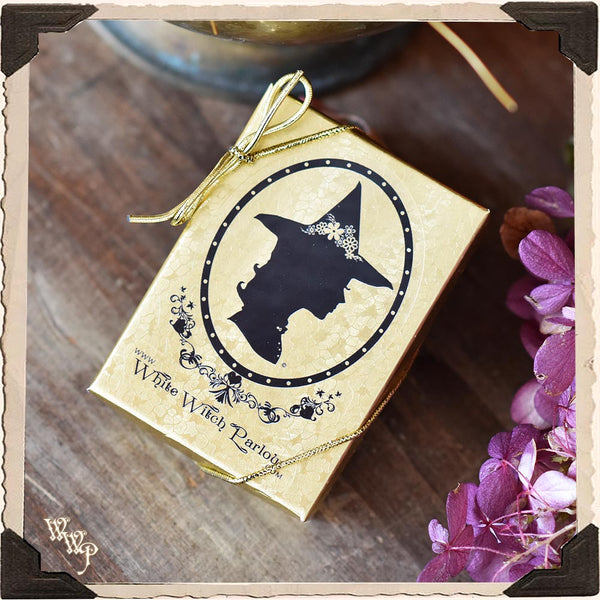 LIMITED EDITION : METEORITE & MOLDAVITE NECKLACE. For Higher Wisdom & Cosmic Connections. Sterling Silver. SKU: MH33
Moldavite is the stone from outer space, drawing cosmic energies & syncing us to extra terrestrial messages. It teaches us to move beyond what we currently think we "know," & allows us to expand our minds to something beyond. It's 'Other worldly' energy may even seem foreign to some, and it will naturally "repel" those who are not intuitively drawn to it. Moldavite tends to be one of those stones that can simply "vanish" from your life & then pop back in when the time is right for new spiritual awakenings or cosmic downloads. Campo Del Celio ( Meteorite ) is found in Argentina, from " The field of sky or heaven." Meteorite, another 'stone from space,' is made up of a heavy iron & the meteor was estimated to have impacted Earth around 4700-4200 years ago. Together these stones put us in an energy ready for cosmic downloads, but also help bring us 'down to earth.' Together, these two stones together can bring an intense, but satisfying & well balanced energy to your spiritual journey & transformation process. If you are seeking "more" out of your spiritual practices or meditations, I could not more recommend this powerful combo. 

Each piece comes in a beautiful White Witch Parlour gift box, ready to gift to yourself or a loved one.

ABOUT THIS PIECE: This NECKLACE is made of .925 Sterling Silver, with 2 stones of both Campo Del Celio (Meteorite) & (Genuine Czech) Moldavite set into the minimal design. The necklace hangs on a 17" chain. Pendant is approx. 1" in length.

LIMITED EDITION PIECES: You will receive the piece/set similar to the one in the photo, or the exact one pictured. Once these pieces are gone we may not carry them every again. Handcrafted with .925 Sterling Silver.
 Blessings of Love & Light,   
~ Jenna 
 
All Sales Final *
* PLEASE NOTE: STONE COLORING WAS BACKLIT FOR PHOTO TO SHOW STONE DETAILS & WILL APPEAR DARKER IN PERSON.