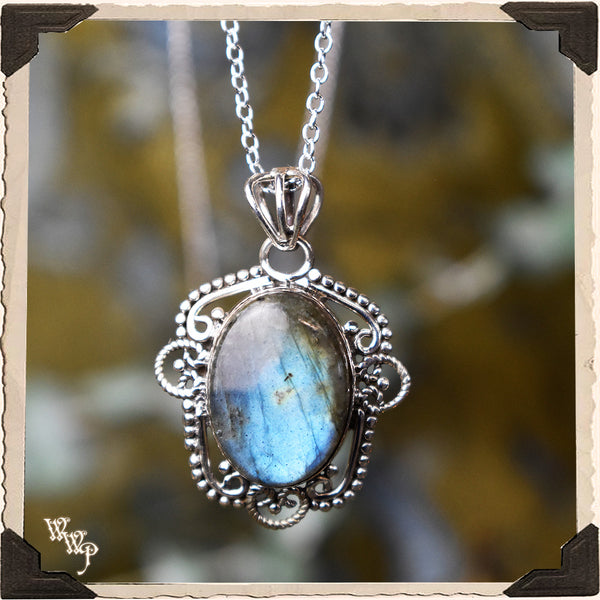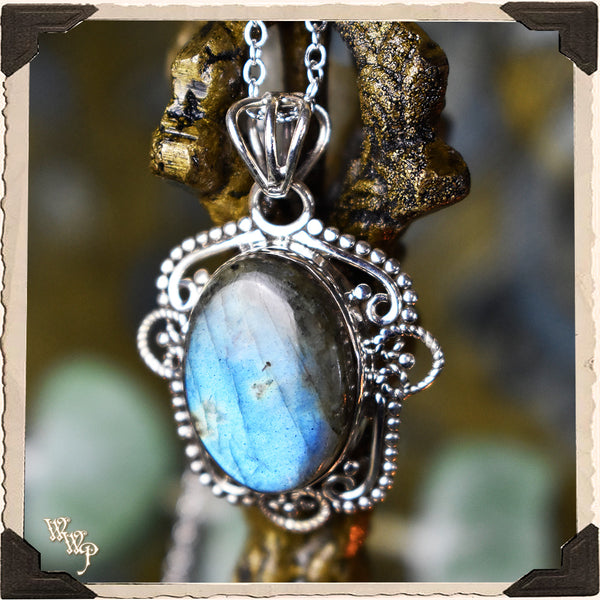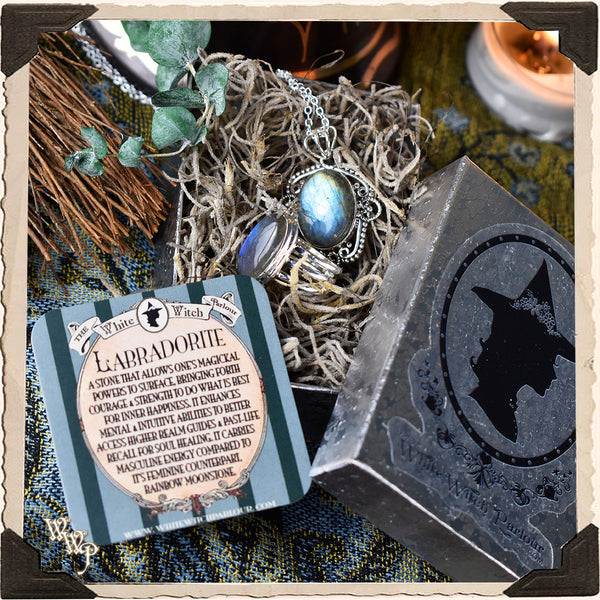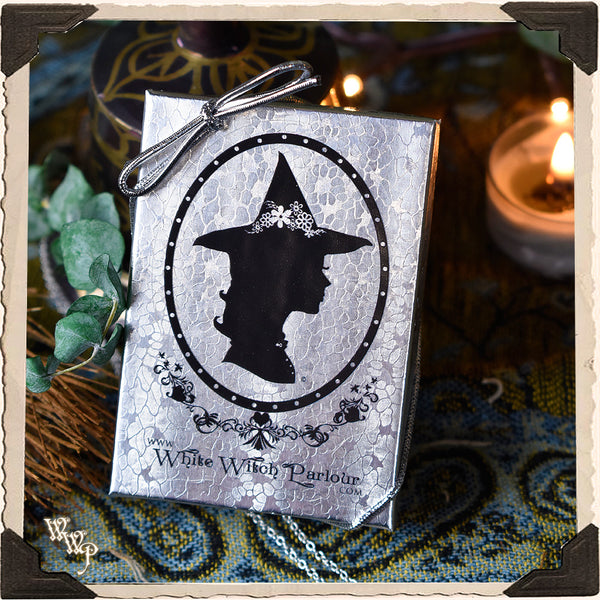 LIMITED EDITION: LABRADORITE CRYSTAL HAMSA NECKLACE. For Moon Healing, Spiritual Strength & Psychic Enhancement. (SKU: HLN45)
Labradorite allows one's innate magical powers to surface. It enhances the mental and intuitive abilities of clairvoyance, telepathy, prophecy and coincidence control, and assists in communication with higher guides and spirits in accessing Akashic records, psychic readings and past-life recall. It provides an ease in moving between the worlds, and permits a safe and grounded return to the present. Labradorite tempers the negative side of our personality, the traits and actions that rob our energy and may produce depression or shame. It assists in reducing anti-social, reckless or impulsive behavior in children, teenagers and adults who are easily led into trouble by others, and may aid in detoxifying the effects of tobacco, alcohol, and to a lesser degree, hard drugs. Labradorite can be very helpful during times of change in one's life, whether emotional or physical.
The ancient symbol of the Hamsa hand is well known in the Arabic world for protection & good fortune. When worn or carried your person, this symbol is said to aid in warding off the Evil Eye, curses, jealousy & other misfortunes.
ZODIAC: Leo /Scorpio / Sagittarius 
ELEMENT: Water
CHAKRA: Throat / Third Eye / Crown
HOLISTIC: Eye & Brain Disorders / Anxiety
ABOUT THIS PIECE: This necklace is made of .925 Sterling Silver, with 1 semi precious stones of Labradorite set into the Victorian-esque Hamsa design. The pendant measures 1" in length  & hangs on a 20" Sterling silver plated lobster claw chain.

LIMITED EDITION PIECES: You will receive the piece/set similar to the one in the photo, or the exact one pictured. Once these pieces are gone we may not carry them every again. Handcrafted with .925 Sterling Silver.
 Blessings of Love & Light,   
~ Jenna 
 
All Sales Final *
* PLEASE NOTE: STONE COLORING WAS BRIGHTLY LIT FOR PHOTO TO SHOW STONE DETAILS & MAY APPEAR SLIGHTLY DARKER IN PERSON.