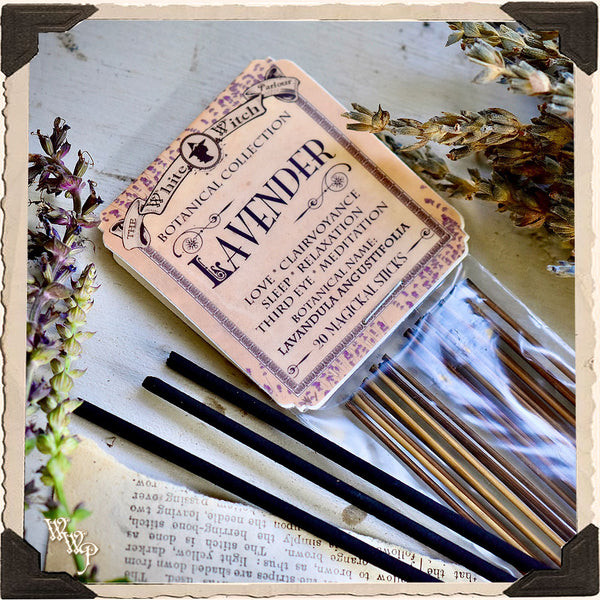 LAVENDER INCENSE. 20 Stick Pack. Single-Note. For Meditation, Sleep & Divination.
Single Note Botanical Lavender Incense holds such powerful properties for calming the nerves, aiding those with high anxiety or stress & awakening the third eye, which can be very beneficial in dream work or divination practices. It's soothing aroma promotes healing for inner-peace & true beauty that spans from the heart. Popular for children, many mother's during the Victorian era would make Lavender wands to hang near a babies crib, to help keep the child from fussing or crying through the night. Others would leave lavender sachets in cabinets to fill the space of the home with a fresh waft of Lavender. Enchanting on its very own, Lavender can be used to create a tranquil environment before magickal practices, meditations or even just simply a time to rest. 

Magickal uses: clairvoyance, cleansing, consecration, happiness, healing, love, Midsummer, money, passion, peace, peace of mind, protection, psychic protection, purification, tranquility, spirituality, blessings, chastity, divination, dreams, energy, gentleness, good luck, creativity, grieving, harmony, keeping secrets, increases the duration of a spell, meditation, memory, psychic development, retention, ritual, sleep, stability, virility, weddings.

Holistic Healing, Sleep Remedy, Calming, Anti-Stress, Anti- Anxiety, Peacefulness

Planet: Mercury
Element: Air

These enchanting handmade botanical incense sticks burn for approximately 50 - 60 minutes and are made up of blend of essential oil & fragrance on pressed charcoal & blessed with the energies of Clear Quartz to help enhance the natural properties. There are 20 magickal sticks in each pack, that yield beautiful and lingering aromas, wherever they are burned.
- Please recycle plastic. The label is a sticker! You can add it to a jar to display your incense or stick it in your book of shadows or holistic diary. :)

Magickal Blessings, 
~ Jenna  

*All sales are final.

Incense accessories available in my shop!