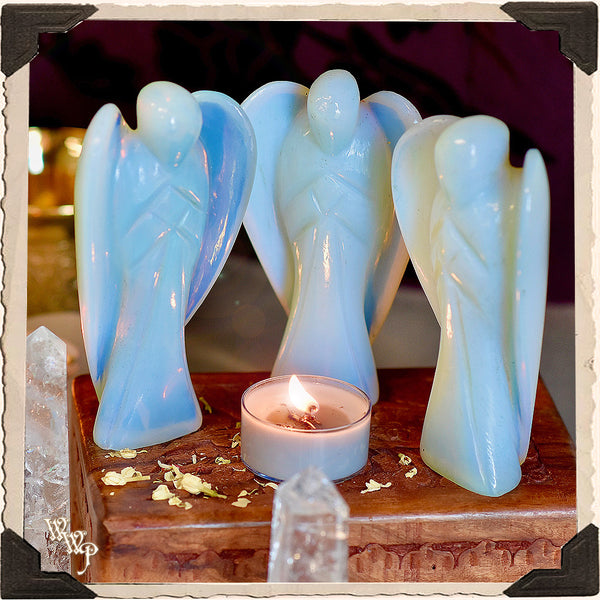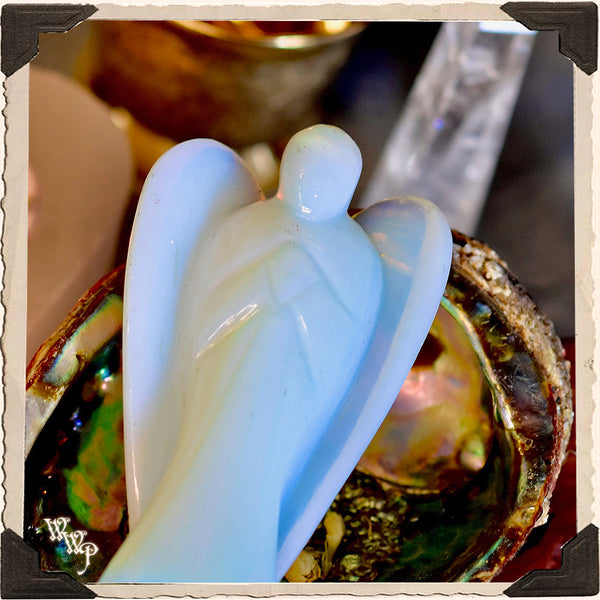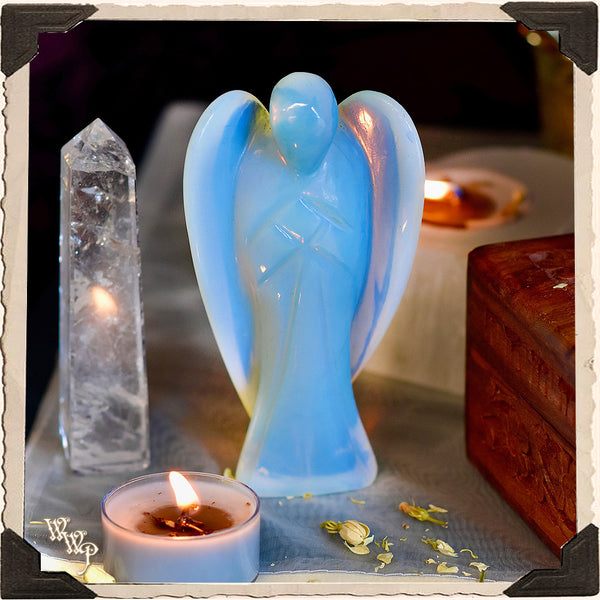 LARGE OPALITE ANGEL TOTEM. For Guidance, Seeking Light & Peace.
Giving off a stunning glow when placed in front of any candle or window light, this precious Guardian Angel totem made of Opalite, reminds you to pause, breathe & give gratitude for all that is. Free will allows us to create our own path, but that does not mean there are not other protective energies guiding you & watching over you. These Angel totems remind us that we are never alone, even in our darkest moments. Angels come to us in so many ways, usually when we need help the most. They can be in the form of a stranger, a loved one, an animal or pet and so much more. The high vibrations of love & light surrounds us always, we sometimes are just facing away from it, so we cannot see it. Blessings are everywhere, in all things, good & bad. Angelic energy can come in & out of your life & sometimes you serve an an Angel to someone else.
Opalite is a man-made opalescent glass, but because of the way it reflects light & draws in the observer, it can help one to ease into a meditative state. It aids one in finding clarity, as it trains the eye to see beyond the murkiness to catch the moments of light glimmer through& the rainbows within. All lessons we can use in our own life when we give something purpose. 
This piece makes for a special gift of comforting to someone who is hurting from a loss or obstacle in life. It can also be a wonderful center piece to a prayer circle or healing altar. Anoint this sweet angel with the appropriate oils for your prayers or spells to amplify your blessings.
Standing approx. 4.5" tall & 2.5" wide ( at the widest part of the wings. )This precious Angel carving stands on it's own & comes in a beautiful organza bag, with information card, ready to gift to yourself or a loved one.

Blessings of Love & Light,   
~ Jenna 

All Sales Final *
* Size & shape of stones will vary slightly- carved with love. You will receive an angel similar to the one in the photo.