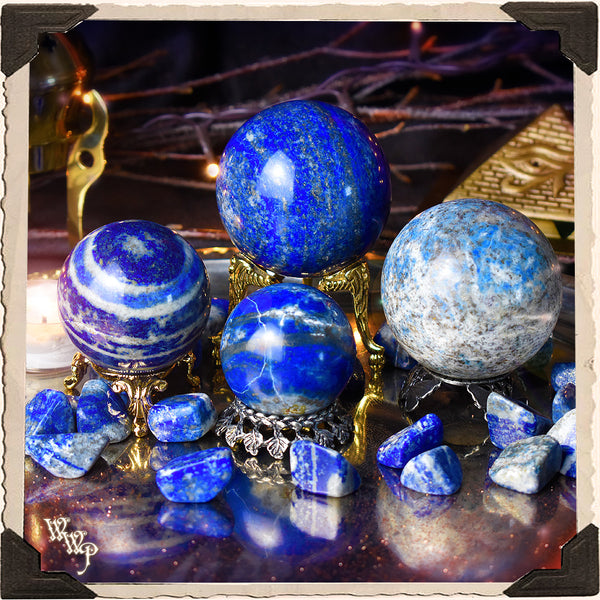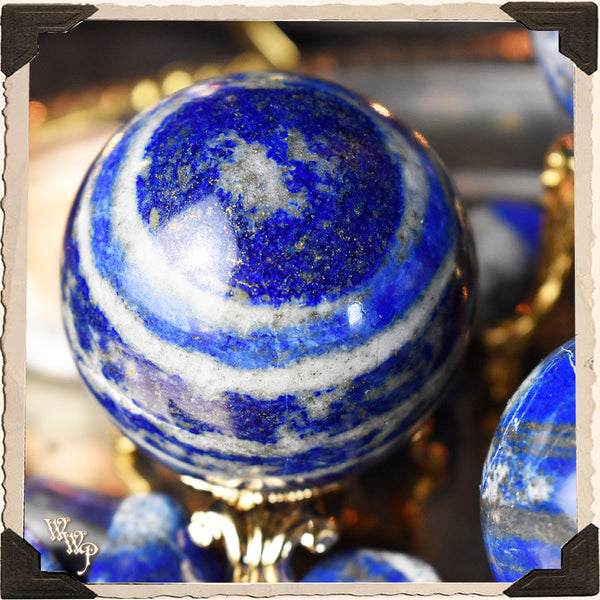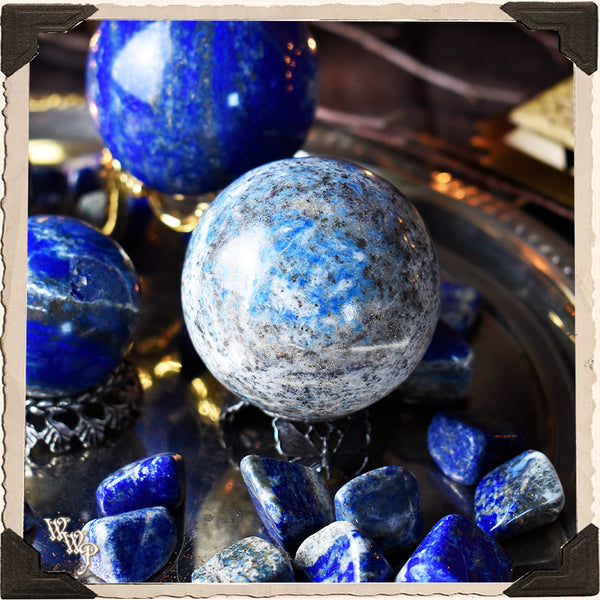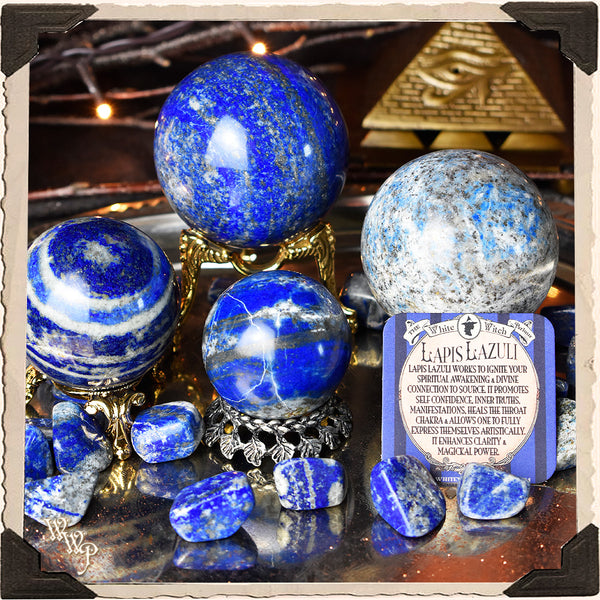 LAPIS LAZULI CRYSTAL SPHERE. For Cosmic Awareness & Spiritual Awakenings.
 This beautiful crystal sphere works to balance one's energy, making a strong aura for clarity & artistic expression. It is a talisman for spiritual growth, protection & awakening. It raises one's vibrations and deflects psychic attacks or negativity, bringing your closer to your higher purpose, through raising vibrations & teaching the ability of emotional stability. It works with the magick of building self confidence, improving intuitive abilities & creating an inner calmness. Lapis Lazuli works to remind one of the mysteries that go beyond what we can see, creating a connection to cosmic awareness & sacred truths.  
Lapis Lazuli works to enhance your spiritual awakening & divine connection to Source. It promotes self confidence, inner truth & manifestation, as it works with the Throat Chakra to bring about one's true artistic or business talents. It creates a positive belief system in magick & personal power, encouraging clarity to one's life purpose. Self honesty becomes a foundation for all decisions and whatever path one may be drawn to walk. Lapis Lazuli stabilizes one's emotions & creates a bond to the element of water, helping one to 'go with the flow,' staying level headed & strong throughout all changes in life. 
Each Lapis Lazuli crystal sphere chooses its new home, as you will receive 1 piece per order & comes with a beautiful ivory organza bag & information card. Before use of your new crystals, it is always a good idea to consecrate each stone for it's intended purpose. You can do so, by smudging (with sage) each stone to clear any energies it has absorbed and putting your intention forth on each stone, resetting & programming it for how it will help you.

Blessings of Love & Light,   
~ Jenna 
 
All Sales Final *
* Base / sphere stand not included *  
Sphere Stands available in my shop!
* Size, coloring & shape of stones will vary as these are a natural product of mother earth. You will receive a stone similar to the one in the photo. You may write a request in "notes" at checkout for coloring, etc. We will try our best to match your request of what's available at the time of shipping your order.