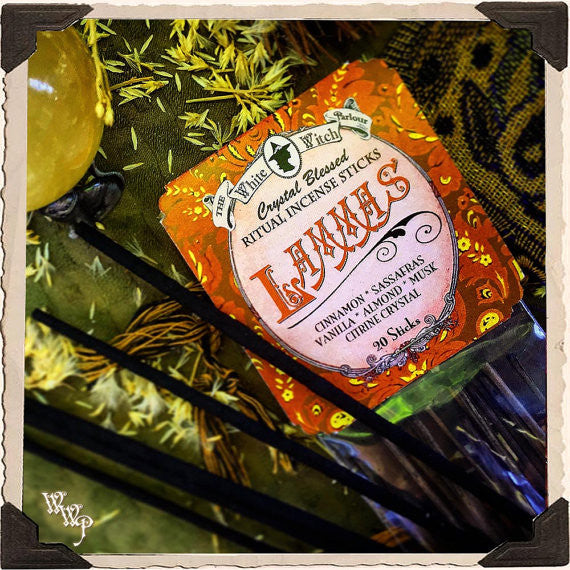 LAMMAS INCENSE. 20 Stick Pack. Lughnasadh For Harvest Season.
Lammas or Lughnasadh ( pronounced Lúnasa ) is a Gaelic festival marking the beginning of the harvest season usually held on the eve of July 31st – August 1st in the Northern Hemisphere and the eve of January 31st – February 1st in the Southern Hemisphere, beginning and ending at sunset or celebrated about halfway between the Summer Solstice & Autumn Equinox. Lammas or Lughnasadh is seen as one of the two most popular times for hand fasting, the other being at Beltane. Some Magickal practitioners celebrate this holiday by baking a figure of the "corn god" into the bread made from the season's first crop, and then symbolically eating it, as it becomes one with their body & spirit. Ancient magick charms directed that the Lammas bread be broken into four bits, placed at the four corners of the barn, which would then protect the garnered grain. As the first of 3 Autumn festivals and one of the 8 Sabbats on the wheel of the year, Lammas is a time to celebrate the harvest of wheat / grains & the plentiful foods it can offer us, as many cultures view the grain as a sacrifice that must die, so that we humans can live; we remember, all that dies shall be born again.

These seasonal incense work to embrace the last strong warm light that filters through the trees before the season begins to turn. It can serve as a reminder of the gratitude we should give during the harvest season for the plentiful crops that keep us feed throughout the winter. The scent of these magickal incense will warm your heart with their cozy vanilla, cinnamon spice & musky Sassafras fragrance, alerting us that Fall is just around the corner. Blessed with Citrine crystals, the abundant energies of happiness & prosperity welcome the celebration of Lammas / Lughnasadh, and all the healthy crops that fill the fields. 

These wonderful handmade alchemy incense sticks burn for approximately 50 - 60 minutes each and are made up of pressed charcoal sticks, crystal energies, fragrance oils & essential oils. There are 20 magickal sticks in each pack, that yield beautiful and lingering aroma wherever they are burned. These powerful incense can aid in welcoming warmth & cheer, dispelling any negative energy & allowing for a beautiful glow from the heart. They are blessed with chip stones of Citrine Crystals.

May you find abundance & prosperity this Harvest Season! *
~ Jenna

************************************************

All Sales Final
Not Meant for consumption.
Keep out of heat and direct sunlight.

Incense accessories available in my shop!