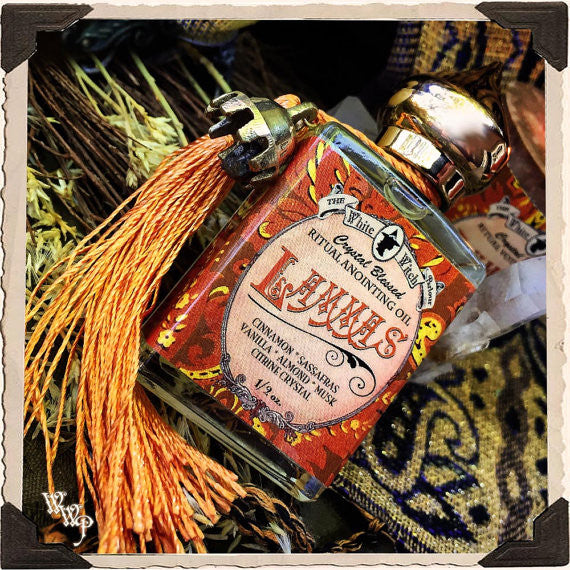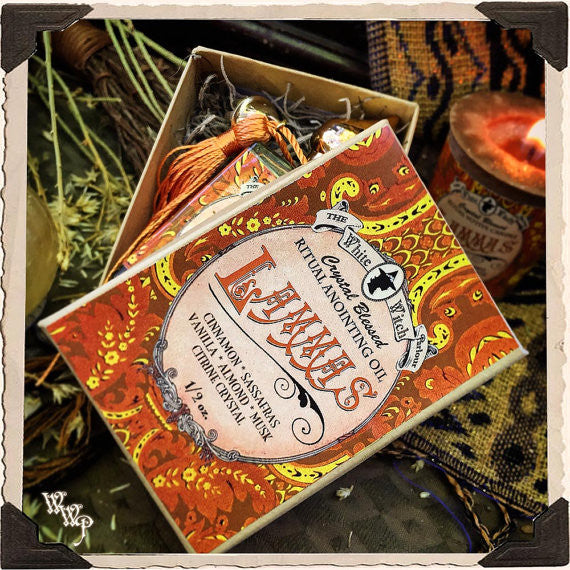 LAMMAS / Lughnasadh Alchemy RITUAL OIL. Harvest Season. For Abundance, Happiness & Health.
Lammas or Lughnasadh ( pronounced Lúnasa ) is a Gaelic festival marking the beginning of the harvest season usually held on the eve of July 31st – August 1st in the Northern Hemisphere and the eve of January 31st – February 1st in the Southern Hemisphere, beginning and ending at sunset or celebrated about halfway between the Summer Solstice & Autumn Equinox. Lammas or Lughnasadh is seen as one of the two most popular times for hand fasting, the other being at Beltane. Some Magickal practitioners celebrate this holiday by baking a figure of the "corn god" into the bread made from the season's first crop, and then symbolically eating it, as it becomes one with their body & spirit. Ancient magick charms directed that the Lammas bread be broken into four bits, placed at the four corners of the barn, which would then protect the garnered grain. As the first of 3 Autumn festivals and one of the 8 Sabbats on the wheel of the year, Lammas is a time to celebrate the harvest of wheat / grains & the plentiful foods it can offer us, as many cultures view the grain as a sacrifice that must die, so that we humans can live; we remember, all that dies shall be born again.   

This ritual oil works to embrace the last strong warm light that filters through the trees before the season begins to turn. It can serve as a reminder of the gratitude we should give during the harvest season for the plentiful crops that keep us feed throughout the winter. The scent of this magickal oil will warm your heart with it's cozy vanilla, cinnamon spice & musky Sassafras fragrance, alerting us that Fall is just around the corner. Blessed with Citrine crystals, the abundant energies of happiness & prosperity welcome the celebration of Lammas / Lughnasadh, and all the healthy crops that fill the fields.

This Crystal Blessed Ritual alchemy oil comes in a 1/2 oz. glass perfume bottle with gold decorative, Victorian style screw-cap, matching tassel & gold / brass bell (The ringing of a bell raises the vibrations & calls upon the higher frequency spirits & angels to bring guidance & protection.) Crystal chip stones of Citrine are left in each bottle to keep the magickal workings strong. Each bottle comes in a precious gift box on Spanish moss nesting.

A beautiful, hand-crafted Potion blend of both all natural essential oils & high grade fragrance oils, blessed with the energies of the associated crystals in an all natural Sweet Almond Oil Carrier. Free of Harsh Chemicals & Animal Testing. Created for use on Skin, Aroma Lamps, Bath Oil or an Anointing Ritual Oil. Not meant for consumption. Keep away from small children & pets.

May you find abundance & prosperity this Harvest Season!
~ Jenna
************************************************

All Sales Final
Not Meant for consumption.
Keep out of heat and direct sunlight.

Sample sizes available in my shop!