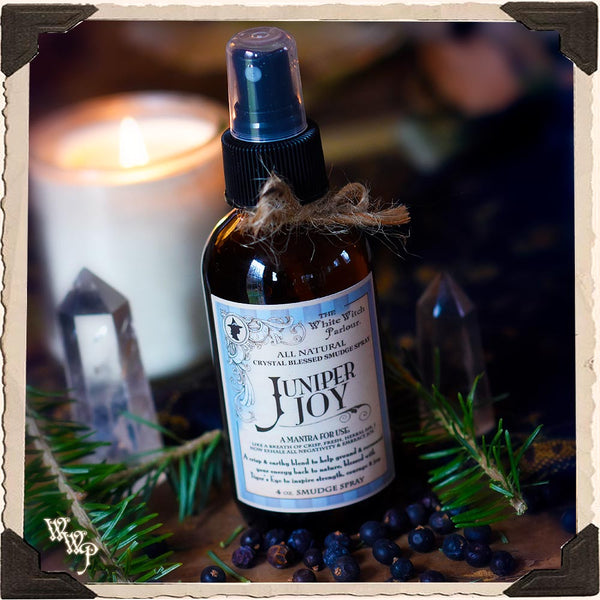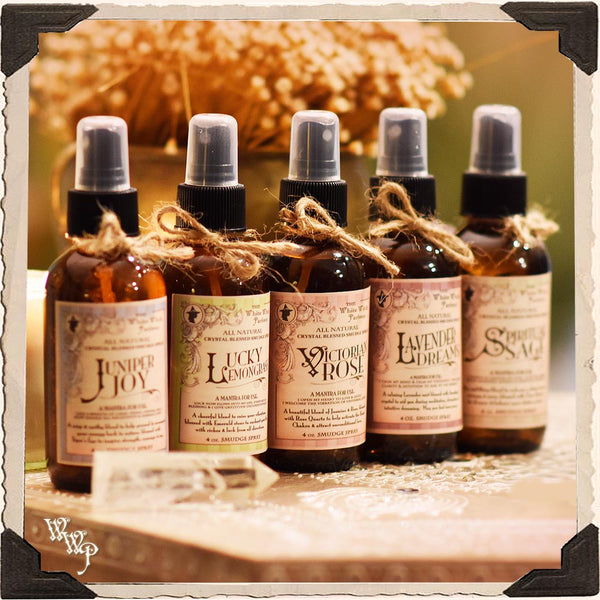 JUNIPER JOY 4oz. All Natural Ritual Smudge Spray. For Lifting Low Energy & Renewal.
Juniper is an active magickal ingredient use to guard against theft & build an energy of protection, Juniper also works to awaken creativity, activating the throat chakra & helping one to find the true joy in self expression. Historically, Juniper was often hung at the front door to reflect evil spirits, bad elements & sickness. It's crisp, pungent & strong aroma awakens many of the senses, aiding in growth towards enlightenment & drastically raising one's vibrations. This high vibration helps to banish curses, hexes or bad luck, resulting in a fun-filled, care-free lifestyle. Used for centuries to create incense, Juniper's positive, earthly energies promote a powerful belief in self manifestation, awarding the user with great strides towards their goals & dreams. This makes Juniper a magickal element for blessings, enchantment & true Joy. 
This Smudge Spray comes in a beautiful 4 oz. Glass Amber Apothecary Bottle filled with an All Natural essential oils, diluted with natural Witch Hazel & distilled aqua, making it ready to spritz on the body, ritual linens, or sacred space areas as an anointing tool for your magickal workings. Each amber bottle with decorative jute ribbon & contains the crystal chip stones of Clear Quartz to keep the magickal workings strong. Just shake & spray, wherever you desire to welcome peace, love & calming energy!
May the energy around you be purified & renewed,
~ Jenna
** All sales are final. ** 
Not meant for consumption.