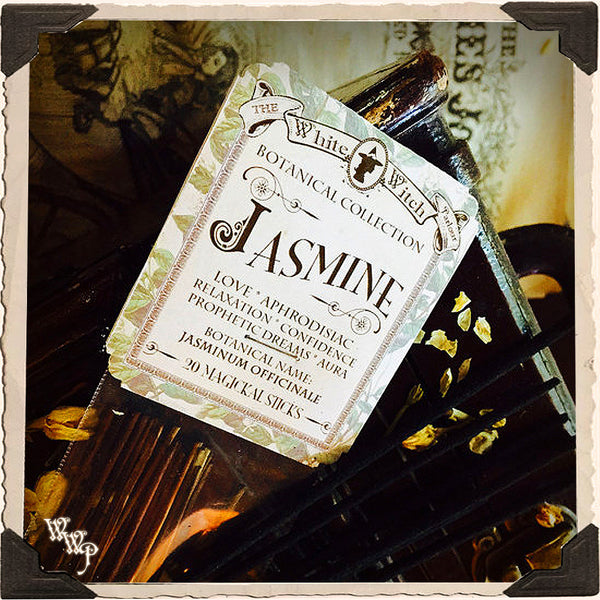 JASMINE INCENSE. 20 Stick Pack. Single-Note Botanical Floral Scent, Blessed by Clear Quartz Crystal.
Made with a powerful blend of essential & fragrance oils, containing the magickal essence & holistic properties of Jasmine, this special blend will lighten your environment with the subtle scent of Jasmine flower, awakening your spirit and opening your heart to great energies of Love, as Jasmine helps to attract love into your life in all forms. Long used as an aphrodisiac through its alluring scent as an attar oil, the magick of Jasmine helps to build confidence and aid one to relaxation. Since these properties help to also strengthen the aura, you can begin to release any tension in the body and when combined with sleep can promote prophetic dreaming.
Jasmine is a great choice of incense for beginning any ritual work, as it gently works to cleanse the aura & raise the vibrations of the space & person. It brings joy & compassion to the mind & allows those who are graced with it's warm & inviting scent to release any fears that may be holding them back.
These enchanting handmade botanical incense sticks burn for approximately 50 - 60 minutes and are made up of blend of essential oil & fragrance on pressed charcoal & blessed with the energies of Clear Quartz to help enhance the natural properties. There are 20 magickal sticks in each pack, that yield beautiful and lingering aromas, wherever they are burned.
Magickal Blessings,
~ Jenna
*All sales are final.
Incense accessories available in my shop!