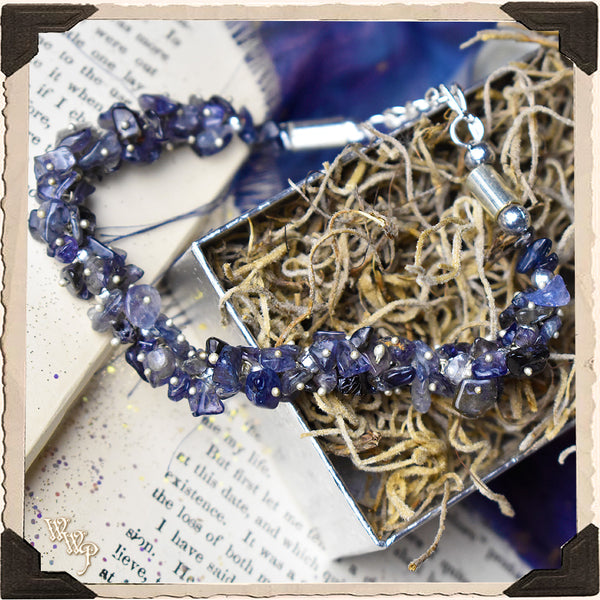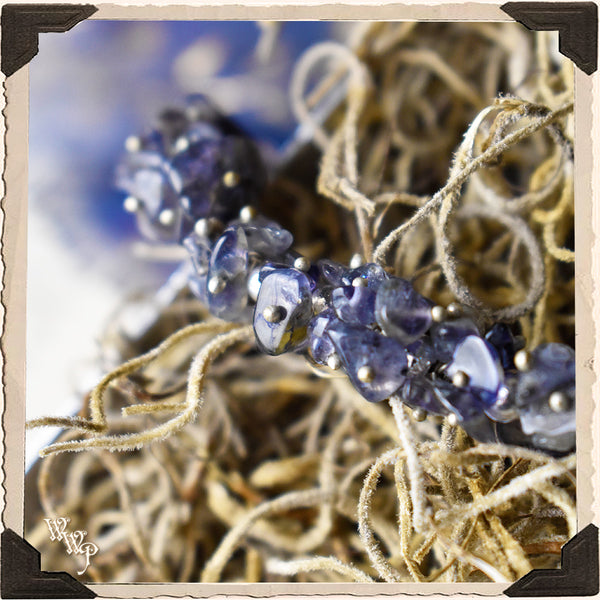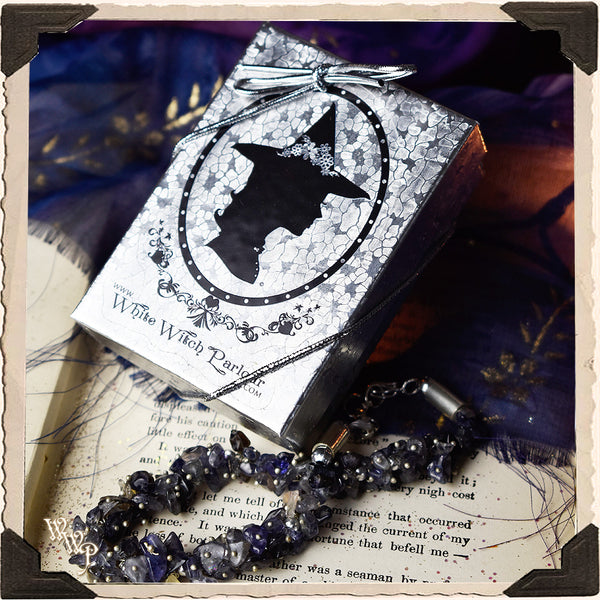 DISCONTINUED: IOLITE CHIPSTONE BRACELET. For Wisdom, Intuition & Letting Go.
Iolite, which assists one in letting go of past deep seeded emotional issues, carries a beautiful hue of violet to blue. This wisdom attracting crystal gets it's name from the Greek word "Ios," meaning Violet. Because it carries this beautiful color, it works at a higher frequency that allows the use to tap into higher spiritual knowledge & "let go" of old beliefs or patterns that no longer serve them.  It is said that this stone was also used as a natural compass to the Vikings, when navigating through cloudy days. Iolite is a stone of hidden truths & spiritual awakenings, it helps one to realize lies or false facades thats may have mislead them in the past, so they may move beyond them, stronger & wiser. It can help one to learn the importance of Trust, not only within other, but the power of fully trusting in one's own self & the Universe. It ties to the Throat & Third Eye Chakras, to inite speaking one's truth through spiritual knowledge. Iolite can teach one to calm the mind & deepen meditation, finding spiritual guidance & "downloads," to come in with ease. It can help to enrich one's intuition, with vivid dream recall & pattern recognition for predictions. It helps to purify the spirit & soul, so one can find fulfillment in being still. Let Iolite Navigate you through your dark moments to bring you into your true wisdom & Spiritual Mastery.

Each piece comes in a beautiful White Witch Parlour gift box, on a bed of Spanish Moss with, ready to gift to yourself or a loved one.

ABOUT THIS PIECE: This bracelet is made of wire fused chip stones of Iolite crystals, it has an adjustable hook clasp at the end & adds a great look to your everyday casual wear or a little sparkle to more elegant wear. It moves easily / freely on the wrist & measures approx. 9" in length. 

Blessings of Love & Light,   
~ Jenna 

All Sales Final *
* PLEASE NOTE: STONE COLORING WAS BACKLIT FOR PHOTO TO SHOW STONE DETAILS & MAY APPEAR DARKER IN PERSON.