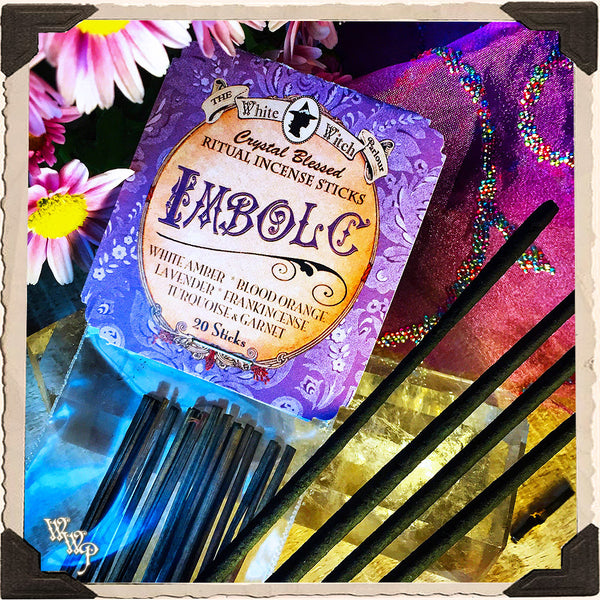 IMBOLC INCENSE. 20 Stick Pack. For Mid-Winter, Renewed Energy & Beginnings.
Imbolc is a Gaelic festival which celebrates the first signs of Springtime. It is a time that falls somewhere between the Winter Solstice & Spring Equinox, often marked as February 1st or the sunset of January 31st. During this time, we can begin to embrace the return of new life, as we are able to witness new growth starting in nature. Buried seeds begin to sprout as hopes and dreams that were once 'on hold' for the Winter, begin to materialize with a special 're-charged' ambition. Seeing that Imbolc is a festival that celebrates the new coming warmth, light & new life, many honor this time with flame & fire, holding intentions towards the Sun & the Gaelic Goddess Saint Brigid. Known for her role as the 'Fertility Goddess,' St. Brigid was known to visit households & bless the occupants with her presence of 'Life.' She helped to pull people's spirit's out of the dark & cold of Winter & into the light & life of the warmer seasons, 'Springing' new joyous hope back into their lives. This seasonal celebration was later adapted in Northern America as 'Groundhog Day,' which was inspired by the Gaelic culture's 'weather divination,' in which onlookers would wait outside the den of a badger or serpent to see if the animal emerged.

This blessed blend of oils capture the soft, whimsical & warm energy that the beginning of spring welcomes. Together, Frankincense & Blood Orange work to welcome the bright, cheerful & energizing energy of the Sun. Lavender calmly soothes your spiritual growth into a deeper awareness, while White Amber works to heal the mind, body & spirit. This blend works well to encourage new beginnings & growth towards the light. Like the new life that begins to grow in the Spring, we ourselves are capable of emerging from the darkness of Winter to find something new within ourselves. Inspiration, peace, happiness & courage can all aspire from one's heart, leading them to a much brighter future. The magickal properties of Turquoise enhance the natural spiritual knowledge & enchant the artistic expression that dwells deep in one's soul, waiting to be brought to the surface. Garnet stone stirs up the energy within the Root Chakra, awakening the much needed passion to drive one into this newly emerged life and/ or path. Drawing natural energy from the beauty of the beginning of Spring, we can learn to allow our spirit to mimic the miracles of nature.

These wonderful handmade alchemy incense sticks burn for approximately 50 - 60 minutes each and are made up of pressed charcoal sticks, crystal energies, fragrance oils & essential oils. There are 20 magickal sticks in each pack, that yield beautiful and lingering aroma wherever they are burned. These powerful incense can aid in welcoming warmth & cheer, dispelling any negative energy & allowing for a beautiful glow from the heart. They are blessed with chip stones of Turquoise & Garnet.

Imbolc Blessings
~ Jenna
Store in cool dry place, keep from heat or direct sunlight. Always think of safety when using fire. *
*All sales are final.
More incense & accessories available in my shop!