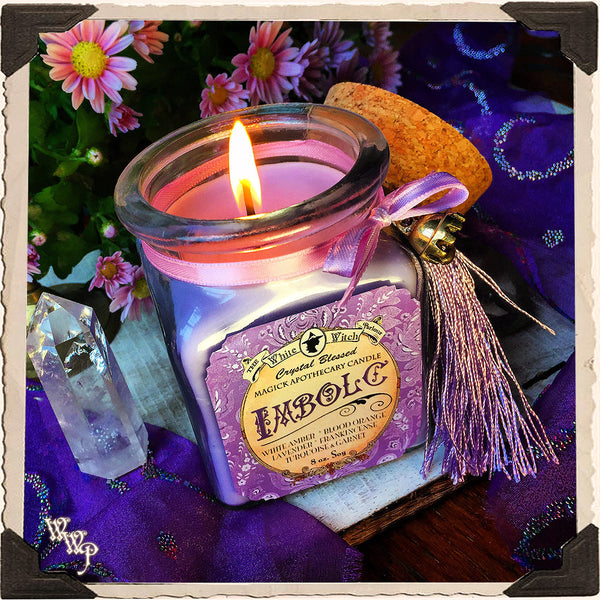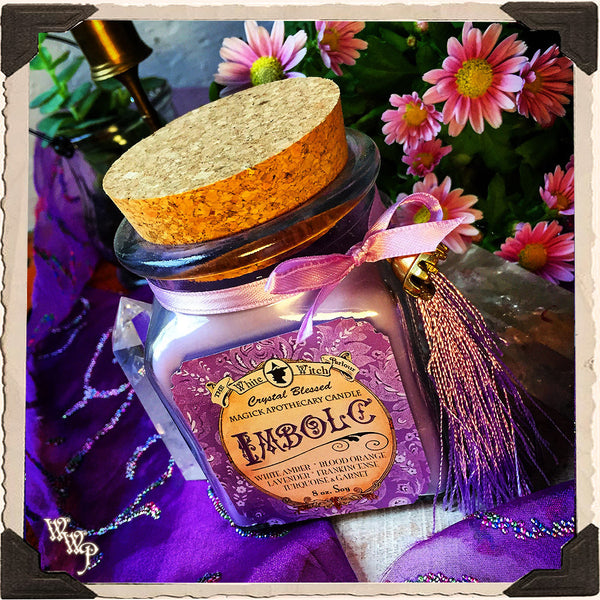 IMBOLC APOTHECARY CANDLE 8oz. For Mid-Winter, Renewed Energy & Beginnings.
Imbolc ( Pronounced I - Molg ) is a Gaelic festival which celebrates the first signs of Springtime. It is a time that falls somewhere between the Winter Solstice & Spring Equinox, often marked as February 1st or the sunset of January 31st. During this time, we can begin to embrace the return of new life, as we are able to witness new growth starting in nature. Buried seeds begin to sprout as hopes and dreams that were once 'on hold' for the Winter, begin to materialize with a special 're-charged' ambition. Seeing that Imbolc is a festival that celebrates the new coming warmth, light & new life, many honor this time with flame & fire, holding intentions towards the Sun & the Gaelic Goddess Saint Brigid. Known for her role as the 'Fertility Goddess,' St. Brigid was known to visit households & bless the occupants with her presence of 'Life.' She helped to pull people's spirit's out of the dark & cold of Winter & into the light & life of the warmer seasons, 'Springing' new joyous hope back into their lives. This seasonal celebration was later adapted in Northern America as 'Groundhog Day,' which was inspired by the Gaelic culture's 'weather divination,' in which onlookers would wait outside the den of a badger or serpent to see if the animal emerged.  
 
This blessed blend of oils capture the soft, whimsical & warm energy that the beginning of spring welcomes. Together, Frankincense & Blood Orange work to welcome the bright, cheerful & energizing energy of the Sun. Lavender calmly soothes your spiritual growth into a deeper awareness, while White Amber works to heal the mind, body & spirit. This blend works well to encourage new beginnings & growth towards the light. Like the new life that begins to grow in the Spring, we ourselves are capable of emerging from the darkness of Winter to find something new within ourselves. Inspiration, peace, happiness & courage can all aspire from one's heart, leading them to a much brighter future. The magickal properties of Turquoise enhance the natural spiritual knowledge & enchant the artistic expression that dwells deep in one's soul, waiting to be brought to the surface. Garnet stone stirs up the energy within the Root Chakra, awakening the much needed passion to drive one into this newly emerged life and/ or path. Drawing natural energy from the beauty of the beginning of Spring, we can learn to allow our spirit to mimic the miracles of nature. 
Candle Apothecary at its finest. In a beautiful 8oz. glass corked jar, with up to a 60 hour burn from a paper-core wick; this hand-poured soy Imbolc Candle is perfect for any altar, big or small. This powerful candle can aid in welcoming warmth & cheer, dispelling any negative energy & allowing for a beautiful glow from the heart. I have also sprinkled hand-ground blessed chip stone powder of Garnet & Turquoise into the wax of each candle to keep the spiritual vibrations high & in good trust, as well as protected by the ringing of the bell charm tied to each one. Whether you decide to use this candle all month long or specifically for a mid-Winter meditation, it can enhance the magick for whatever ritual or ceremony you may choose to embark on. The brightest of blessings to you and and your loved one's this season of new beginnings!

Imbolc Blessings,
~ Jenna


A beautiful, hand-crafted blend of both all natural essential oils & high grade fragrance oils, blessed with the energies of the associated crystals in an all natural organic soy wax. Free of Harsh Chemicals & Animal Testing. Store in cool dry place, keep from heat or direct sunlight. Never leave a lit candle unattended or near flammable items such as curtains. Always think of safety when using open flame * RECYCLE! when you are finished using this candle, you can remove the label and remaining wax under warm water and reuse the jar for other crafty magickal projects or storing herbs. :)
All Sales Final * 
More Imbolc goodies & accessories available in my shop!