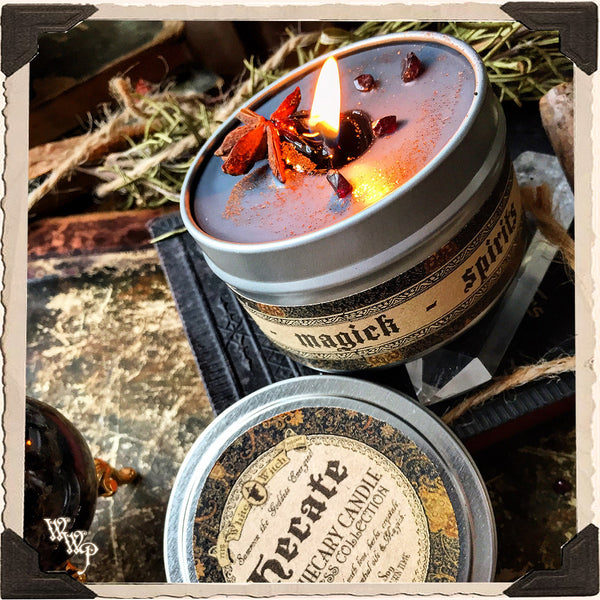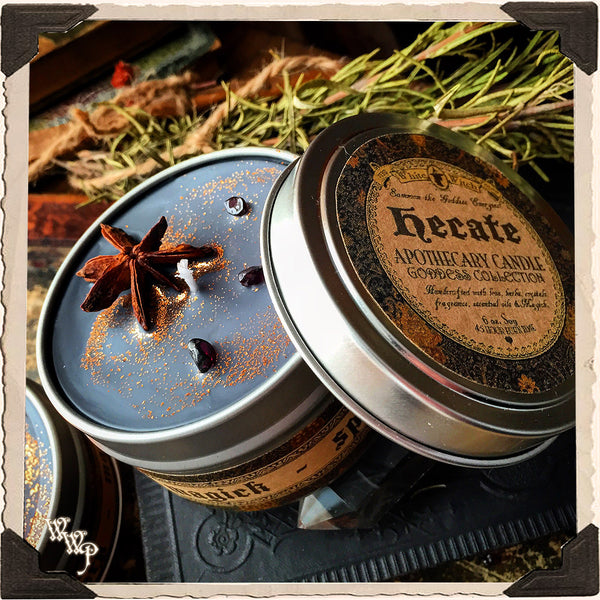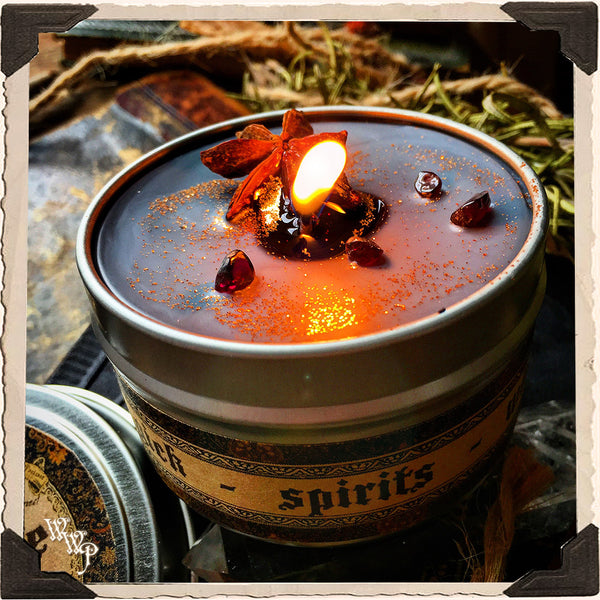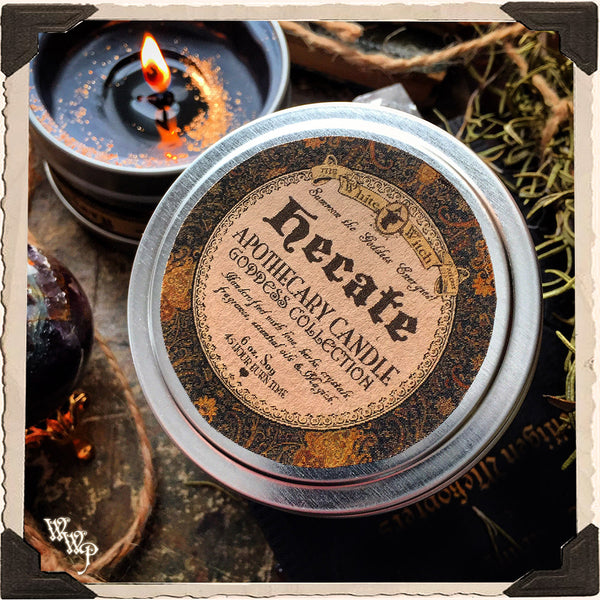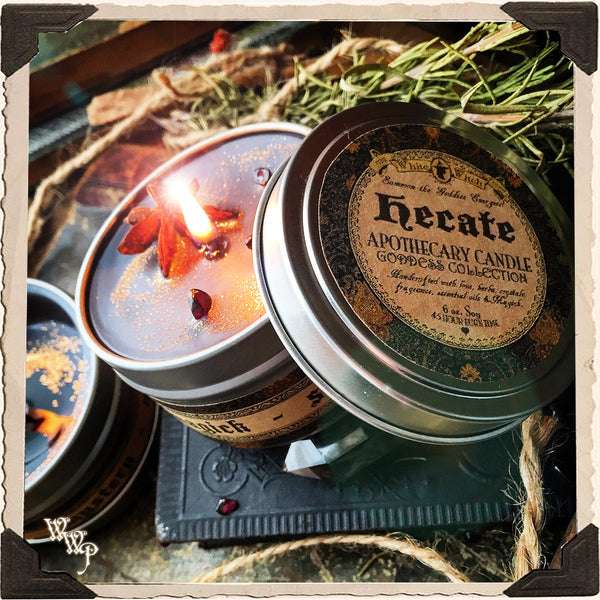 HECATE GODDESS CANDLE. 6 oz. For Mystery, Magick, Spirits, Witchcraft, Night.
A mysterious and familiar blend of Sandalwood & Patchouli, topped with the energy of Star Anise & Red Garnet come together to enhance your witchy workings. It's time to understand your own mystery & magick, the power of your own darkness & the sacred connection you have to Spirit. Ignite this energy by summoning the Goddess Hecate, Goddess of Witchcraft & Magick. She is viewed as the Goddess of the night, the moon, ghosts, spirits & necromancy. Her energy can guide you in deepening your psychic & divination work with the spirit world. As her name means "worker from afar," she is able to shift between the dimensions, gathering information & insight from unseen worlds, creating a foundation of intense spiritual growth & knowledge of true Witchcraft. As she crosses the boundaries, her energy invites you to become comfortable with the notion of exploring the unknown, pushing your own limits & finding the true powers of your own enchantments, that have long been hidden away in your soul. 
Garnet is a stone that carries wonderful and powerful energy, not only does it work with the Root Chakra to help stimulate security, grounding, sexuality, kundalini energy, stability & livelihood, but it also offers many metaphysical properties as well. Garnet is the stone of passion and courage. Stimulates devotion to your family, your friends, yourself, and your purpose or goals . It stimulate the senses, and increase your vitality and stamina. it is very good for career success, encouraging business relationships by increasing your popularity and stimulating other peoples desire to work with you, especially for women. Garnet helps one to become motivated and productive, and attracts good luck in business ventures.  Sandalwood & Patchouli offer a heightened power to your magick & manifestations, filtering your intentions of distractions & working them to be clear & concise. Topped with Star Anise, this enchanted candle creates a magick of protection & and clarity to matters of mystery, witchcraft & the spirit world. Generating a stronger bond & balance to your magickal workings.
A magickal handcrafted 6oz. candle tin can be used for simple spells, rituals or just setting a proper energy to your environment. This tin candle is made up of soy wax, cotton wick, fragrance / essential oil blend & is charged & sprinkled with the associated crystal chip gemstones & herbs.  This beautiful candle offers a high scent throw, many smiles & can be taken on the go. It holds an average burn time of 45+ hours & comes ready to gift to a friend or yourself. 

Witchy Blessings,
~ Jenna

*All sales are final.
Store in cool dry place, keep from heat or direct sunlight. Never leave a lit candle unattended or near flammable items such as curtains. Always think of safety when using open flame *

Vegan Friendly! Free of Harsh Chemicals & Animal Testing.

Check out more candles & accessories in my shop!