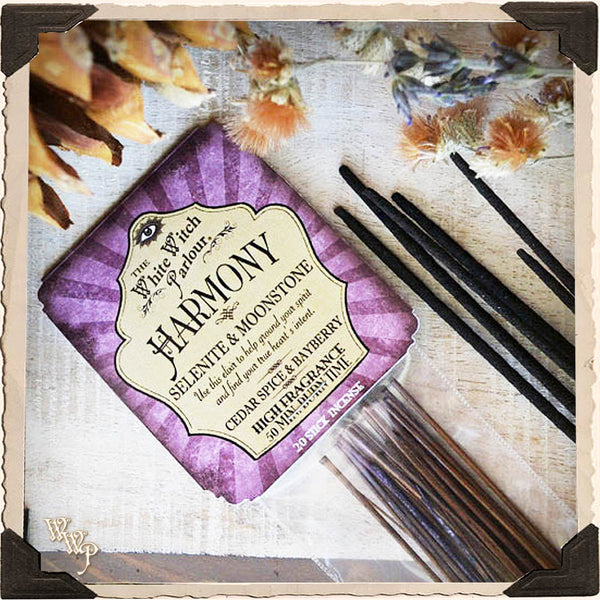 HARMONY Elixir INCENSE. 20 Stick Pack. For Peace, Divine Guidance & Moon Energy.
Opening your heart is key to a harmonious life. Understanding the true oneness of everything around you can change your life. I offer you this elixir that just might aid in changing your life for the better, if you are willing to open your heart. Charged with the energies of Moonstone and Selenite, this mix will work with your heart chakra providing emotional harmony, bringing forth the TRUE YOU. With angelic energies to guide you to pure happiness, you will start to see the big picture of all that is existing around you, the good and the bad; bringing forth a new consciousness of what you can do to change things for the better, as well as understanding how you can make peace & accept things as they are.

Spicy, Woody & Sweet, this gentle energy blend can help ground your spirit and find your true heart's intent. Together Cedar, Cinnamon & Bayberry promote healing, purification, protection, spirituality & success all from an enchanted space of love beyond judgement. By clearing away fear or angry energy from the aura, you make room for abundance & a clear mind to better connect with Angelic realms & the Divine. Rainbow Moonstone is a crystal for emotional harmony. It brings good fortune to love, relationships, marriages and general well-being, because it teaches the user to go with the flow & how to remain calm in emotional situations, allowing one to better use their time relaxing & enjoying life, rather than arguing over petty things. Rainbow Moonstone works with feminine energies, dealing with sensitivity, over-reaction & intuition. Selenite works to heal, cleanse & reactivate all chakras. It purifies the aura & connects one to spirit guides & angels, making their journey in this lifetime a more pleasant one. Selenite brings in Harmonious thought & energizes the heart chakra, amplifying true happiness. With both stones tied to the Moon, inspiration of shinning among the darkness & learning to release negative energy will flourish. 
My prayer for use:
" With arms open wide, I welcome a harmonious guide, to keep me at peace with love, and in balance with Divine light from above. "
These wonderful handmade alchemy incense sticks burn for approximately 50- 60 minutes each and are made up of pressed charcoal sticks, crystal energies, fragrance oils & essential oils. There are 20 magickal sticks in each pack, that yield beautiful and lingering aroma wherever they are burned. These powerful incense can aid wonderful cheer, dispelling any negative energy & allowing for a more connected approach to your practices. They are blessed with crystals of Moonstone & Selenite crystals.
Wishing you blessed harmony & peace,
~ Jenna
Oils & more incense available in my shop!
**All sales are final. **