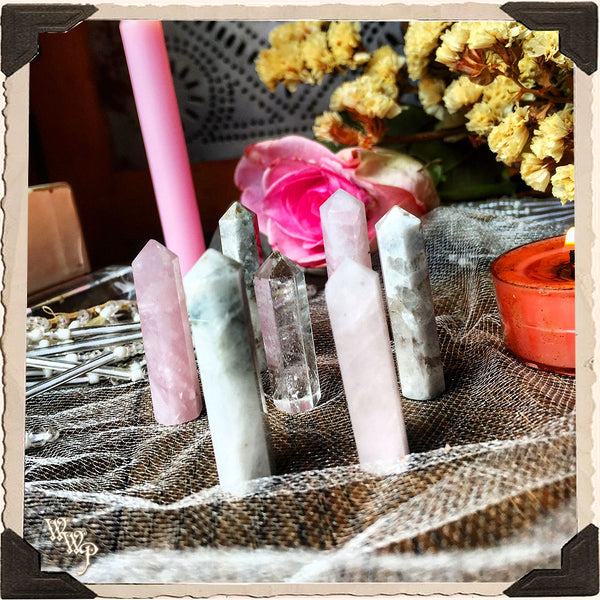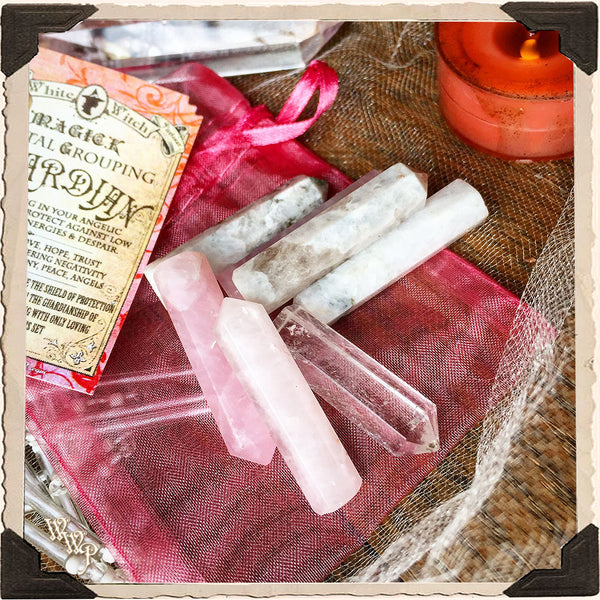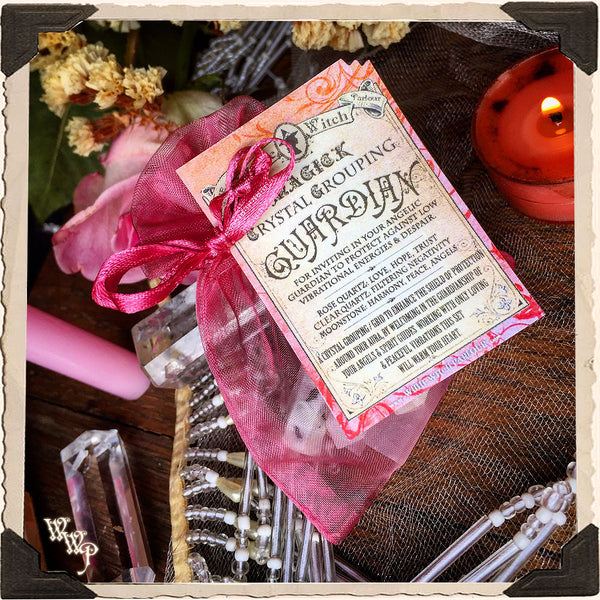 GUARDIAN Crystal Grid Set. For Angelic Love, Guidance & Protection.
This energy grid was created to enhance and invite in beautiful, gentle Angelic energies, that encourage positive change in one's life, with a new positive outlook. It leads one to high vibrational guidance, while dispersing low or dark energies back into the Earth. It works as a Divine protector, healing the heart & helping to open one up to self love & universal love, thus attracting more positive opportunities & happenings in life. It serves as an aid to dilute despair, anger, sorrow or depression, replacing these emotions instead with love, hope & trust. It works to create an environment of harmony & peace, activating a strong spiritual shield of protection around the aura, & welcoming in the energies of one's spirit guides & angels to warm the heart.


Rose Quartz purifies and opens the heart at all levels to promote love, self-love, friendship, deep inner healing and feelings of peace. Calming and reassuring, it helps to comfort in times of grief, as it dispels negativity and protects against environmental pollution, replacing it with loving vibes. It encourages self-forgiveness and acceptance invoking self-trust and self-worth. It connects the spirit to a higher vibration, helping one to better feel the love of the Divine, Spirit Guides & Angels.
Clear Quartz is the master generator, working with all vibrations it helps to heal, enhance & enlighten. Clear quartz is a stone of power & harmony, helping to align the chakras, energy levels, thoughts & emotions. Clear quartz can act as a stand in for just about any other crystal or help to tie in the vibrations of a mix of crystals. A valuable stone on it's own for everything that it offers, Clear Quartz will help to disperse toxins and negativity in the environment and redirect it to the highest good.
Rainbow Moonstone is the female version of Labradorite and It carries high feminine gentle energies, drawing the healing powers of our moon and placing courage and inner strength to your heart. Moonstone connects harmoniously to your Third Eye and Crown Chakra, helping you to open yourself to your spirit guides and divine calling. It is most powerful to work with under a full moon, at which point you will find that it will re-charge this beautiful stone, giving off a powerful opalescent glow. Each stone comes per-charged with loving energies from the full moon and is placed in a ivory sheer sachet. Carry this stone in your energy field, place it by your bed or use it in your healing practices; whatever you may choose to do with it, allow the embrace of Moonstone to strengthen your inner-light!


Each stone measures approx. 1.5" inches tall, and each special set chooses its new home. The set includes 7 single point terminated stones, 6 for gridding & one master stone in a beautiful keepsake organza bag & a handy information card. Since stones can vary so much in size and shape, each set has been handpicked so that there is some similarities amongst the stones. Each stone has been kissed with loving energy & blessed by my angels. Before use of your new crystal grid set, it is always a good idea to consecrate each stone or set for it's intended purpose. You can do so, by smudging (with sage) each stone, by passing it through the smoke of the sage then putting your intention onto each stone, resetting & programming it for how it will help you. In a calm & meditative state, simply hold the stone direct your love & desires into it, as you become in tune with each one.

* Size & shape of stones will vary as these are a natural product of mother earth. You will receive a set similar to the one in the photo*

Brightest Blessings of Love & Light,
~ Jenna
* All sales final
More crystals & sets available in my shop!