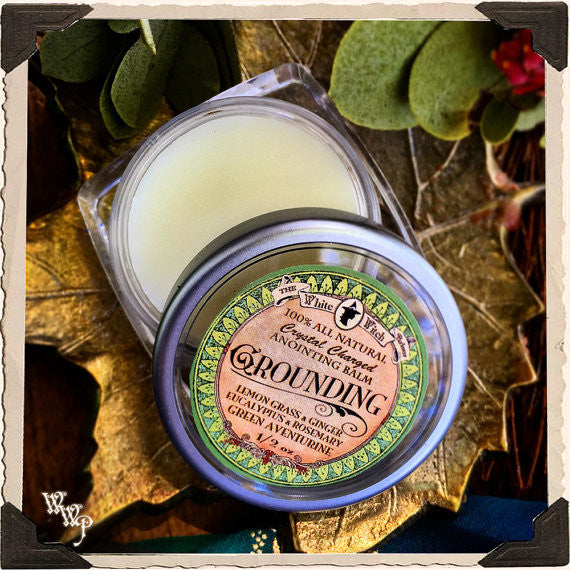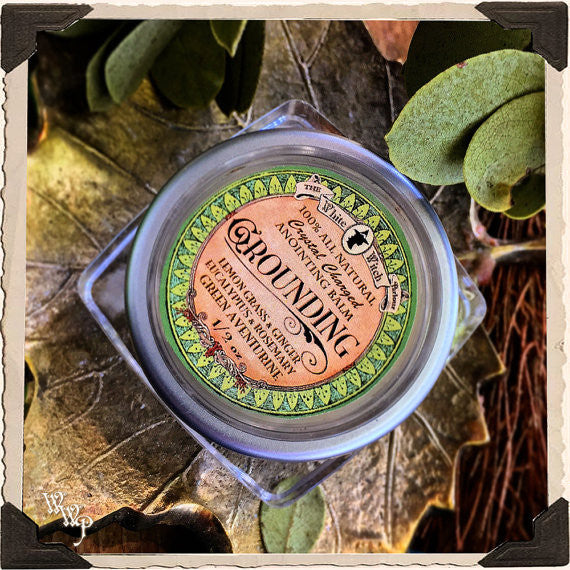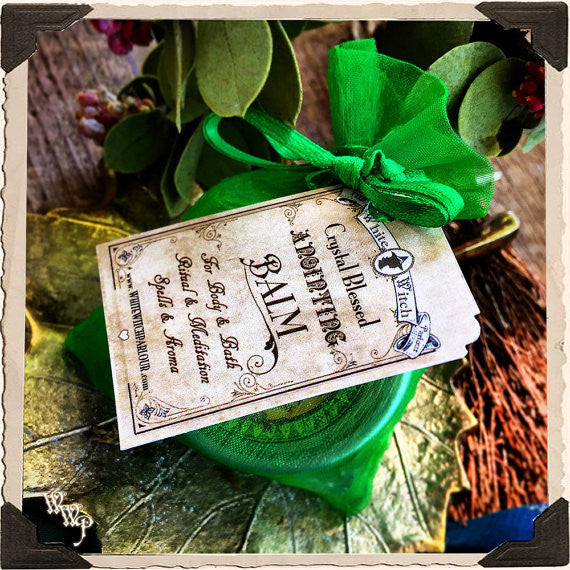 GROUNDING 1/2oz. SOLID PERFUME. All Natural Anointing Balm. Lemongrass, Ginger, Eucalyptus, Rosemary. Blessed with Green Aventurine Crystal for Centering Energy.
I often find myself in need of some grounding since I am so lucky to constantly be around so many crystals and magick. Because I am constantly flipping through frequencies or channels in the spirit realm through my meditations, afterwards I have to sometimes remind myself to "come back to earth" so that I can focus on the task at hand, while be centered and grounded. Sure holding Hematite or Boji stones after deep meditation can do the trick, but i wanted to create something you could wear to get you through the day. So for those of you like me, this is a special anointing balm for you. After creating this blend from a noted meditation, I was so happy when i finally smelled it. It was crisp and fresh like a green forest after a summer rainfall, with hints of sweetness overlapping deeper earthy notes. I instantly felt connected to earth. I happily charge each 1/2oz. anointing balm with Green Aventurine stone, which after blessing, I place in the container. A stone symbolic of earth & mother nature, this stones promotes intense grounding so that you may really feel all the elements, pulling you back into your physical body. This way you can enjoy all your senses during your stay here on earth in this lifetime. Enjoy every moment in the present, because you will never have another so exact. This complex 'Grounding' blend, when worn as a solid perfume, works to uplift your spirits & help you tune back into the song of Nature. It can ground anxiety, fear or depression, revitalizing the spirit, body & mind.

Each enchanting Solid Perfume Balm comes in a decorative green organza bag with hang-tag, ready to use or gift to a loved one.

In Love & Light,
~ Jenna
* INGREDIENTS Contain: Essential Oils (Lemongrass, Ginger, Eucalyptus,Rosemary), soybean oil, sunflower oil, jojoba oil, cocoa butter, Shea butter, vitamin e, aloe Vera, beeswax, hemp oil, avocado oil. - not recommended for use by children or women who are pregnant /nursing.

*All sales are final. * 
Not Meant for consumption.
Keep out of heat and direct sunlight.

Sample oil sizes available in my shop!