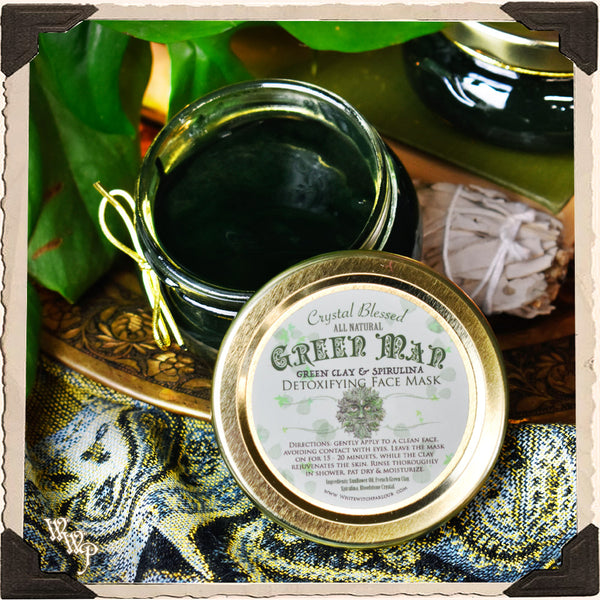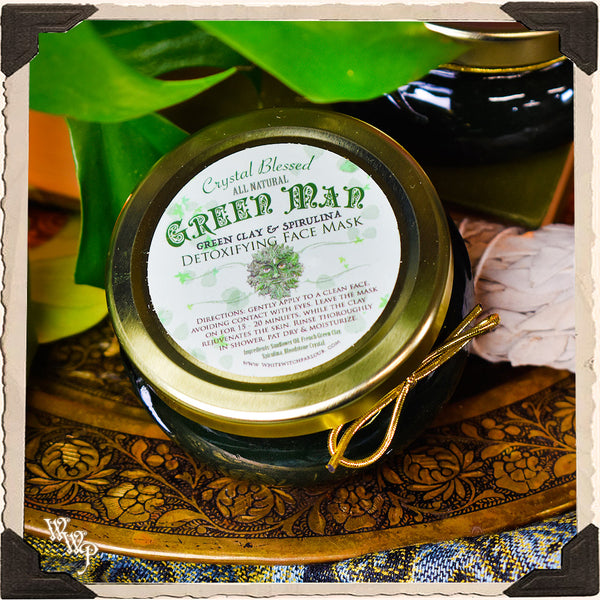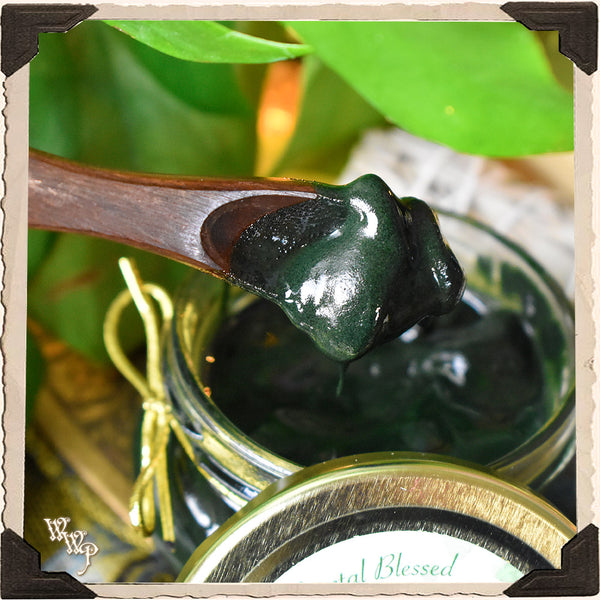 DISCONTINUED: GREEN MAN DETOXIFYING FACE MASK. Green Clay & Spirulina. All Natural 3oz. For Self Care.
ONCE THESE ARE GONE WE WILL NOT CARRY THEM AGAIN!
A natural earthy scent of Green Clay & Spirulina await you! While Sunflower oil nourishes the skin & provides vitamins A & E to help regenerate damage skin cells, Green Clay draws out toxins from pores that may be plaguing tired skin, as it tightens & tones, creating stimulation & helping to heal blemishes. Spirulina contains many antioxidants, has an anti-inflammatory effect & works to fight free radicals,  that can prevent skin damage & promote anti-aging. Together, this all natural blend, with the essence of Bloodstone Crystal, works to help you reconnect with your natural ability to heal & flow with the rhythm of nature.
Detox your skin & awaken your inner beauty! When you feel good & confident you emit the true beauty that lies within your soul. If you use this time of self care to set new intentions, you'll be surprised at what can manifest in the month to come. This is why I created this all natural face mask, because if you can detox the outside, you can detox the inside as well. It's time to start fresh, by taking some time for you, to relax & push away all other distractions, finding a harmonious balance to mind, body & spirit. 
In a small cauldron shaped glass jar & gold screw top lid, this all natural Spirulina, Sunflower Oil & Green Clay face mask blend, comes decorated with a gold ribbon & Label in a 3oz. jar. The mask does not stain the skin, nor does it dry in the recommended 15-20 min. of application, making it easy to wash off in the shower & leaves your skin feeling well nourished & detoxed of inflammation.

Brightest Blessings,
~ Jenna
DIRECTIONS: Before use, stir completely with a wooden spoon, oil settlement is natural. Gently rinse face & pat dry. Avoiding contact with eyes, apply an even amount around the surface of the face, pulling any loose hair back. Let the mask set for approximately 15 -20min, detoxifying & rejuvenating tired skin. When ready to cleanse, wash in sink or shower like normal with a washcloth. Once fully clean & dry, moisturize the face as usual.  

* INGREDIENTS Contain: Spirulina Powder, Green Clay & Sunflower Oil.

*All sales are final. * 
Not Meant for consumption.
Keep out of heat and direct sunlight.