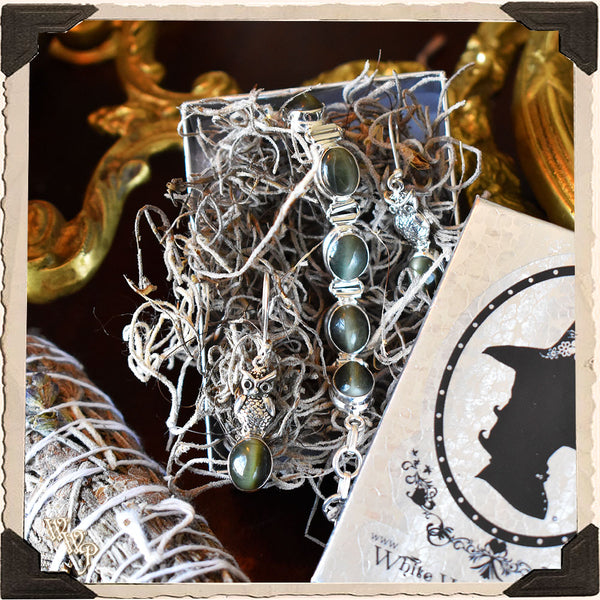 GREEN CAT'S EYE CRYSTAL OWL EARRINGS. For Enhancing Intuition & Spiritual Journey
Green Cat's Eye, creates a balance between light & dark aspects of one's self as it displays how it can shift appearance depending on your perspective. It is a stone that has strong energies in enhancing one's intuition & advancing one's spiritual journey, as it encourages one to shift into multiple energies that arise. It is great for learning how to "predict the future" in recognizing patterns as well as giving one the opportunity to be one step ahead to better put themselves in a position on good luck & fortune.  

Each piece comes in a beautiful White Witch Parlour gift box, on a bed of Spanish Moss with, ready to gift to yourself or a loved one.
ABOUT THIS PIECE: ABOUT THIS PIECE: These earrings are made of .925 Sterling Silver, with 1 semi precious stone of Green Cat's Eye set into each of the Owl Designed Earrings. The pair measures 1 5/8" & dangle from a hook.

LIMITED EDITION PIECES: You will receive the piece/set similar to the one in the photo, or the exact one pictured. Once these pieces are gone we may not carry them every again. Handcrafted with .925 Sterling Silver.
 Blessings of Love & Light,   
~ Jenna 
 
All Sales Final *
* PLEASE NOTE: STONE COLORING WAS BRIGHTLY LIT FOR PHOTO TO SHOW STONE DETAILS & MAY APPEAR SLIGHTLY DARKER IN PERSON.