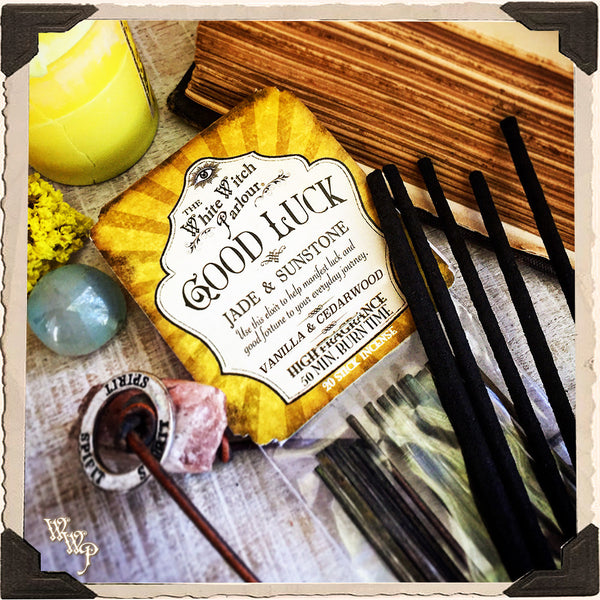 GOOD LUCK Elixir INCENSE. 20 Stick Pack. Scent of Vanilla & Cedar Wood. Blessed by Sunstone & Jade Crystals.
Luck is something anyone is capable of obtaining in their everyday luck. It starts with what you put out into the universe, thoughts, words & actions. If you a generally a good person & work at it everyday to keep your thoughts in good order, you will find an abundance of good luck in practically everything that you do. However, if you are having trouble getting into this mindset & way of life, then this mystical blend is something you might want to welcome into your life.

The warm & calming scent of Vanilla & Cedarwood work together to help you emit positive vibes. They can warm your heart & spirit, helping to raise your awareness & keep you thoughts in good order. They create comfort to your energy & purify the aura. Reminiscent of a cozy autumn day, you will feel safe & cheerful with this blend. Vanilla enhances cheer & positivity, allowing your innocent eyes to once again open. Cedarwood has long been used as a holy incense to raise spiritual vibrations & connect to the universe on a deeper level. Blessed with the energies of Jade & Sunstone, you are sure to take your luck attraction to the next level. Jade protective stone & brings harmony, long believed to attract good luck and good friendships. Jade helps one to release negative thoughts, while soothing the mind into inspiring ideas and releasing the worry of obstacles. Sunstone is a joyous and light inspiring stone. It is known to instill good nature, heightened intuition & allow the user to happily show their "real self". It is a great stone for helping to remove cords keeping one attached to unhappy relationships. I created this elixir to help with manifesting an abundance of luck and good fortune into your life.

My prayer for use:
" I am a magnet for all things good, I attract luck as I know I should.  May positive energy surround my day & lucky opportunities come my way. "
These wonderful handmade alchemy incense sticks burn for approximately 50- 60 minutes each and are made up of pressed charcoal sticks, crystal energies, fragrance oils & essential oils. There are 20 magickal sticks in each pack, that yield beautiful and lingering aroma wherever they are burned. These powerful incense can aid wonderful cheer, dispelling any negative energy & allowing for a more connected approach to your practices. They are blessed with chip stones of Sunstone & Jade.
Wishing you an abundance of Good Luck,
~ Jenna
Incense accessories available in my shop!
**All sales are final. **