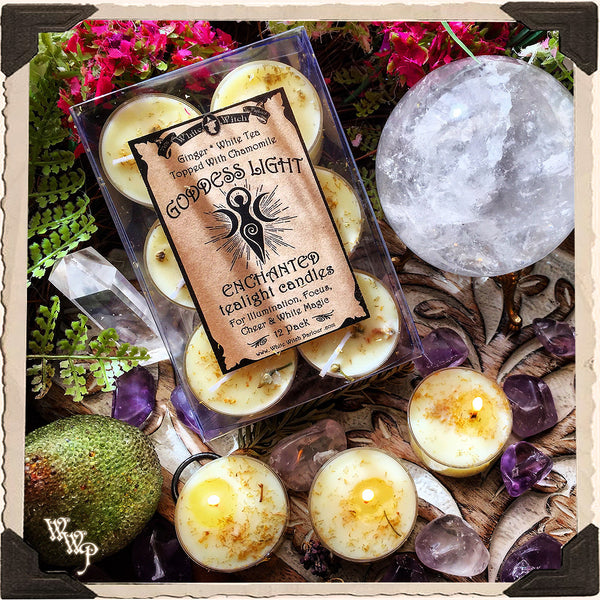 GODDESS LIGHT TEALIGHT CANDLES. 12 Pack. For Illumination, Focus, Cheer & White Magick.
An exquisite blend of Ginger & White Tea, topped by Chamomile flower, created to illuminate the Goddess within. Inspired by love, light & the beauty of White Magick, I created these uplifting candles to help your inner light shine through. It's important to have focus on your intentions when casting spells, but to make sure they are presented with strong energy, it's good to have some positive energy on your side as well. Yellow commands an activation of the solar plexus, your chi / core energy, your inner light. This energy works to conjure your true power, from a place of love & light, hence your Goddess energy. With this power you can produce beautiful & powerful spells, finding the beauty & positives in all things.
A bright, cheerful & calming herb, popularly used in tea to help one relax, Chamomile has also been used for centuries as a key ingredient in spells to bring about blessings & prosperity. When burned as an incense, it illuminates the mind to match a higher frequency, making new avenues for abundance & good luck to flow in.
Ginger Root lives within the ground, therefore bringing it's strong grounding energies, offering the healing energies of mother nature & bringing balance to the mind, body & spirit. Lastly, White Tea brings an energy of new life & growth. Highly tied to the season of Spring, it welcomes a fresh start & allows fertility to flourish. White tea works to purify the aura, "lightening" one's spirit & cleansing their emotional troubles as it calms the soul. 
A blessed blend of hand-poured 1/2 oz. Tealight candles with an approx. burn time of 4 hours each. With 12 candles per pack, you are sure to get lots of magickal use out of these special candles. This alluring blend of essential oils, high grade fragrance oils & enchanted herbs, find way into a hand poured batch of Soy wax, leaving each candle to ignite new magick & beautiful scent. 
 May the power of White Magick fill your day!
~ Jenna
*All sales are final.
Store in cool dry place, keep from heat or direct sunlight. Never leave a lit candle unattended or near flammable items such as curtains. Always think of safety when using open flame *
*Free of Harsh Chemicals & Animal Testing.
Check out more candles & accessories in my shop!