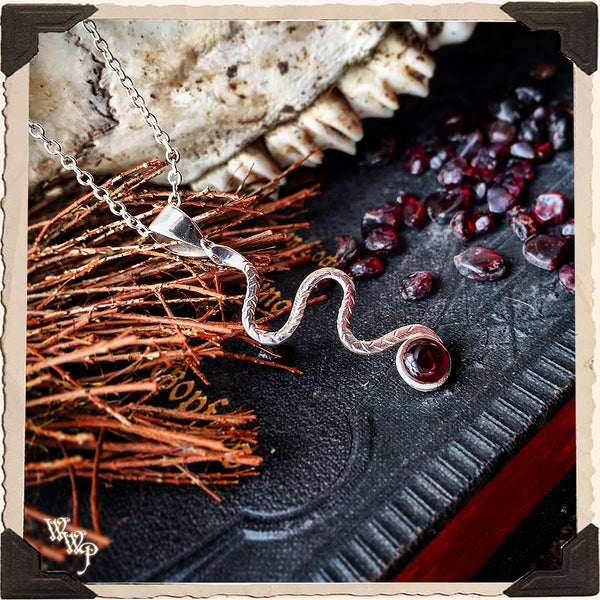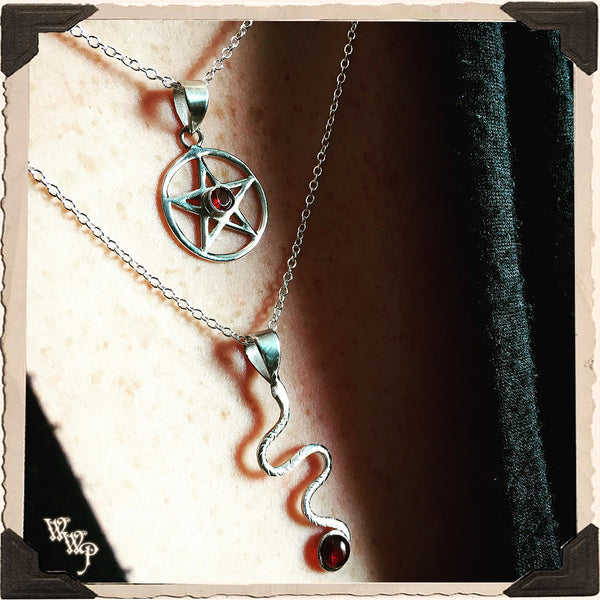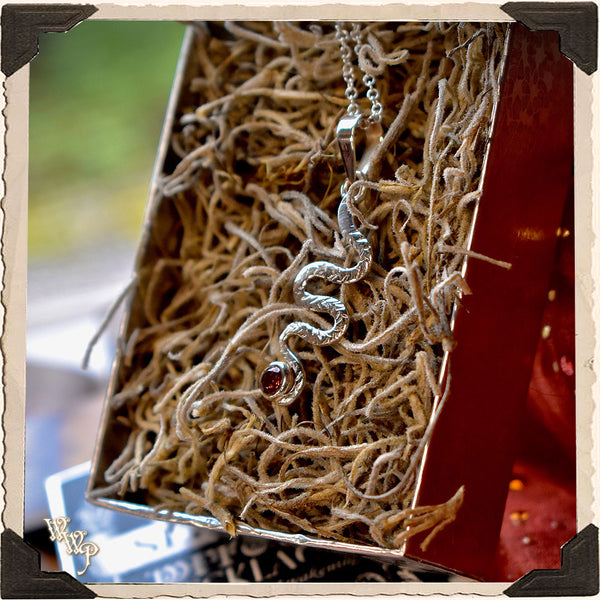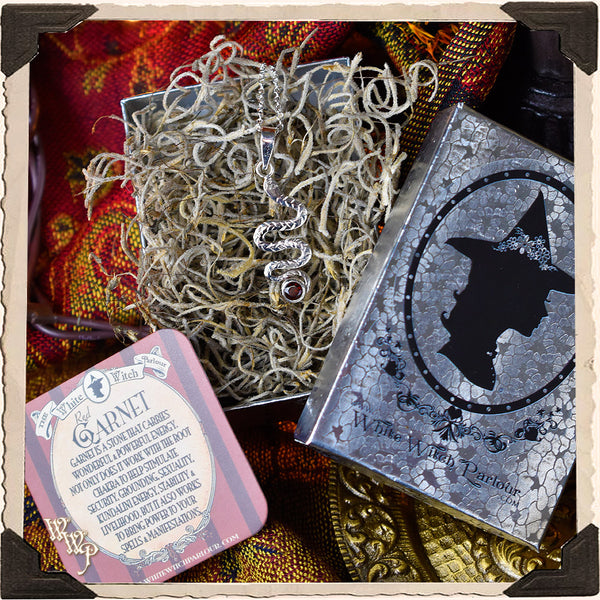 GARNET SERPENT NECKLACE. Sterling Silver Talisman for Kundalini Passion & Power.
 There is a primal energy that lives within each of us, a powerful force that can slither it's way through each energy vortex in the physical body, connecting us to the heaven's & earth... balancing the ancient charge between mind, body & spirit. This Serpent energy tends to live coiled within us, until it is awoken, triggering a life force energy that helps spiritual growth & sacred connections. Often noted as Kundalini energy, the Serpent's energy, when awake, enhances our root chakra, inspiring our passion & sexual force. When Kundalini energy is dormant, we can become disconnected from the powers that live within nature & ourselves.  When activated, this energy that lies coiled at the base of the spine, travels it's way upwards, through each chakra, illuminating new powers as it continues it's journey, eventually bringing the spirit full enlightenment. The symbol of the serpent is a powerful one, reminding us of the power of Rebirth.  
Garnet is a stone that carries wonderful and powerful energy, not only does it work with the Root Chakra to help stimulate security, grounding, sexuality, kundalini energy, stability & livelihood, but it also offers many metaphysical properties as well. Garnet is the stone of passion and courage. Stimulates devotion to your family, your friends, yourself, and your purpose or goals . It stimulate the senses, and increase your vitality and stamina. it is very good for career success, encouraging business relationships by increasing your popularity and stimulating other peoples desire to work with you, especially for women. Garnet helps one to become motivated and productive, and attracts good luck in business ventures. 


This precious .925 Sterling Silver Pendant of a Serpent, features a beautiful little stone of Garnet at the bottom. The pendant is single sided & measures approximately 4cm in length on a 22" sterling silver chain, resting perfectly under the collar bone, catching a glimpse of light in any direction you face. It comes in a silver keepsake box, on a bed of spanish moss, ready to gift to a loved one or yourself.

Brightest Blessings of magick & wonder,
~ Jenna
  
  
* All sales final.