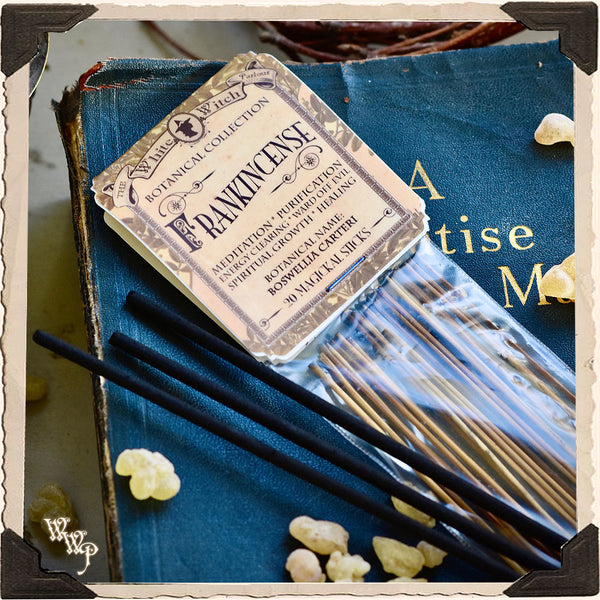 FRANKINCENSE INCENSE 20 Stick Pack. Single-Note Botanical. For Illumination, Consecration & Meditation.
Frankincense holds such powerful properties for purification of the body, mind & spirit, for meditation, prayer or magickal practices, in which the user intends to build a stronger connection to source / God. Frankincense can bring about intense spiritual growth as it works to clear the chakras & energy bodies of any negativity, offering protection & strength. With that said, Frankincense can greatly enhance one's mood and bring a great energy to help one focus on their personal enlightenment & overall happiness.
Frequently used in perfumes or potpourri blends, Frankincense can also double as a paint, as it was used in Ancient Egypt to paint the eyelids of Women, keeping them blessed with the gift of 'sight.' 
Often before Mass, the Catholic church uses Frankincense resin burned over charcoal, to cleanse the sacred space & consecrate the environment before prayer or ritual, Helping to attune one's vibrations to a higher light. Frankincense makes for a powerful tool when one is working on deepening their communication with their higher self during a meditation. Incorporate Frankincense as an offering at for your next ritual or ceremony, honoring the gift of illumination.   

Botanical Name: Boswellia Carteri 
Element Correspondences: Air, Fire
Planetary Correspondences: Sun
Zodiac Correspondences:   Leo
Magickal Uses: Cleansing, Exorcism, Meditation, Generally Lift the Spirits, Purification,
Protection, Spirituality, Sacred Space Preparation, Consecration, Blessing, Love, Courage, Ward Off Evil, Illumination, Ceremonial Incense.
Magickal Tip: Burn Frankincense prior to ceremony to purify your sacred space & welcome illumination.
Chakras: Solar Plexus (3rd)  / Crown Chakra (7th)
Holistic Uses:  Said to once be used as a wax like, hair remover, Frankincense can also be used as a way to balance one's emotions when taken internally. Powdered resin may be added to water, forming a tincture, later rubbed on the skin to treat arthritis & muscle pain.
Use these single-note botanical incense to create your own spells or advance your meditation practices. They can be used during ritual or consecration of tools or crystals, that best suit your needs.
Burning them in a room for the aromatherapy to promote a certain desire is certainly magick all on it's own.

These enchanting handmade botanical incense sticks burn for approximately 50 - 60 minutes and are made up of blend of essential oil & fragrance on pressed charcoal & blessed with the energies of Clear Quartz to help enhance the natural properties. There are 20 magickal sticks in each pack, that yield beautiful and lingering aromas, wherever they are burned.

In Love & Light, 
~ Jenna

*All sales are final. 

Incense accessories available in my shop!