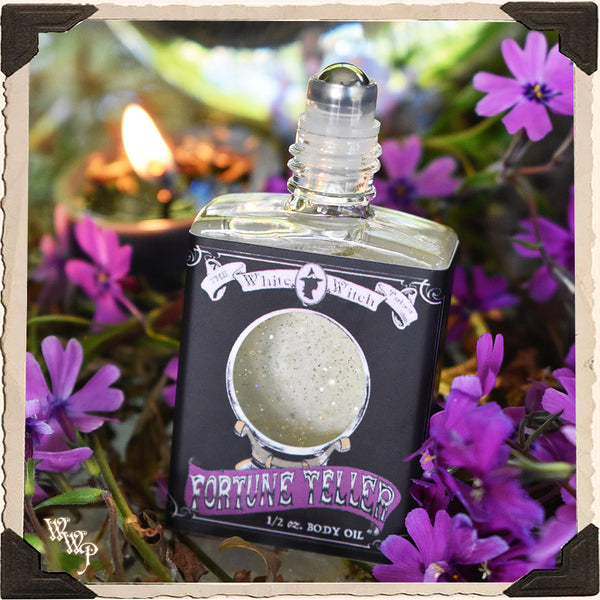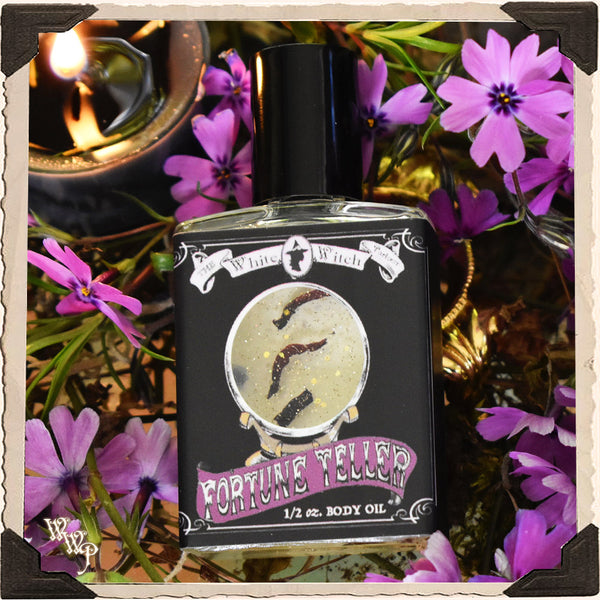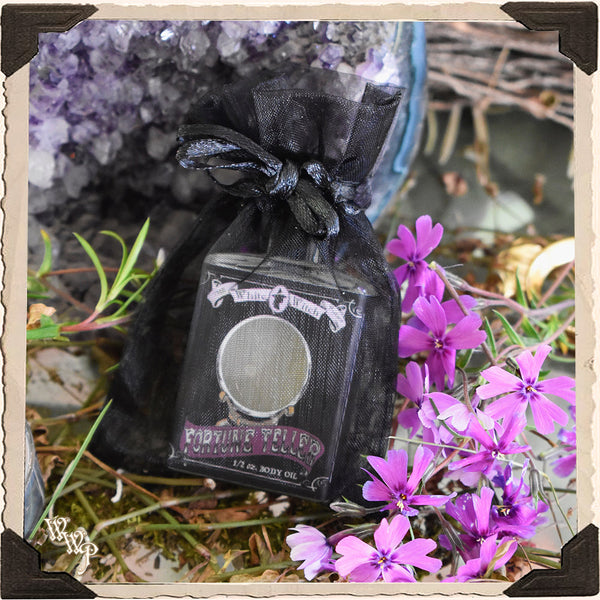 FORTUNE TELLER 1/2oz. BODY OIL. For Psychic Clarity, Life Guidance & Insight.
Your own personal Fortune Teller, in the form of an oil, awaits you! If you are hitting a roadblock in life, or just need some guidance to find you, let the Universe speak. Our fates can change within a day, as we are constantly shifting, growing, evolving, changing our minds, etc. This beautiful magic can enrich our lives if we are aware of just how quickly we can change a situation or path. After applying the oil, sit in a quiet moment of meditation tilting the potion upside down, then placing it on a table in front of you (like a snow globe) and let your intuition experience the messages coming forth.
A subtle & refreshing, gentle scent of blended Grapefruit, Amber & Jasmine with a pinch of Hibiscus, to gently awaken your intuition & psychic awareness, healing & recharging that "spiritual energy" flow back into your life, so you can better absorb the daily synchronistic messages that are helping to guide you on your path.
This 1/2oz. Roll-on Body Oil carries with it a magickal aura, powerful on its own, creating a shift in energy of any room it is left in. Made with a blend of fragrance & essential oils, Hibiscus herb, an Almond Oil Carrier Oil & enchanted with Iolite Crystals & Eco friendly glitter, that dances around in the 'crystal ball' when ever the oil is tilted & turned.   Each oil comes ready to wear & arrives packaged in a black organza bag, ready to gift to yourself of a loved one. 
In Love & Light,
~ Jenna


A beautiful, hand-crafted Potion blend of both all natural essential oils & high grade fragrance oils, blessed with the energies of the associated crystals in an all natural Sweet Almond Oil Carrier. Free of Harsh Chemicals & Animal Testing. Created for use on Skin, Aroma Lamps, Bath Oil or an Anointing Ritual Oil. Not meant for consumption. Keep away from small children & pets. If irritation on skin occurs, discontinue use immediately.  Keep out of heat or direct sunlight, to prolong the shelf-life of the oil. Not meant to treat or diagnose any ailment or medical issue.

**All sales are final. **

More Candles & Accessories in my shop!