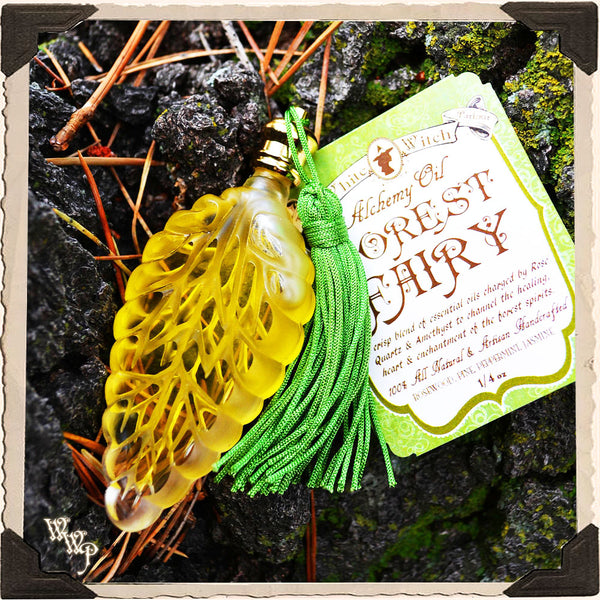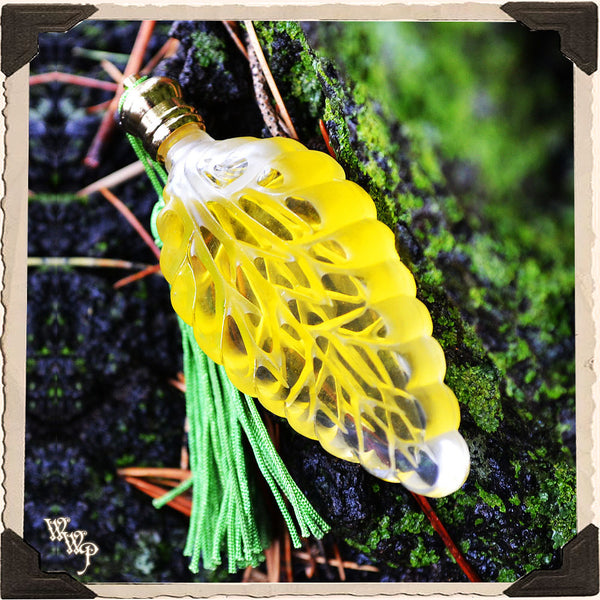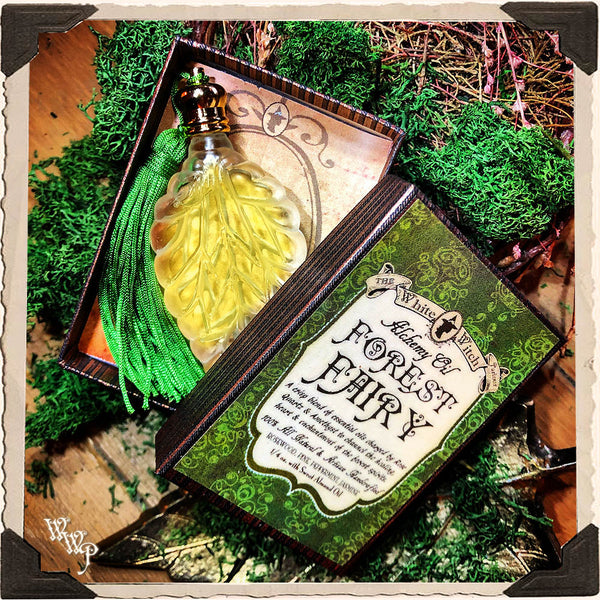 FOREST FAIRY 1/4oz. Alchemy Oil All Natural. For Nature Connections & Spiritual Growth.
These magickal creatures have mesmerized humans over the centuries, and the magickal world of faeries and elves offers inspiration to children and adults of all cultures, capturing and reminding us of the beautiful gifts and powers that nature has to offer. These nature spirits are all around you, residing in the fairy realm & possessing supernatural powers, evolving over the centuries resulting in the worlds becoming more & more separated. Often found in forest & woodland settings, there are many kinds of fairies who behave in different ways, some benevolent, others malevolent. It is important to work in your highest good attracting only those fairies that mean no harm. Also, beware that they repay kindness with kindness & evil with evil, when working with these magickal creatures you get what you give, tenfold. Be assured the more fairy energy you allow into your life the more magickal gifts they will leave about to help you along your precious journey.   

Made with a powerful blend of essential oils, containing Jasmine, which draw out woodland elves and faeries and promotes fairy communication through dreams. While Pine attracts tree faeries and forest elves, it enhances creativity, strength and love. Peppermint lifts the spirits and opens your mind to heighten physic abilities, helping you to better connect with the fairy realm. Rosewood is motherly, spiritual, and nourishing. It lends a boost to intuitive thought and feeling, and is thus excellent in any divination or scrying work. Known as a spiritual healing wood, Rosewood is also known for its strong and mysterious magick. It helps practitioners to find that which is not usually focused upon in the mundane; the hidden things in life that escape the notice of most people. Rosewood will help a person to work with these energies, which is why it is highly recommended for all magic involving divination, communication with other realms and internal truth. With the power of these oils blended with the heart opening Rose Quartz and clairvoyant enhancing Amethyst Crystals, you are sure to dance amongst the fairies.
 
To draw the Forest Fairy energy into your life, go to an enchanting place in the forest that calls you. Anoint yourself with the 'Forest Fairy' oil, by dabbing oil to the pulse point or your offerings. In a meditative state begin to spin clockwise 7 times, with palms out and up, breathing deeply with seven inhales and exhales, as you begin to call forth the seven Fairy Guardians, asking them for insight and inspiration. These beautiful energies will greet you with either the faint sounds of bells or rainbow orbs that appear within your eyesight. These forest spirits will uplift your heart and help you feel at one with the earth and all it's healing energy.

This fairy drawing alchemy oil comes in a 1/4 oz. Leaf shaped glass embossed bottle with gold metal cap and decorative fringe. The all natural essential oil blend is diluted with natural Sweet Almond Oil, and is ready to wear as a body oil or use in a magickal bath. Crystal stones of Rose Quartz & Amethyst have blessed the oil in each bottle to keep the magickal workings strong. Each bottle comes in a beautiful decorative gift box ready to gift to a friend or yourself.

Dance amongst the magick of the Fairies *
In Love & Light,
~ Jenna

*All Sales Final 
More Potions & Incense Available in my shop!