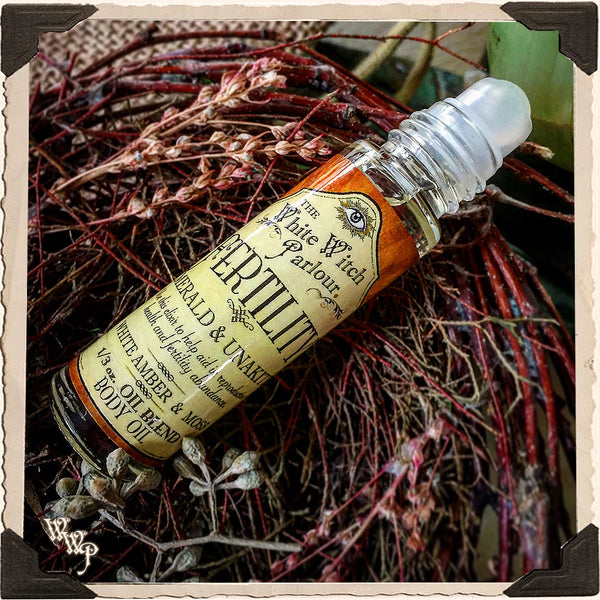 FERTILITY Elixir 1/3oz. Body Oil Rollon. For Creation, New Beginnings & Abundant Opportunities.
Imagine wandering into an enchanted forest, with mist in the air & moss growing along the branches, the air is lush & the ground is soft, this is the inspiration for this precious blend. Walking into this scene is like walking into the warmth and comforting arms of Mother Gaia, Nature's womb. A place where one can reflect, release their troubles & prepare themselves for abundant new beginnings. This scent serves as a gentle reminder to keep yourself open to all possibilities, nurturing yourself & all life around you. Fertility is the word of new life, new opportunities, new beginnings, a time to open a new door along one's journey & welcome the magic with gratitude & loving energy.   
White Amber & Moss work together as a powerful healer, gently grounding one's energy, stabilizing emotions & inviting one to open their eyes to a bigger picture. They work in balance to clear the mind, release negative energy back into the earth, aid in prosperous manifestations & demolish stress, bringing in good fortune, luck & protection. Emerald is extremely balancing for anyone seeking the truth within themselves. It strengthens spiritual insight, and fortune telling, through tuning into the vibrations of nature.  It is known to bring love into your life  through visualization practices, & enhances manifestation when worn by the heart. Long used for spells for business, Emerald can help to promote sales and creative advertising ideas. Unakite, will help maintain a balance between one's spiritual and physical life, creating a new bond that advances energy flow & raises vibrations. It removes obstacles in personal growth, whether it be issues from childhood or last month, it can ground the negative energy, to create new chances. It heals the body & mind of stresses or trauma, so that one can let go & move forward.  All together this elixir works to nurture the soul & remind you of the little blessings in life.  
My prayer for use:
" Like the fresh start in Spring & the beginnings it may bring; I pray for growth & rebirth, with energy from my heart tied to Mother Earth.  "
Each Body oil comes in a glass 1/3oz. bottle with easy roll-on applicator containing chip stones of Emerald & Unakite gemstones. Samples do not contain crystals & are for scent testing only. 
* Don't be frightened by the name of this elixir, as 'FERTILITY' means more than just becoming "pregnant." All of my elixirs work off whatever your mind's INTENT is. 
~ The Definition of FERTILITY: noun \(ˌ)fər-ˈti-lə-tē\
: the ability to produce young
: the ability to support the growth of many plants
: the ability to produce many ideas .
This is a great elixir if you are focused on launching a new Career or Business and your intent is for it to grow and prosper, much like a child. **
Cheers to new beginnings,
~ Jenna


All Sales Final*
A beautiful, hand-crafted Potion blend of both all natural essential oils & high grade fragrance oils, blessed with the energies of the associated crystals in an all natural Sweet Almond Oil Carrier. Free of Harsh Chemicals & Animal Testing. Created for use on Skin, Aroma Lamps, Bath Oil or an Anointing Ritual Oil. Not meant for consumption. Keep away from small children & pets.
Vegan Friendly! Free of Harsh Chemicals & Animal Testing.

Sample sizes & more oils available in my shop!