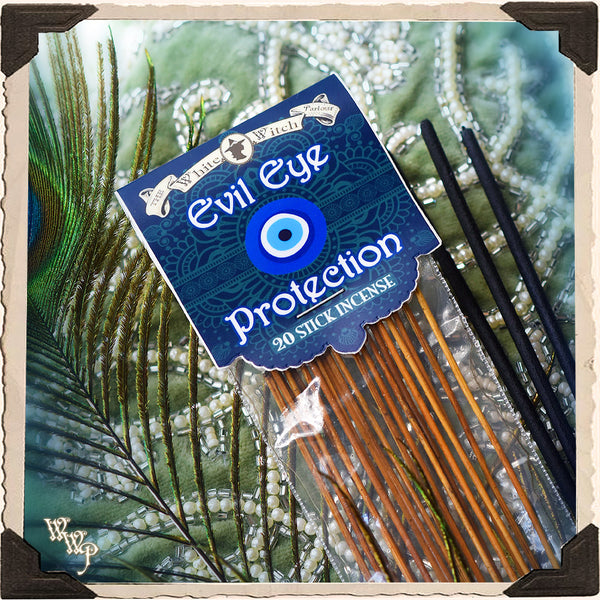 EVIL EYE PROTECTION INCENSE. 20 Stick Pack. For Releasing Old Patterns, Banishing Ill Will & Blocking Bad Luck.
Evil Eye Protection : The symbol of the Evil Eye, is for protection & good fortune. When worn, displayed in the home or carried your person, this symbol is said to aid in warding off the Evil Eye, curses, jealousy & other misfortunes as it is believed to deflect the evil eye given from others, be it aware or unaware.

A Beautiful Blended scent of Lilac & Vanilla blessed with the crystal energy of Black Tourmaline & Amethyst.
Vanilla enhances cheer & positivity, allowing your innocent eyes to once again open. Inspiring creativity & natural intuition, Vanilla warms the heart, bringing comfort & sweet memories back into one's energy. It creates the energy of knowing one is safe in their own space, feeling blessed with all or little that they have. Vanilla was once considered a luxury, bringing about an energy of richness with it. It is said if rubbed with Vanilla, it will bring wealth & luck. 


Lilac is a symbol of love, but also frequently used in connection with death in the Victorian Era.  It helps one to 'let go,' or release. It carries an energy of being 'in between the worlds.' This is what makes the magick of Lilac great for working with heightened intuition, psychic growth & protection, a shield for empaths, working with hauntings or spirits or general divination & meditative practices.  Paired with it's soft & gentle essence & the fact that it tends to bloom under a Flower Moon in May, can help us to work with the magick of releasing old patterns, unwanted energies, strengthening intuition & Moon rituals.
 

Black Tourmaline is a shield from low vibrational energies, specifically protective for Empaths, Tourmaline blocks the aura from negative influence. 
Amethyst is a meditative and calming stone which works in the emotional, spiritual, and physical planes to provide calm, balance, patience, and peace. In the psychic and spiritual realms, amethyst is an excellent all-purpose stone that can increase spirituality and enhance intuition and psychic powers of all kinds.
MANTRA FOR USE: " I cast away the evil eye, to ill will & bad luck, I say goodbye."
These enchanting handmade botanical incense sticks burn for approximately 50 - 60 minutes and are made up of blend of fragrance oil on pressed charcoal & blessed with the energies of Black Tourmaline & Amethyst crystals to help enhance the natural properties. There are 20 magickal sticks in each pack, that yield beautiful and lingering aromas, wherever they are burned.

Magickal Blessings,
~ Jenna 

*All sales are final.

Incense accessories available in my shop!