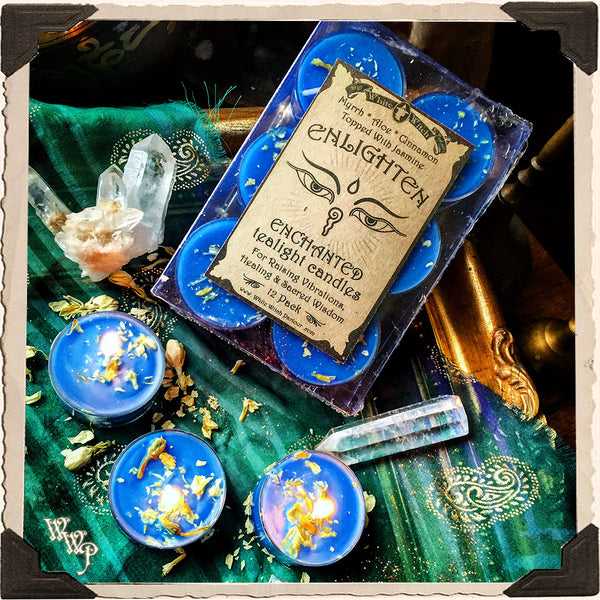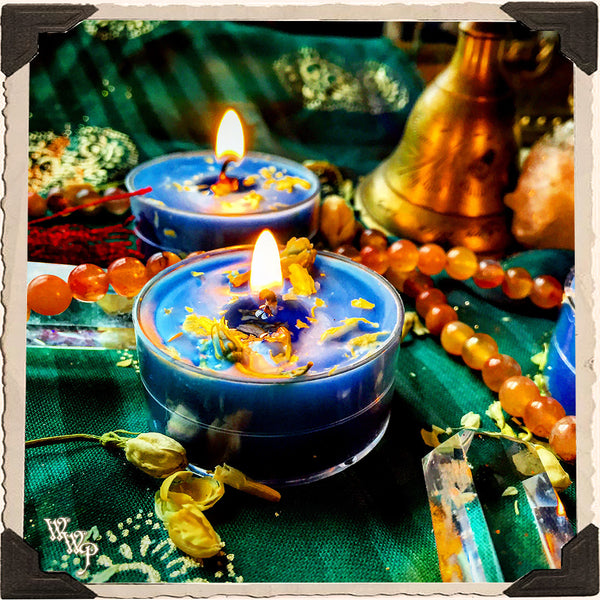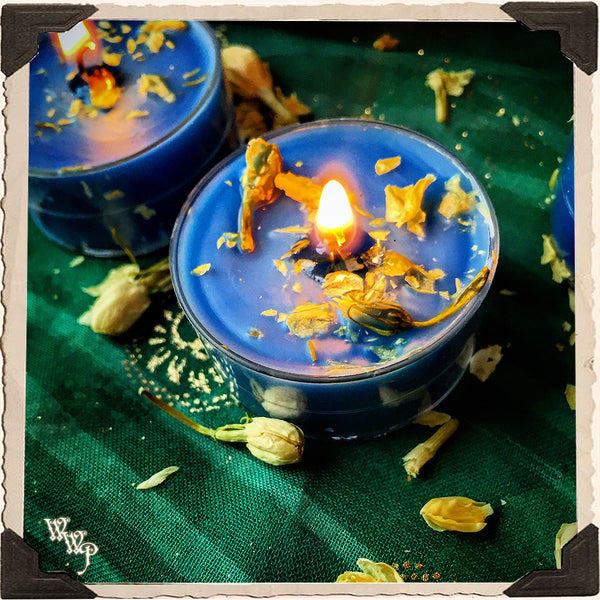 ENLIGHTEN TEALIGHT CANDLES. 12 Pack. For Raising Vibrations, Healing & Sacred Wisdom.
An enlightening blend of Myrrh, Aloe, Cinnamon & topped with beautiful Jasmine flower petals, these enchanted tealight candles, bring about an energy of grace, healing & sacred wisdom. It inspires a new & higher vibration, helping to purify the soul & awaken the mind's eye to spiritual consciousness. During a time of meditative reflection one can dig deeper to listen to the soul & rather than sitting in prayer asking for more, we can simply become grateful for what is. This is what inspired this blend, something to help shift the mind beyond the physical & into the spiritual. That is where all the answers to our many mundane 'problems' are, all we need is to transcend & see beyond. 
Like the cool scent of a breeze drifting over calm waters, this magickal scent is soft, semi-sweet & enlightening. Jasmine lightens the energy, welcoming in an energy of Love. It is powerful
 for beginning any ritual work, as it gently works to cleanse the aura & raise the vibrations of the space & person. It brings joy & compassion to the mind & allows those who are graced with it's warm & inviting scent to release any fears that may be holding them back. Aloe brings purification & healing to one's heart, reminding us of the potential we have to heal ourselves when we work with the magick of nature. 
Myrrh, works with the energies of Goddess Isis & Mother Moon, aiding us in seeking deeper into the mysteries of the Universe. It raises the vibrations to illuminate our soul & reflects any negative energy that might create doubt or fear, so that one may better connect to their higher purpose. C
innamon has been used in all kinds of spiritually protective rituals, magic spells and potions amongst several cultures, as it is known for stimulating the crown chakra, inspiring spiritual insight, psychic powers, healing and of course protection.
A blessed blend of hand-poured 1/2 oz. Tealight candles with an approx. burn time of 4 hours each. With 12 candles per pack, you are sure to get lots of magickal use out of these special candles. This alluring blend of essential oils, high grade fragrance oils & enchanted herbs, find way into a hand poured batch of Soy wax, leaving each candle to ignite new magick & beautiful scent. 
 May you find your enlightenment,
~ Jenna
*All sales are final.
Store in cool dry place, keep from heat or direct sunlight. Never leave a lit candle unattended or near flammable items such as curtains. Always think of safety when using open flame *
*Free of Harsh Chemicals & Animal Testing.
Check out more candles & accessories in my shop!