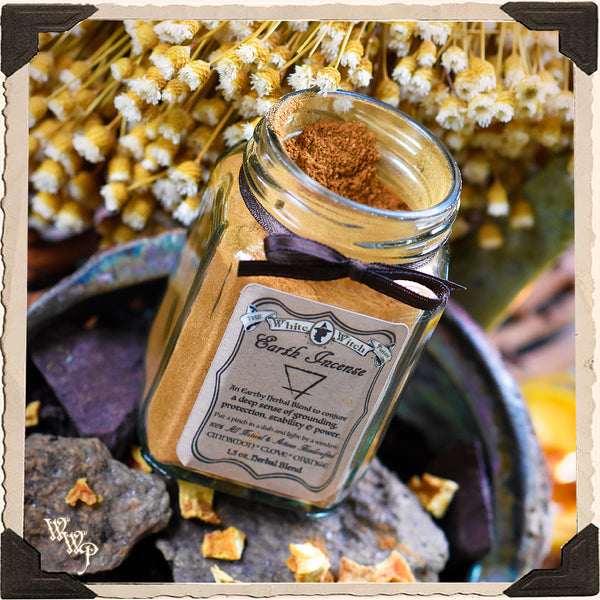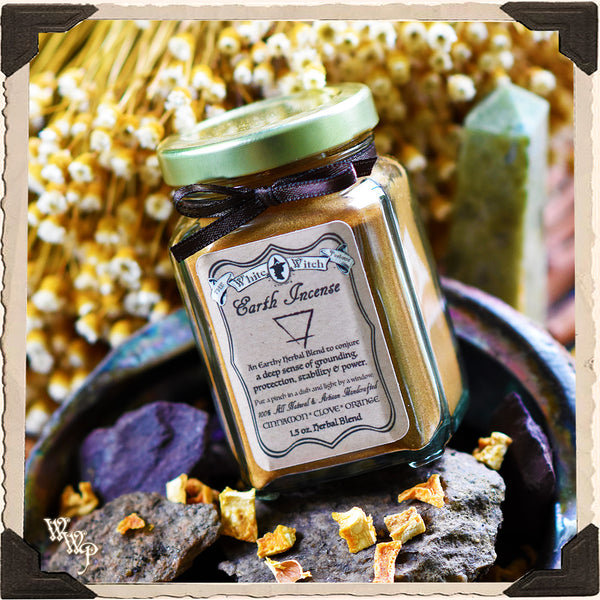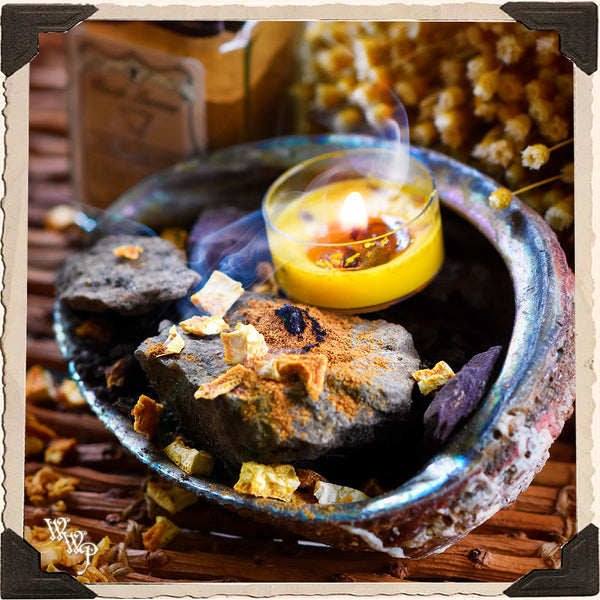 'EARTH' ELEMENT ALL NATURAL POWDER INCENSE. For Grounding, Protection & Harvest.
Inspired by the elements & created for those seeking an all natural incense alternative, the magick of herbs & resins enchant this special blend. Crafted with old fashioned witchery in mind & a creative flow of getting back to the basics, while reconnecting with Nature, this natural blend was created for both it's healing & intentional properties associated with the herbs/ resins used.

This ' EARTH ' Element Inspired Natural Powder Incense carries the amazing scent of the time of Harvest & the abundance that grows from the earth. It's an Earthy herbal blend to conjure a deep sense of Grounding, Protection, Stability & Power. It works to heal & rejuvenate the Root & Sacral Chakras, pulling your energy closer to earth & calling in more abundance, as you help ground excess energy that may be draining you, so you can better focus your intentions clearly. Cinnamon, Clove & Orange combine into a swirl of enriched energy, to help bring about prosperity, protection & potent connection. Like a dance upon the corn crops & Autumn Harvests, you'll likely be finding yourself filled with gratitude & happily empowered by this blend.

In each magickal glass apothecary Jar is 1.5 oz of ' EARTH ' Element inspired, all natural powder incense, crafted by a unique blend of herbs and resins. To use, just put a small pinch in a fire-safe dish, then light by an window, letting the breeze carry your intentions.

There are several ways to use this powder incense, you can burn a pinch as is, or traditionally it can be burned over hot charcoals, letting the smoke help to create a sacred space, offering or divination tool. You can run a stone like Amethyst through the smoke to clear it and consecrate it with psychic and intuitive energy. The powder can be tossed into an open flame during a ritual or spell casting. You can dress a candle in the powder for clairvoyant energy, during whatever work you may be doing. A potpourri warmer with some of the powder and water, diffuse the scent and properties quite nice. Lastly, you can create a mixture using this powder to custom make your own all natural cone incense. A little goes a long way!
Here's to your new found Grounded energy,
~ Jenna
More Powder Herbal Blends & Accessories Available in my Shop!
* Store in cool, dry place, keep out of direct sunlight- seal tightly.*
Not meant for consumption.
All Sales Final